Attempt this ultimate Leonardo DiCaprio quiz
DiCaprio film The Killers of Moonflower releases in India on 27th October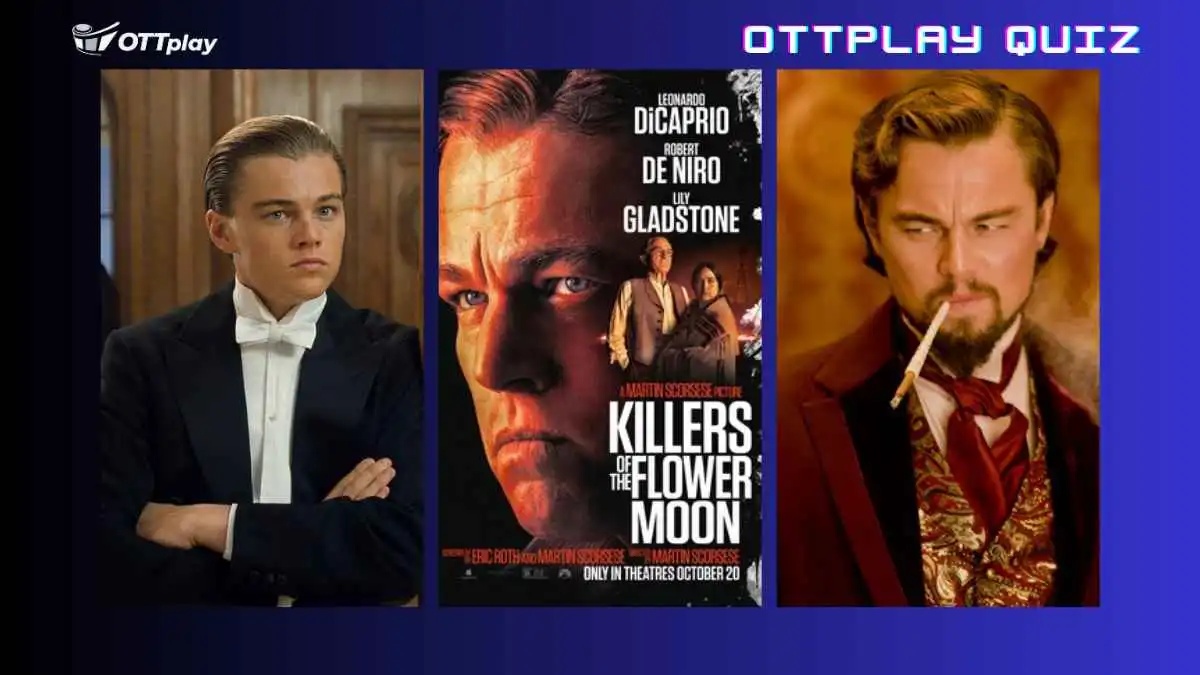 Leonardo DiCaprio was born on November 11, 1974, in Los Angeles, California. He started out as a child artist, appearing on television shows like Roseanne and Growing Pains. In 1993, he gained recognition for his role in What's Eating Gilbert Grape, where he portrayed a mentally challenged boy. He continued to amaze audiences with his performances in other movies such as The Basketball Diaries (1995), Romeo + Juliet (1996), and Titanic (1997).

Titanic made DiCaprio an international superstar, and he went on to star in many of the most successful films of all time, including The Beach (2000), Catch Me If You Can (2002), Gangs of New York (2002), The Aviator (2004), Blood Diamond (2006), Inception (2010), The Wolf of Wall Street (2013), and The Revenant (2015).

Apart from his acting career, DiCaprio is also an environmentalist, firmly dedicated to making a difference. In 1998, he founded the Leonardo DiCaprio Foundation, which focuses on climate change and other environmental issues. He has been an outspoken critic of the environmental policies of the Trump administration.

1
While acting in which film did Leonardo DiCaprio experience issues with obsessive compulsive disorder?
2
Name the Leonardo DiCaprio movie in which one of the actors was hospitalised for bronchitis after they snorted crushed Vitamin B powder in scenes that involved cocaine.
3
For which biopic did Leonardo DiCaprio endure 5 hours of daily make-up and prosthetics to look his character's age on screen?
4
Which movie, banned for commercial showing in US and Canada, did Dale Wheatley upload for free streaming?
5
For which Leonardo DiCaprio movie did Martin Scorsese hire "The l Magician"a famous Italian pickpocket, to teach Cameron Diaz about the art of picking pockets?
6
Name the Leonardo DiCaprio Sci-fi movie about stealing secrets from the subconscious mind during the dream state.
7
Name the movie in which Leonardo DiCaprio plays Frank Abagnale Jr. who successfully conned millions of dollars as a Pan Am pilot, doctor, and legal prosecutor.
8
Name the Leonardo DiCaprio movie which is a remake of Hong Kong movie "Infernal Affairs",the first remake of a foreign film to win an Academy Award for Best Picture."
9
Fill in the blank. While shooting "The Revenant", to make his scene realistic Leonardo DiCaprio ate a raw slab of __________ liver, even though he is vegetarian.
10
Name the Leonardo DiCaprio movie which is the debut Hollywood movie of Amitabh Bachchan.
Last Updated: 11.41 PM, Oct 27, 2023