IND vs AUS, WTC Final: India lose World Test Championship for 2nd time, Australia win the mace
AUS vs IND, WTC Final: Who's winning the Ultimate Test at Kennington Oval, London?
Last Updated: 11.59 AM, Jun 11, 2023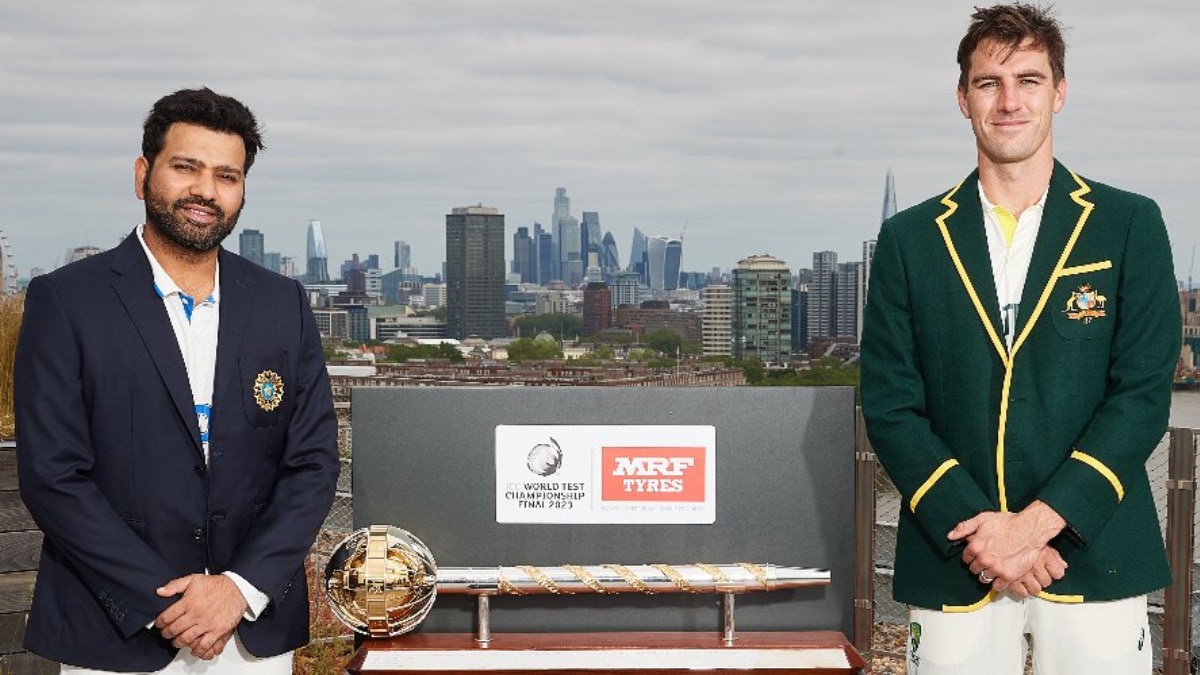 The wait is FINALLY over! One of the most competitive rivalries in cricket - India and Australia - will be facing off in England at a neutral site for the World Test Championship (WTC) Final 2023.
In fact, whoever wins the WTC Final we become the only side to lift an ICC trophy across all formats.
For this match, the Dukes ball will be utilised and both camps are well-versed in their respective fields.
The winning side will not only win the ICC Test Championship mace but will also take home a huge prize of $1.6 million.
IND vs AUS: Australia win the World Test Championship!

Australia add the only missing silverware to their overflowing trophy cabinet.

India lose another WTC final they came to.

Final and India are surely not a match made in heaven.

India's downfall began soon after Virat Kohli and Jadeja were dismissed in the same over just 35 mins into the game on Day 5.

Boland was the pick of the bowler who proved to be dangerous throughout the final.

IND vs AUS: WICKET - India all-out

Siraj brings out the reverse-sweep to a length ball and hits it straight to backward point.

But Boland takes the catch to wrap up the proceedings.

Siraj c Boland b Lyon 1(6)

IND vs AUS: WICKET - Srikar Bharat goes for 23

Srikar Bharat looked to slog across the line trying to go over mid-wicket.

But he swung hard and skies it up in the air off the top-edge.

Lyon moves to his left, settles under it and gobbles it up.

Srikar Bharat c and b Lyon 23(41) [4s-2]

IND vs AUS: WICKET - Shardul Thakur walks back for a DUCK

Thakur reviews but it looks to be out.

The ball spun in from a length after drifting away and beats the defensive inside edge of Thakur.

No bat involved as confirmed by UltraEdge.

Ball-tracking shows it's plumb! Three reds.

IND vs AUS: WICKET - Rahane out for 46

Rahane sees the line outside off and throws his hands at it for a drive.

However, he nicks off and it is an easy catch for the keeper.

Rahane c Carey b Starc 46(108) [4s-7]

IND vs AUS: WICKET - Jadeja sent back for a DUCK

India are bascially giving away the victory to the Aussies on the final day!

Jadeja is drawn into the drive and the edge is found.

The ball goes straight into the hands of the keeper.

India have lost half their side and their hopes of saving this Test is also losing.

Jadeja c Carey b Boland 0(2)

IND vs AUS: WICKET - Virat Kohli goes for 49

That's a stunner, this time by Smith!

Kohli went with hard hands on the drive but instead got a thick edge.

It went flying to the right of second slip and Smith takes a fine catch.

Kohli c Smith b Boland 49(78) [4s-7]

IND vs AUS: Day 4, Stumps - India need 280 runs

Day four comes to an end and with one day left this is the equation -

Australia need 7 wickets | India need 280 runs.

Virat Kohli (44) and Ajinkya Rahane (20) are at the crease.

Rohit came in and started on a positive note despite losing Gill early.

Gill's wicket will be controversial for a long long time. Pujara played a fluke shot and got himself out.

But Kohli and Rahane have put on a 71-run partnership at Stumps.

IND vs AUS: WICKET - Pujara departs for 27

Pujara was arching back and then tried to play the shot which was not needed.

All he managed was a faint edge through to the keeper.

Pujara c Carey b Cummins 27(47) [4s-5]

IND vs AUS: WICKET - Rohit Sharma's innings comes to an end

Rohit was given out and he reviews it.

No bat involved and UltraEdge confirms it.

Ball-tracking showed the ball pitched on middle and is hitting off, that's plumb and Rohit is OUT.

Rohit lbw b Lyon 43(60) [4s-7 6s-1]

IND vs AUS: WICKET - Gill goes for 18

Crowd unhappy and booing the third umpire!

After the catch was taken, Gill stayed at the crease and the umpires sent it upstairs to check for a clean catch.

Green took a one handed catch with his left hand.

His hand goes down and touches the ground because of the force of the ball but the umpire believed Green's fingers was underneath it.

But again, this camera angle does not look great. He's made his decision. OUT flashes on the big screen and Gill has to go.

Shubman Gill c Green b Boland 18(19) [4s-2]

IND vs AUS: Australia declare!

The target for India is 444, with a total of 137 overs!

Australia after lunch made sure to get quick runs and managed to do so thanks to Starc and Carey.

The two added 93 for the seventh wicket in 120 balls.

IND vs AUS: WICKET - Cummins goes for 5

Cummins throws his bat at it, slices it off the outside half and Axar Patel - the sub fielder - takes it comfortably at cover.

Cummins c (sub)Axar b Shami 5(5) [4s-1]

IND vs AUS: WICKET - Starc is sent back for 41

Starc swung his bat hard to go over mid-on.

But he got a thick outside edge as the ball seamed away and Kohli took a sharp catch to his left at first slip.

Starc c Kohli b Shami 41(57) [4s-7]

IND vs AUS: 50 for Alex Carey

He reached the milestone by knocking a full ball to long-on.

IND vs AUS: WICKET - 3rd for Jadeja

Green did not need to play at that, but he didn't get a big enough stride to pad it away.

The ball went past the front-pad, clipped his gloves and deflected onto the back-thigh and then bounced back onto the stumps.

Green b Jadeja 25(95) [4s-4]

IND vs AUS: WICKET - Labuschagne gone for 41

Umesh Yadav strikes early on Day 4!

Labuschagne looked to defend but the ball flies off the outside edge to first slip where Pujara takes it awkwardly.

Labuschagne c Pujara b Umesh Yadav 41(126) [4s-4]

IND vs AUS: Day 3, Stumps - Australia lead by 296 runs

Australia started Day 3 on a bang as Boland castled Bharat off the very second ball of the day.

However, Rahane and Shardul Thakur stitched a spirited century stand.

Despite the lower-order fight from India, the Aussies got a healthy first innings lead of 173 runs.

India, who came in the field, saw Siraj strike early by removing Warner. Khawaja was sent back by Umesh Yadav.

Smith stitched a fifty runs partnership with Labuschagne but he fell to Jadeja trying to slog one wildly.

Jadeja then removed the other centurion Head as well.

Marnus and Green played till the Stumps.

IND vs AUS: WICKET - Head departs for 18

Jadeja has removed both the centurions of the first innings!

After he was dropped by Umesh Yadav, Jadeja made sure not to depend on the fielders and caught him.

Head stood in disbelief as he had got down on one leg to slap it through the covers but handed it to Jadeja back.

Head c and b Jadeja 18(27) [6s-2]

IND vs AUS: WICKET - Smith goes for 34

Smith dances down the track but does not get close to the pitch of the ball.

He tries to slog it over mid-on but balloons it up a long way in the air and Thakur runs to his right to take it.

Smith c Thakur b Jadeja 34(47) [4s-3]

IND vs AUS: WICKET - Umesh Yadav gets the wicket of Usman Khawaja

Umesh strikes and picks up his first wicket of the match!

Khawaja went after the ball and played a loose drive. But he only nicked it to Bharat.

Khawaja c Srikar Bharat b Umesh Yadav 13(39) [4s-2]

IND vs AUS: WICKET - Siraj sends back Warner for 1

Siraj provides the early breakthrough once again for India!

Warner was shaping for the back-foot cover-drive but he ended but getting a thick outside edge.

Bharat does well to dive across and in front of first slip, gets his gloves under and holds on.

Warner c Srikar Bharat b Siraj 1(8)

IND vs AUS: India bowled out for 296

Australia have a healthy lead of 173!

India's innings saw two Mumbaikars - Rahane and Thakur - stitch a century partnership.

At 152/6, India were in trouble but the two made sure to give some hope the the Indian fans.

Cummins broke the partnership in the second over post lunch after Green took a screamer.

Thakur hung around and notched up his third fifty at the Oval in his third innings but was soon sent back.

Shami added 13 runs but it was not enough.

IND vs AUS: WICKET - Shami sent back for 13

Shami goes for the pull but it brushes his glove and Carey gather it cleanly after moving to his left.

Shami c Carey b Starc 13(11) [4s-2]

IND vs AUS: WICKET - Shardul Thakur goes for 51

End of a fighting knock from Thakur!

He goes for an uppish drive but gets an outside edge.

Thakur c Carey b Green 51(109) [4s-6]

IND vs AUS: 50 for Lord Shardul Thakur

Fifty for Shardul Thakur!

He has brought up his third half-century in as many innings at the Kennington Oval.

He get a huge roar from the crowd and he raises his bat.

IND vs AUS: WICKET - Cummins sends back Umesh Yadav

Umesh Yadav stayed in his crease to defend but he is beaten on the outside edge.

The ball hits the top of off and middle.

Umesh Yadav b Cummins 5(11) [4s-1]

IND vs AUS: WICKET - Rahane's innings ends at 89

Green pulls off a screamer and Cummins finally gets the wicket of Rahane!

Rahane punches the ball away from his body but gets a thick outside edge.

Green flies to his right at gully and sticks his right hand out to take a one-handed stunner.

The 109-run stand has been broken!

Rahane c Green b Cummins 89(129) [4s-11 6s-1]

IND vs AUS: Rahane gets to 5000 Test runs

Rahane gets to 5000 Test runs

He and Thakur are keeping India's hopes alive.

IND vs AUS: Ajinkya Rahane reaches his 50

Rahane smashes a SIX and brings up his fifty, 26th in Tests.

He raises his bat and enjoys the crowds cheers.

IND vs AUS: WICKET - Not the start India wanted on Day 3

The ball went right through Bharat's defence and rattled the stumps!!

The ball found a way to sneak through and crash into the top of middle and Bharat lasts just one ball on Day 3.

Srikar Bharat b Boland 5(15)

IND vs AUS: WICKET - Jadeja misses his 50

The 71-run stand has been broken!

Jadeja presses forward to defend but the ball turns away to catch the outside edge.

Jadeja c Smith b Lyon 48(51) [4s-7 6s-1]

IND vs AUS: WICKET - Starc sends back Kohli

India are in serious trouble now!!

Kohli clips the ball and it goes towards Smith at second slip.

Nothing much Kohli could've done here.

A fourth batter falls in between 10 and 15.

Kohli c Smith b Starc 14(31) [4s-2]

IND vs AUS: WICKET - Pujara bowled for 14

Pujara does not really cover the off-stump and lets the ball go.

Green on a celebratory run and India have been rocked on the second afternoon.

Pujara b Green 14(25) [4s-2]

IND vs AUS: WICKET - Shubman Gill bowled by Scott Boland

Shubman Gill stands shocked as he does not know what happened.

He left a straight delivery from Scott Boland and the ball pitched just outside off and nips in to hit the stumps.

Shubman Gill b Boland 13(15) [4s-2]

IND vs AUS: WICKET - Rohit Sharma sent back for 15

The ball raps Rohit on the pads as he missed his leg side clip.

The ball is struck in front of middle on the pads and he is given out.

He has a talk with Gill but decides against the review.

Rohit lbw b Cummins 15(26) [4s-2]

IND vs AUS: Australia bowled out for 469

Australia has posted 469 - a big total on the board. Travis Head and Steve Smith did the bulk of the heavy work as they both notched up their respective tons and stitched a mammoth 285-run stand.

India were made to toil hard on Day 1 and it continued on Day 2 as well but the Men in Blue picked four wickets in the morning session and removed the last three Australian wickets in the first hour of the middle session.

Alex Carey scored a handy 48 before perishing to Jadeja. A spirited performance from Siraj who claimed four wickets and in the process picked up his 50th Test wicket as well.

IND vs AUS: WICKET - 4-fer for Siraj

50th Test wicket for Siraj!!!

The slower ball on a shortish length wide of off and Cummins flays at it.

However, he hits it straight to Rahane at deep-ish extra cover.

This is his 100th catch in Tests.

Cummins c Rahane b Siraj 9(34)

IND vs AUS: WICKET - Another for Siraj and Lyon is bowled

Lyon swung wildly as he looked to go over mid-on but instead gets beaten for pace.

The ball goes past the inside edge and crashes into the off-stump.

Lyon b Siraj 9(25) [4s-1]

IND vs AUS: WICKET - Carey misses the reverse-sweep

Carey missed the reverse-sweep and there's a loud appeal for lbw.

The OUT signal was not given and India goes upstairs.

No bat/glove involved and the same has been confirmed by UltraEdge.

Ball-tracking shows it's three reds!

A successful review by India.

Carey lbw b Jadeja 48(69) [4s-7 6s-1]

IND vs AUS: WICKET - Left-handed run-out by Axar Patel

Comes in as a sub and makes an impact!

A direct hit by Axar and he found Starc short.

It was some stunning fielding by the Indian substitute as he picked it up one-handed to his left and then throws down the stumps at the bowler's end.

Starc run out (Axar) 5(20)

IND vs AUS: WICKET - Steve Smith bowled

Shardul does what he does best - get set batters out!

Smith could've let this go but he pokes at it and gets a big inside edge.

Smith throws his head up in depair as he walks away.

Smith b Thakur 121(268) [4s-19]

IND vs AUS: WICKET - Gill takes a wonderful catch

What a brilliant catch by Shubman Gill!!

Green is edged & gone!! India needed another wicket to build some pressure.

Green c Shubman Gill b Shami 6(7) [4s-1]

IND vs AUS: WICKET - Travis Head's fine innings comes to an end

A lucky dismissal but India will take it with both hands!!

Head shuffled in to pull but could not connect as he swung through the ball as goes into the hands of Bharat.

Head c Srikar Bharat b Siraj 163(174) [4s-25 6s-1]

IND vs AUS: Travis Head reaches 150

150 for Travis Head!! and there is nothing stopping him.

IND vs AUS: Hundred for Steven Smith

7th Hundred for Steven Smith in England!!

He took off his helmet and raised his bat towards the pavillion.

IND vs AUS: Day 1 comes to an end, Australia 327/3

While India managed to take 3 wickets, Travis Head and Steve Smith took the game away from India.

Head already smashed his 100 and Smith is five runs away from his ton at the end of Day1.

It will be huge task on Team India on Day 2 to get early wickets and restrict the side to a resonable total.

IND vs AUS: Test century for Travis Head

6th Test hundred for Head!

But this is his 1st away from home and 1st against India.

He removes his helmet and gets a hug from his partner. The dressing room rises and celebrates his ton.

IND vs AUS: 50 for Steve Smith as well

50 for Smith as well - his 38th in Tests.

IND vs AUS: 50 for Travis Head

Head hits a FOUR and the boundary brings up his fifty!

He had the highest strike-rate during this WTC cycle and he is continuing to do the same in the final.

IND vs AUS: WICKET - Dangerous Marnus Labuschagne BOWLED

Shami strikes with his very first ball after lunch!

Labuschagne looked to drive and looked to go down the ground, but the ball jags in sharply and rattles the stumps.

Labuschagne b Shami 26(62) [4s-3]

IND vs AUS: WICKET - Shardul Thakur breaks partnerships

What a catch by Srikar Bharat!!

Warner was looking to pull but did not go hard on the sjot.

He just guided it down towards long leg and gets a thin edge.

Srikar Bharat does the rest, moving swiftly across to his left to take a good catch.

Australia lose Warner at the stroke of lunch.

Warner c Srikar Bharat b Thakur 43(60) [4s-8]

IND vs AUS: WICKET - Usman Khawaja goes for a DUCK

The ball could have been left alone, but Khawaja pushes at it and nicks off.

Khawaja wasn't sure if he nicked and had a chat with Warner and decided not to review it.

Khawaja c Srikar Bharat b Siraj 0(10)

IND vs AUS: Black armbands worn by both teams

A minute silence in remembrance of the victims of Odisha train accident.

IND vs AUS: TOSS - India opt to bowl

India have won the toss and have opted to field.

India go with four seamers and one spinner - Jadeja.

India (Playing XI): Rohit Sharma(c), Shubman Gill, Cheteshwar Pujara, Virat Kohli, Ajinkya Rahane, Srikar Bharat(w), Ravindra Jadeja, Shardul Thakur, Umesh Yadav, Mohammed Shami, Mohammed Siraj

Australia (Playing XI): David Warner, Usman Khawaja, Marnus Labuschagne, Steven Smith, Travis Head, Cameron Green, Alex Carey(w), Pat Cummins(c), Mitchell Starc, Nathan Lyon, Scott Boland.

IND vs AUS: What happens if rain plays spoilsport?

IND vs AUS: Who's winning the Ultimate Test?
Watch content from
+ OTTs
on