CSK vs DC, IPL 2023: Delhi Capital's loss at Chepauk continues, Chennai Super Kings win by 27 runs
Last Updated: 05.36 AM, May 15, 2023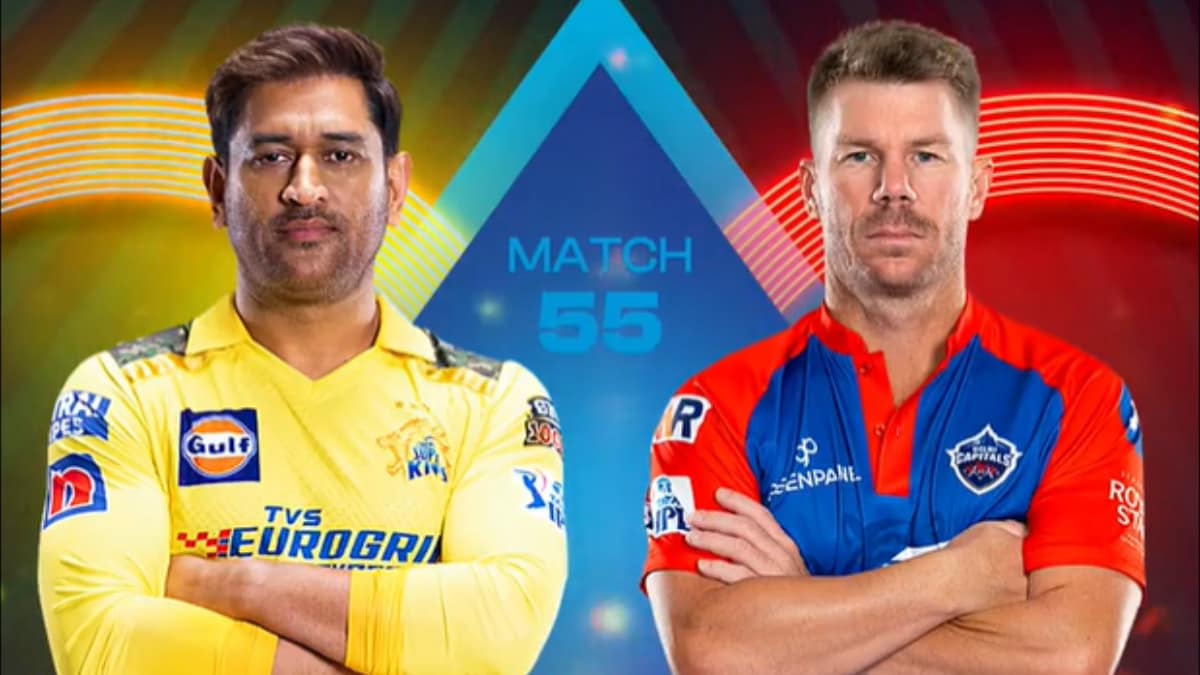 Chennai Super Kings vs Delhi Capitals
Match 55 of the Indian Premier League (IPL) will see Chennai Super Kings (CSK) host Delhi Capitals (DC).
Currently CSK are sitting on the second spot with six wins and four losses out of the 11 games played. As for Delhi, they are right at the bottom of the points table having lost six and won four games out of the 10 games played.
Head to Head: CSK have an advantage having 17-10 against Delhi.
CSK vs DC: Chennai Super Kings win by 27 runs

Just 167 on the board and CSK were able to not only defend their total but also win by a huge margin.

Manish Pandey and Rossouw had stitched a 59-run stand for the fourth wicket but that came at run-a-ball.

CSK vs DC: WICKET - Pathirana takes 3

Third wicket for Pathirana!

It's a fullish delivery and on the stumps. Lalit Yadav backs away does not get the bat down in time.

Lalit Yadav b Pathirana 12(5) [4s-3]

CSK vs DC: WICKET - Catch not taken, but run out DONE

Ripal Patel pulls hard manages a top-edge.

Deshpande runs back and Moeen runs towards the mid-on region from mid-off and both don't take a CATCH.

However, Moeen has the presence of mind to pick up the ball and has a direct hit at the keeper's end.

Ripal Patel run out (Moeen Ali) 9(16)

CSK vs DC: WICKET - Another for Pathirana

The bottom hand comes off the bat handle and the ball goes a long way up in the air.

It gets the height but not the distance and Rahane moves to his left from long-on and calmly gobbles it up.

Axar c Rahane b Pathirana 21(12) [4s-2 6s-1]

CSK vs DC: WICKET - Rilee Rossouw OUT for 35

With the asking rate climbing, the batter had to go for the big shot.

Rossouw misses out as he gets down on one leg to slogsweep.

He miscues it as the ball goes to a crouching Pathirana at long-on.

Rossouw c Pathirana b Jadeja 35(37) [4s-2 6s-1]

CSK vs DC: WICKET - Yorker and Manish Pandey departs

The batter cleared his front leg to swing across the line but was clearly beaten for pace.

Manish Pandey lbw b Pathirana 27(29) [4s-1 6s-2]

CSK vs DC: WICKET - Mitchell Marsh run out for 5

Miscommunication between Manish Pandey and Mitchell Marsh sees the later get Run Out!!

Manish Pandey defends to cover and both batters start to run.

Rahane fields and does not throw the ball as he sees that Marsh is halfway down the track.

Rahane runs up to the bowler's end and flicks the bails off.

Mitchell Marsh run out (Rahane) 5(4) [4s-1]

CSK vs DC: WICKET - Philip Salt goes for 17

Chahar literally added SALT to DC's wound!

Philip Salt hits the ball and mistimes it and Rayudu goes back and keeps his eyes on it and takes it well.

Philip Salt c Rayudu b Chahar 17(11) [4s-1 6s-2]

CSK vs DC: WICKET - David Warner sent back for a DUCK

It was a back of a length delivery outside off and Warner tried to punch but could not keep the ball down.

He lobs it to Rahane at cover and Chahar has picked up a big scalp.

Warner c Rahane b Chahar 0(2)

CSK vs DC: CSK get to 167

It was the 21-run penultimate over that helped CSK get to 167!

Delhi have got wickets at regular intervals and made sure no CSK batter really got going.

Dhoni's cameo boosted CSK who were looking for a score of around 165.

CSK vs DC: WICKET - Thala MSD departs for 20

It was a slower ball on a length outside off and Dhoni did not get the elevation.

The ball went straight to the fielder at long-on and Mitchell Marsh has his third.

Dhoni c Warner b Mitchell Marsh 20(9) [4s-1 6s-2]

CSK vs DC: WICKET - Jadeja OUT for 21

Jadeja hit the ball towards long-on but he miscued it.

But Axar is safe hands and took a good catch.

Jadeja c Axar b Mitchell Marsh 21(16) [4s-1 6s-1]

CSK vs DC: WICKET - Khaleel Ahmed sends back Ambati Rayudu

Rayudu gets across and swipes the ball but he got no timing to it.

The batter finds long-on and it was a easy catch for Ripal.

Rayudu c Ripal Patel b Khaleel Ahmed 23(17) [4s-1 6s-1]

CSK vs DC: WICKET - Dangerous Shivam Dube is sent back

Big wicket and DC pull CSK back again!

Shivam Dube was looking dangerous as he was taking on the bowlers, but he was finally stopped.

It was a slower back of a length delivery and Dube holes the ball into the hands of Warner.

Shivam Dube c Warner b Mitchell Marsh 25(12) [6s-3]

CSK vs DC: WICKET - Great reflex catch by Lalit Yadav

What a catch by Lalit Yadav!

Yadav has plucked a beaut with his right-hand and Rahane is stunned.

The batter came down the track and drilled it low and flat to the right of Yadav, but the bowler ensures the ball does not touch the ground.

Rahane c and b Lalit Yadav 21(20) [4s-2]

CSK vs DC: WICKET - Moeen Ali departs for 7

Moeen Ali falls for a low score.

Moeen Ali stepped out to loft and skews a thick outside-edge.

It's a dolly for the fielder at backward point.

Moeen Ali c Mitchell Marsh b Kuldeep Yadav 7(12)

CSK vs DC: WICKET - Ruturaj Gaikwad walks back for 24

Axar Patel gets both the openers back!

It was a half-hearted loft from Gaikwad and the ball goes to long-off where Aman runs in to take a good catch.

Gaikwad c Aman Hakim Khan b Axar 24(18) [4s-4]

CSK vs DC: WICKET - Devon Conway goes for 10

It was a fuller ball and Conway went for the slog sweep but he missed it.

He was given OUT, but Conway had a chat before he opted against taking the review.

Conway lbw b Axar 10(13) [4s-1]

CSK vs DC: TOSS - Chennai Super Kings opt to bat

Chennai Super Kings have won the toss and have opted to bat.

Delhi Capitals (Playing XI): David Warner(c), Philip Salt(w), Mitchell Marsh, Rilee Rossouw, Axar Patel, Aman Hakim Khan, Ripal Patel, Lalit Yadav, Kuldeep Yadav, Khaleel Ahmed, Ishant Sharma

Chennai Super Kings (Playing XI): Ruturaj Gaikwad, Devon Conway, Ajinkya Rahane, Ambati Rayudu, Shivam Dube, Moeen Ali, Ravindra Jadeja, MS Dhoni(w/c), Deepak Chahar, Tushar Deshpande, Maheesh Theekshana

CSK vs DC: Welcome to live coverage