CSK vs GT Final, IPL 2023: 1:36 in the morning and fans watch Super Kings being crowned 5 times champions
Chennai Super Kings vs Gujarat Titans, Final - Live Wicket-to-wicket update
Last Updated: 08.12 PM, May 29, 2023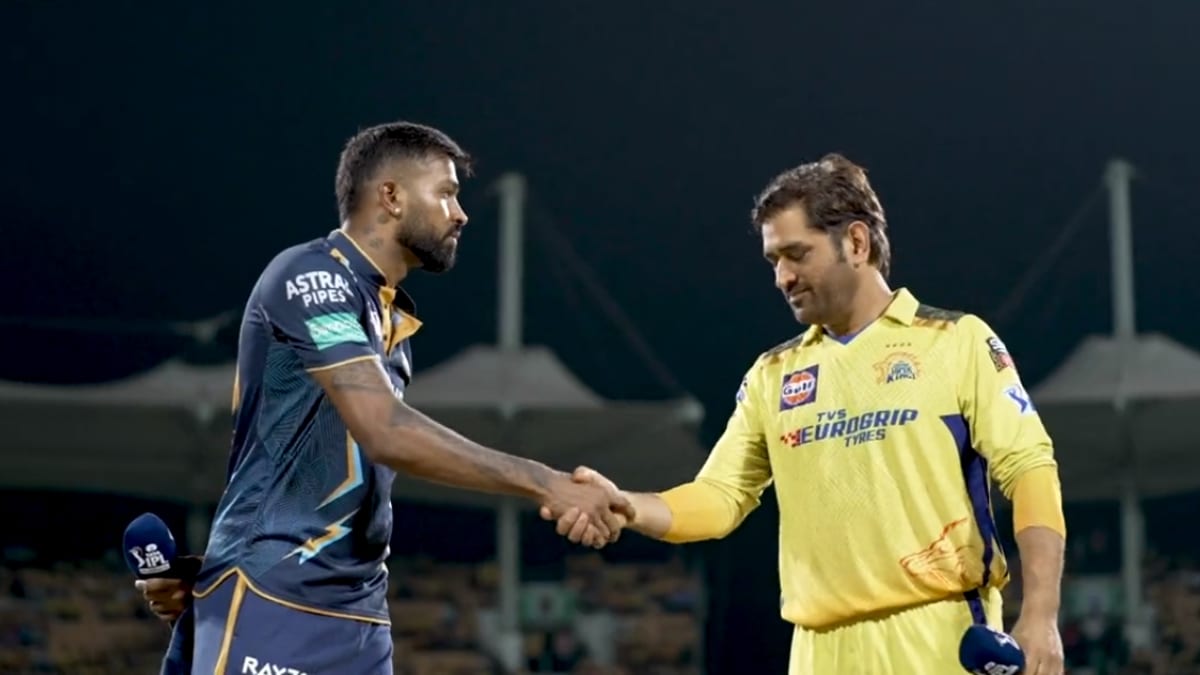 Chennai Super Kings vs Gujarat Titans
All the action, drama, and emotion of almost 2 months will come to an end TODAY. The Indian Premier League (IPL) 2023 FINAL will see Chennai Super Kings (CSK) take on Gujarat Titans (GT) at a jam-packed Narendra Modi Stadium, Ahmedabad.
In 9 out of 12 finals since 2011, the side winning Qualifier 1 has gone on to win the final as well.
What about the weather? While it is expected to be mostly sunny and dry, the possibility of brief showers hasn't been ruled out.
Head to Head: Chennai Super Kings 1 - 3 Gujarat Titans
CSK vs GT: Chennai Super Kings crowned 5 times champions

CSK are champions again!! They make it 5

Players with most wins in IPL finals
6 - Rohit Sharma
6 - Ambati Rayudu
5 - Hardik Pandya
5 - Kieron Pollard
5 - MS Dhoni

CSK vs GT: Chennai Super Kings won by 5 wickets

Mohit Sharma did nothing wrong as it was a low full toss on the pads.

Jadeja just with a gentle tickle to the left of short fine saw the ball run for a four.

The Super Kings were on the field to catch up with Jadeja.

Scenes of sheer joy, all those in yellow celebrate.

CSK vs GT: WICKET - MS Dhoni goes for a DUCK

After getting a loud cheer while walking in, the CSK fans are quite after Dhoni was dismissed for a DUCK.

Dhoni drove it straight into the hands of Miller at extra cover.

Dhoni c Miller b Mohit Sharma 0(1)

CSK vs GT: WICKET - Mohit Sharma strikes again

Rayudu was playing on another level and he needed to be stopped.

He goes for a slog and gets it high on the bat and hands its back to the bowler for an easy catch.

Rayudu c and b Mohit Sharma 19(8) [4s-1 6s-2]

CSK vs GT: WICKET - Rahane's cameo comes to an end

25th wicket of the season for Mohit Sharma!

It was a slower length ball outside off and Rahane knew and played a chipped drive through covers.

However, he did not generate enough power to clear the boundary.

Rahane c Shankar b Mohit Sharma 27(13) [4s-2 6s-2]

CSK vs GT: WICKET - Conway sent back for 47

2 in an over and both the openers are gone!

This is surely a big moment in the game!!

Conway went on his backfoot to punch it over long-off but the ball went into the hands of Mohit at long-off.

Conway c Mohit Sharma b Noor Ahmad 47(25) [4s-4 6s-2]

CSK vs GT: WICKET - Ruturaj Gaikwad goes for 26

Caught by an Afghan, bowled by an Afghan!

Gujarat needed this wicket and Noor gets it for them. Gaikwad went for a big shot but sends the ball in the air and Rashid from backward point settles under it.

Gaikwad c Rashid Khan b Noor Ahmad 26(16) [4s-3 6s-1]

CSK vs GT: Game to resume at 12:10

The game will resume at 12:10 AM.

It will now be a 15-over game.

Revised target for CSK is 171 in 15 overs.

CSK vs GT: Rain stops play

Chennai Super Kings need 211 runs

The groundstaff storm onto the pitch to get it covered.

The crowd is also rushing for cover.

CSK vs GT: Gujarat Titans have scored 214

When all focused on Gill, Sai came out of syllabus!

With runs on board in such pressure games, Titans will be now looking at their bowlers.

Chasing a target over 200 in an IPL final is a mammoth task.

STAT: The highest total that was chased in an IPL final was 200 by KKR against Punjab in 2014.

CSK vs GT: WICKET - Rashid Khan departs for a DUCK

Pathirana finishes strong!

It was fuller in length and Rashid Khan hits it down the ground but the timing is not good.

Rashid Khan c Gaikwad b Pathirana 0(2)

CSK vs GT: WICKET - Sai Sudharsan misses his 100 by 4 runs

End of an outstanding knock from Sai Sudharsan!

He has showed his class and range tonight, especially when all focus was on Shubman Gill.

Sai Sudharsan lbw b Pathirana 96(47) [4s-8 6s-6]

CSK vs GT: 50 for the 21-year-old Sai Sudharsan

Fifty for the 21-year old Sai Sudharsan1

It's his 3rd this season!

CSK vs GT: WICKET - Wriddhiman Saha departs for 54

Saha departs after playing a fine knock!

Saha tried to slog it across the line but ends up getting a top edge.

The ball goes arial and lands into the safe hands of Dhoni.

Saha c Dhoni b Chahar 54(39) [4s-5 6s-1]

CSK vs GT: 2nd half-century for Wriddhiman Saha

He will have to score big knowing Gill is out.

He already has a century to his name in an IPL final in the 2014 season.

CSK vs GT: WICKET - Dhoni's quickness gets Gill stumped for 39

Dhoni is confident that he's got Gill!

The stumping appeal goes upstairs and Gill himself did not know if he was gone.

Dhoni as always does what he does best - lightning fast stumping.

Gill had stretched forward to drive but it turns away sharply past the edge.

Shubman Gill st Dhoni b Jadeja 39(20) [4s-7]

CSK vs GT: TOSS - Chennai Super Kings opt to bowl

Chennai Super Kings have won the toss and have opted to field.

The decision was taken keeping the rain in mind. Both teams go unchanged.

Gujarat Titans (Playing XI): Wriddhiman Saha(w), Shubman Gill, Sai Sudharsan, Hardik Pandya(c), Vijay Shankar, David Miller, Rahul Tewatia, Rashid Khan, Mohit Sharma, Noor Ahmad, Mohammed Shami

Chennai Super Kings (Playing XI): Ruturaj Gaikwad, Devon Conway, Ajinkya Rahane, Moeen Ali, Ambati Rayudu, Ravindra Jadeja, MS Dhoni(w/c), Deepak Chahar, Matheesha Pathirana, Tushar Deshpande, Maheesh Theekshana

CSK vs GT: King entertains the crowd

Indian rapper King sings his hits from 'Tu Aake Dekhle' to 'Maan Meri Jaan'.

CSK vs GT: Welcome back!

It's hot and dry in Ahmedabad

The weather looks fine for now and it hasn't rained since last night.

CSK vs GT: Game postponed

The game has been postponed for tomorrow.

Umpires and match referee were seen speaking to Ashish Nehra and Stephen Fleming.

IPL final has been moved to the reserve day at 7:30 PM, May 29.

CSK vs GT: Will the game happen today?

CSK vs GT: It continues to rain

CSK vs GT: It has started drizzling

It has started drizzling and it is windy as well. Covers have come on, and it's getting heavier.

Yes, there is a reserve day tomorrow (Monday).

However, the reserve day will only come into picture if a minimum 5-over game cannot be played today.

CSK vs GT: Welcome to live coverage
Watch content from
+ OTTs
on