CSK vs KKR, IPL 2023: Captain Rana guides side to 6 wicket victory, Knight Riders still alive in this tournament
Chennai Super Kings vs Kolkata Knight Riders, 61st Match - Live Wicket-to-wicket update
Last Updated: 05.36 AM, May 15, 2023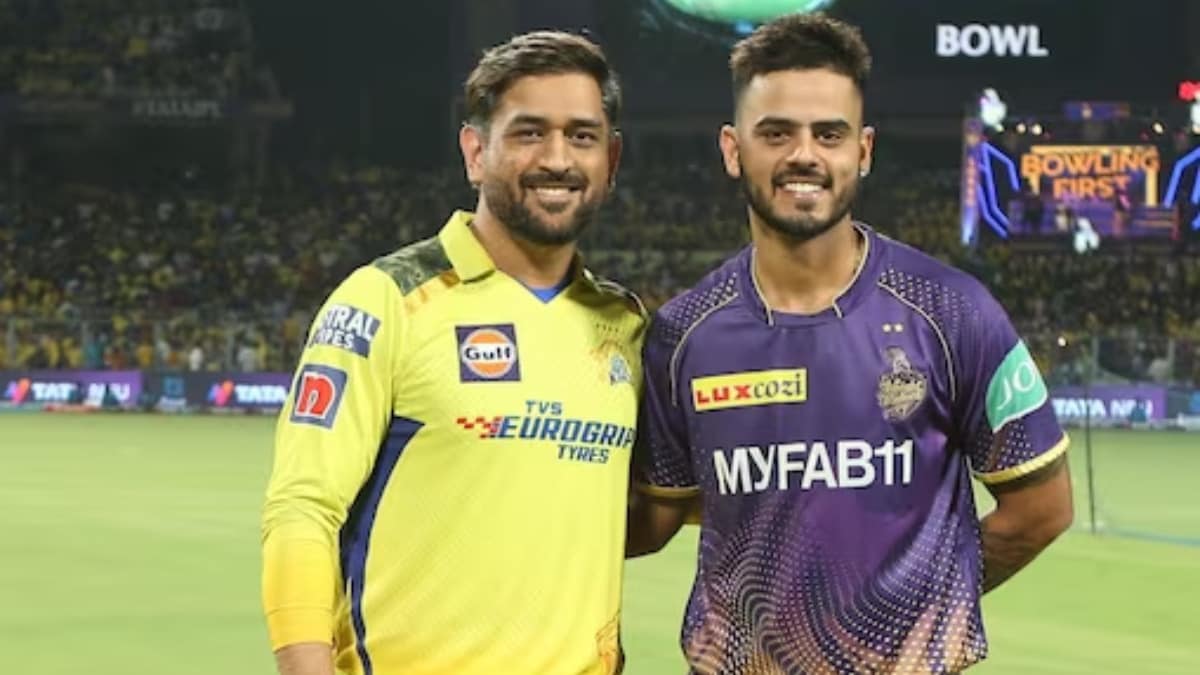 Chennai Super Kings vs Kolkata Knight Riders
Chennai Super Kings (CSK) is hosting Kolkata Knight Riders (KKR) in match 61 of the Indian Premier League (IPL) 2023.
CSK need to at least win one of their two remaining games to make their 12th appearance in the final four. Two in-two wins will help them seal a spot in the Top 2.
KKR, on the other hand, no longer has qualification destiny in its own hands. The side will be keeping their hopes in the hands of the other franchises.
Head to head: CSK 18-9 KKR with the Super Kings having won five of the last seven matches.
CSK vs KKR: Kolkata Knight Riders won by 6 wickets

KKR are still alive in this tournament!

CSK had mostly lost the game with the below par total they had to defend.

Their bowlers started good with Deepak Chahar taking 3 wickets was it and later Rinku Singh and Nitish Rana made sure to take KKR to victory.

The two batters both smashed their respective 50's and will now be looking to win their rest of their games.

CSK vs KKR: WICKET - Rinku Singh run out for 54

Direct hit from Moeen Ali and Rinku Singh is short of the crease!

His superb knock came to an end.

He came in at 33/3 when his team was in trouble. He can now see his side win the game.

Rinku Singh run out (Moeen Ali) 54(43) [4s-4 6s-3]

CSK vs KKR: 50 for skipper Nitish Rana as well

Skipper Nitish Rana also brings up his fifty!

CSK vs KKR: 50 for Rinku Singh

He is all set to take his side towards victory.

CSK vs KKR: WICKET - 3rd for Deepak Chahar

Another outside edge that goes to short third man!

It was the knuckle ball and Roy tried to hit it but he got a thick edge and straight to short third man.

Roy c Pathirana b Chahar 12(15) [4s-1]

CSK vs KKR: WICKET - Venkatesh Iyer edged and gone

Edged to short third man and gone!

Chahar has got his 2nd wicket in the powerplay.

Venky goes for the cut shot but gets a thick edge that Jadeja takes.

Venkatesh Iyer c Jadeja b Chahar 9(4) [4s-2]

CSK vs KKR: WICKET - Gurbaz goes for 1

It was full and wide outside off stump and Gurbaz went for the hit.

Gurbaz sliced the cut shot but Tushar ran to his right keeping an eye on the ball and judged it to perfection.

He also ensured he did not trip onto the boundary rope.

Gurbaz c Tushar Deshpande b Chahar 1(4)

CSK vs KKR: Chennai manage to score 144/6

Great finish from KKR. 5 off the 19th over and 9 off the 20th.

The score of 144 does not look big, but anything is possible.

Shivam Dube (48*), Devon Conway (30) and Ravindra Jadeja (20) alongwith Ruturaj Gaikwad (17) and Ajinkya Rahane (16) posted the total on the board.

But it was Varun Chakaravarthy and Sunil Narine who took two wickets each and Shardul Thakur and Vaibhav Arora adding one each to their name who curbed the Super Kings to the total.

CSK vs KKR: WICKET - Jadeja gets the loudest cheer for his dismissal

The loudest roar at Chepauk and its not for Jadeja's wicket but for MS Dhoni's entry!

It was a slower ball into the wicket and Jaddu thought he could guide this over short third man but he scooped it to the fielder.

Jadeja c Chakaravarthy b Vaibhav Arora 20(24) [6s-1]

CSK vs KKR: WICKET - Moeen Ali bowled for 1

It was a carrom ball and Moeen Ali played for the turn.

However, he is beaten on the inside edge and the stumps are a mess.

CSK vs KKR: WICKET - Ambati Rayudu goes for 4

Narine gets his second wicket of the season!

Iy has not been his season so far but Narine does the job. It was flat and stayed straight and Rayudu tried the sweep and misses it.

The ball hits the top of off stump.

CSK vs KKR: WICKET - Dangerman Conway is sent back

Conway pulled uppishly and got the elevation but not the distance.

Rinku from deep square leg settles under it and takes a fine catch.

Conway c Rinku Singh b Thakur 30(28) [4s-3]

CSK vs KKR: WICKET - Chakaravarthy gets his 2nd

Chakaravarthy strikes again!

Rahane took his chance and the he charged to the pitch and tried to go over long-on.

He however, holes out to long-on and the catch is taken.

Rahane c Roy b Chakaravarthy 16(11) [4s-1 6s-1]

CSK vs KKR: WICKET - Chakaravarthy sends back Ruturaj Gaikwad

This was fired quick on off, and the ball catches the edge and flies towards short third.

Gaikwad c Vaibhav Arora b Chakaravarthy 17(13) [4s-2]

CSK vs KKR: TOSS - Chennai Super Kings opt to bat

Chennai Super Kings have won the toss and have opted to bat

Same XI for this game for CSK, Knight Riders have one - Anukul Roy goes out, Vaibhav Arora comes in.

Kolkata Knight Riders (Playing XI): Rahmanullah Gurbaz(w), Jason Roy, Nitish Rana(c), Andre Russell, Rinku Singh, Shardul Thakur, Sunil Narine, Vaibhav Arora, Harshit Rana, Suyash Sharma, Varun Chakaravarthy

Chennai Super Kings (Playing XI): Ruturaj Gaikwad, Devon Conway, Ajinkya Rahane, Ambati Rayudu, Shivam Dube, Moeen Ali, Ravindra Jadeja, MS Dhoni(w/c), Deepak Chahar, Tushar Deshpande, Maheesh Theekshana

CSK vs KKR: Welcome to live coverage