DC vs PBKS, IPL 2023: Done and dusted, Delhi Capitals' unforgettable season all but over, lose by 31 runs
Delhi Capitals vs Punjab Kings, 59th Match - Live Wicket-to-wicket update
Last Updated: 05.36 AM, May 15, 2023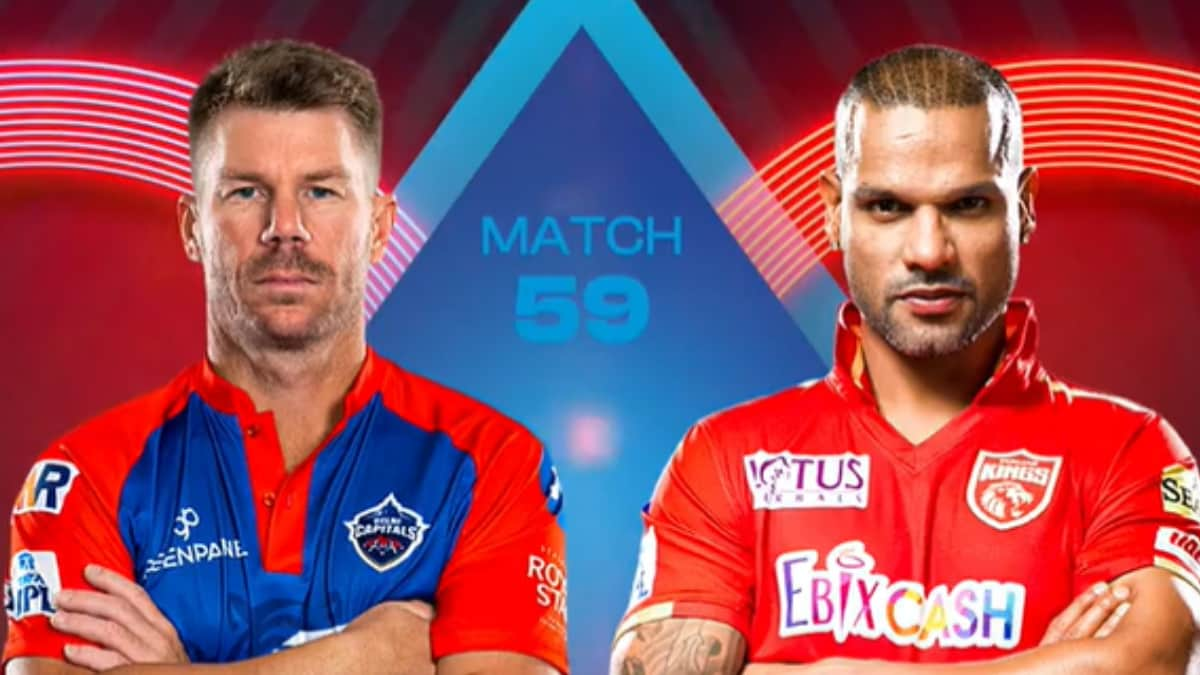 Delhi Capitals vs Punjab Kings
Delhi Capitals (DC) and Punjab Kings (PBKS) are facing each other in Match 59 of the Indian Premier League (IPL) 2023.
Losing will make things worse for Punjab Kings, while Delhi Capitals' season will be over if they lose.
Head to head: 15-15 to the sides, but since 2020, Delhi Capitals have had an upper hand, winning 5 of the six encounters.
DC vs PBKS: Punjab Kings win by 31 runs

With this win, Punjab Kings move to 6th on the points table!

Harpreet Brar and Rahul Chahar - the duo shared 6 wickets for 46 runs in 8 overs.

First win for PBKS over DC since 2021, they'd lost each of the last four head-to-head games.

DC vs PBKS: WICKET - Praveen Dubey goes for 16

Another one bites the dust!

It was full and straight and beat the ambitious bat swing of Praveen Dubey.

PBKS closing in on the win here.

Praveen Dubey b Nathan Ellis 16(20) [4s-2]

DC vs PBKS: WICKET - Aman Hakim Khan OUT for 16

Harpreet Brar after taking wickets, is also taking catches!

Aman Hakim Khan pulled firmly but the lack of timing saw the ball go towards Harpreet Brar.

Aman Hakim Khan c Harpreet Brar b Nathan Ellis 16(18) [4s-1 6s-1]

DC vs PBKS: WICKET - Four wickets for Harpreet Brar

No impact from the impact sub.

Manish Pandey has gone for a third-ball duck.

Manish Pandey b Harpreet Brar 0(3)

DC vs PBKS: WICKET - Rahul Chahar sends back Axar Patel

Axar went searching for the flick but he missed it.

He was struck plumb in front of middle.

Axar lbw b Rahul Chahar 1(2)

DC vs PBKS: WICKET - Warner departs for 54

Warner was caught in front of the stumps as the ball hit the top of leg-stump.

PBKS went up for the review and were elated as it went in their favour.

Warner lbw b Harpreet Brar 54(27) [4s-10 6s-1]

DC vs PBKS: WICKET - Harpreet Brar gets his 2nd

Rossouw perhaps chose the right shot and direction as well.

But he did not get the desired timing. He danced-down-the-track but it was a comfortable catch for Raza at deep mid-wicket.

Rossouw c Raza b Harpreet Brar 5(5) [4s-1]

DC vs PBKS: WICKET - Mitchell Marsh given walks back for 3

Not a bad review from Delhi, but not the result Mitchell Marsh would have wanted.

He went low looking to sweep the ball but played down the wrong line and got rapped on the thigh pad.

Mitchell Marsh lbw b Rahul Chahar 3(4)

DC vs PBKS: 50 up for David Warner

DC vs PBKS: WICKET - Philip Salt bowled for 21

Harpreet Brar gets the big breakthrough for PBKS!

He bowls it a bit quicker and the ball one doesn't turn away.

Philip Salt sees the ball go past his attempted cut and shatter the stumps.

Philip Salt b Harpreet Brar 21(17) [4s-3]

DC vs PBKS: Punjab Kings' score to 167/7

Punjab had lost three key wickets in the powerplay and they were under huge pressure.

However, Prabhsimran Singh's special innings helped them to get out of trouble.

After Prabhsimran, the only batters to score in double digits were Sam Curran (20) and Sikandar Raza (11).

DC vs PBKS: WICKET - Shahrukh Khan run out for 2

Shahrukh Khan swings and misses and the batters look to steal a bye.

But keeper Salt takes the ball and throws it to the bowler who completes the formalities at the bowling end.

Shahrukh Khan run out (Philip Salt/Khaleel Ahmed) 2(4)

DC cs PBKS: WICKET - Mukesh Kumar ENDS Prabhsimran Singh's innings

Prabhsimran played all around and looked for a scoop but mistimes it.

He may have got an tiny inside edge and it deflected quickly onto the stumps.

Prabhsimran b Mukesh Kumar 103(65) [4s-10 6s-6]

DC vs PBKS: Maiden IPL ton for Prabhsimran Singh

Maiden IPL ton for Prabhsimran Singh!

His teamamtes are cheering for the young lad.

DC vs PBKS: WICKET - Harpreet Brar dismissed for 2

Harpreet Brar looked to chip the drive on the off-side but instead sent it straight into the hands of Mitch Marsh at extra cover.

Harpreet Brar c Mitchell Marsh b Kuldeep Yadav 2(5)

DC vs PBKS: WICKET - Sam Curran walks back for 20

After Prabhsimran was dropped on the previous ball, this one needed to be taken!

Sam Curran went dancing down the wicket but did not get to the pitch of the delivery.

He skews the loft and picks out the fielder at long-on.

Sam Curran c Aman Hakim Khan b Praveen Dubey 20(24) [4s-1]

DC vs PBKS: 2nd IPL 50 for Prabhsimran Singh

It's his second one in the IPL! His teammates cheer him on.

DC vs PBKS: WICKET - Axar Patel sends back Jitesh Sharma

Jitesh Sharma is not to the pitch of the ball as he swings through the line.

He misses it and the stumps are in a mess.

Jitesh Sharma b Axar 5(5) [4s-1]

DC vs PBKS: WICKET - Ishant Sharma bowls out Liam Livingstone

The change of ends for Ishant Sharma also does wonders!

It was on a length on off and Livingstone went down the track and has a wild swing across the line.

But the ball went straight towards the stumps and rattles it.

Livingstone b Ishant 4(5) [4s-1]

DC vs PBKS: WICKET - Shikhar Dhawan departs for 7

Dhawan finds the fielder to perfection!

It was a fuller length, angling in from around the wicket and Dhawan did not bother to keep it down.

Rossouw at deep backward square leg ran and got low to pouch it nicely.

Dhawan c Rossouw b Ishant 7(5) [6s-1]

DC vs PBKS: TOSS - Delhi Capitals opt to bowl

Delhi Capitals have won the toss and have opted to field

For Delhi, Ripal goes out and another pacer comes in while for PBKS, Raza comes back in and Rajapaksa misses out.

Delhi Capitals (Playing XI): David Warner(c), Philip Salt(w), Mitchell Marsh, Rilee Rossouw, Aman Hakim Khan, Axar Patel, Praveen Dubey, Kuldeep Yadav, Ishant Sharma, Khaleel Ahmed, Mukesh Kumar

Punjab Kings (Playing XI): Prabhsimran Singh, Shikhar Dhawan(c), Liam Livingstone, Jitesh Sharma(w), Sam Curran, Sikandar Raza, Shahrukh Khan, Harpreet Brar, Rishi Dhawan, Rahul Chahar, Arshdeep Singh

DC vs PBKS: Welcome to live coverage
Watch content from
+ OTTs
on