GT vs CSK Qualifier 1, IPL 2023: Shami's catch taken, and Super Kings book their FINAL spot
Gujarat Titans vs Chennai Super Kings, Qualifier 1 - Live Wicket-to-wicket update
Last Updated: 06.31 PM, May 23, 2023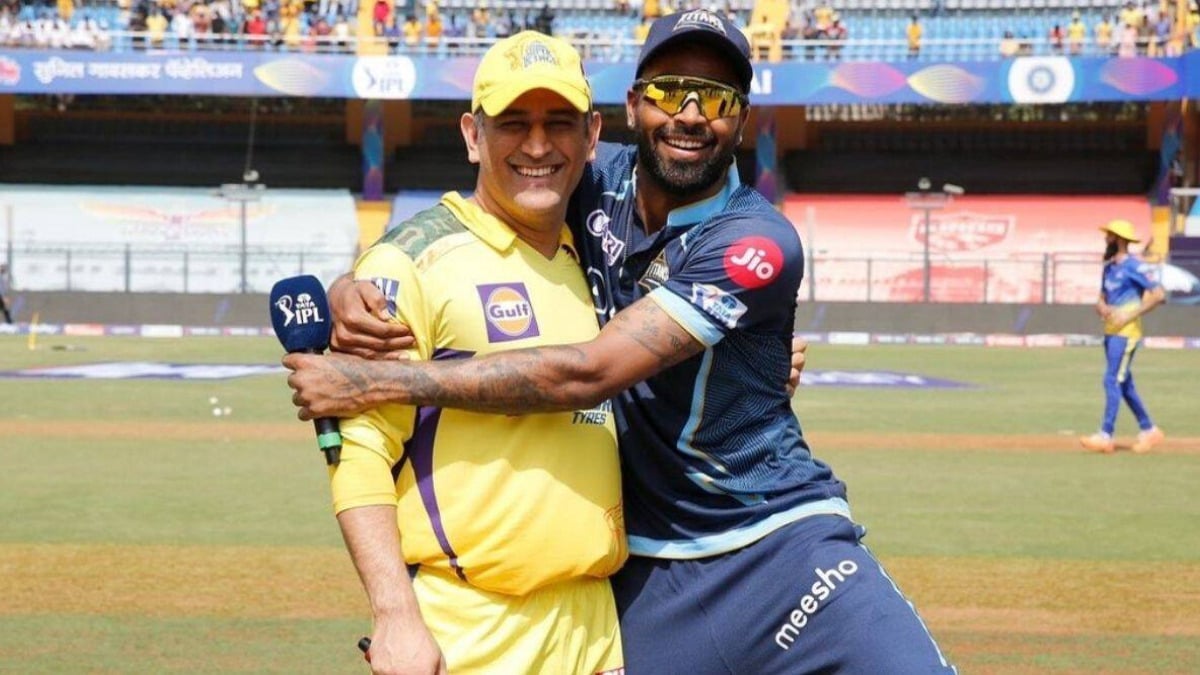 Gujarat Titans vs Chennai Super Kings
After 70 league games, the Indian Premier League (IPL) 2023 will now see Qualifier 1 take place between table-topper Gujarat Titans (GT) and second-placed Chennai Super Kings (CSK).
The Titans cruised through the league phase comfortably and in the last league game, knocked out Royal Challengers Bangalore (RCB) from the Playoffs.
On the other hand, the Super Kings had to wait until their final game of the league to make it to the Top 4.
The winner of tonight's game will go through to Sunday's final while the loser will wait for tomorrow's winner in QF 2 on the 26th in Ahmedabad.
GT vs CSK: Chennai Super Kings won by 15 runs

Huge ovation for Dhoni as he walks up for a chat.

This could be his last IPL match and now final at Chepauk.

GT's defeats in run-chases
By 15 runs vs CSK, Chennai, today
By 27 runs vs MI, Mumbai WS, 2023
By 5 runs vs DC, Ahmedabad, 2023
By 5 runs vs MI, Brabourne, 2022
(This was just their fourth defeat in 18 run-chases)

GT vs CSK: Super Kings book their FINAL spot

Another IPL final for CSK! They win by 15 runs

Shami's catch was taken in the final ball.

Shami looked to pull but instead slices it in the air.

Good catch from Chahar running across from mid-off.

Shami c Chahar b Pathirana 5(5) [4s-1]

Gt vs CSK: WICKET - Rashid departs for 30

Rashid Khan holes out and CSK is almost into the FINAL!

Rashid goes hard and crunches it in the air but finds the fielder at deep point.

Rashid Khan c Conway b Tushar Deshpande 30(16) [4s-3 6s-2]

GT vs CSK: WICKET- Darshan Nalkande run-out for a DUCK

Direct hit and the GT batter is gone.

CSK's fielding rising to the occasion at a crunch time.

Darshan Nalkande run out (Subhranshu Senapati) 0(1)

GT vs CSK: WICKET - Excellent catch by Gaikwad

The game is slipping away from GT's hands!

It was a stunning catch from Gaikwad and the third umpire has been asked to check.

He concludes that fingers are under the ball.

Shankar c Gaikwad b Pathirana 14(10) [6s-1]

GT vs CSK: WICKET - Rahul Tewatia bowled for 3

Carrom ball from Theekshana and it zips through off a good length.

Tewatia is bowled through the gate as he was beaten for pace.

Rahul Tewatia b Theekshana 3(5)

GT vs CSK: WICKET - Chahar gets the wicket of Gill

Chahar celebrates and raises his arms in delight!

He has got rid of the main man as Gill tried to pull and fails to control it.

It goes high in the air and Conway gets around at fine leg for a safe catch.

Shubman Gill c Conway b Chahar 42(38) [4s-4 6s-1]

GT vs CSK: WICKET - Miller is bowled for 4

Gill is losing people from the other end!

It was a sharp turn and Miller is knocked over.

Jadeja strikes again and gets the figures of 2/18.

GT vs CSK: WICKET - Dasun Shanaka departs for 17

Shanaka looked to go for a big reverse-hit but does not connect well enough.

He gets it high on the bat and the miscue is taken by Theekshana at short third.

Shanaka c Theekshana b Jadeja 17(16) [4s-1 6s-1]

GT vs CSK: WICKET - Hardik Pandya goes for 8

Theekshana strikes in his first over!

Hardik Pandya cuts aerially and it's a dolly for Jadeja at backward point.

Hardik Pandya c Jadeja b Theekshana 8(7) [4s-1]

GT vs CSK: WICKET - Saha sent back for 12

Deepak Chahar bowls it wider and Saha plays the pull shot.

He does not keep it down and picks out the man at deep backward square leg.

Saha c Pathirana b Chahar 12(11) [4s-2]

GT vs CSK: Chennai Super Kings post 172

CSK finish on 172 on a slow-ish track.

Ruturaj Gaikwad gave a super start scoring 60, but did not get much help from Conway.

After Gaikwad's wicket, Conway (40) struggled and Dube was sent who tried to smash the ball but was sent back for 1.

Rahane and Rayudu both played cameos of 17 run each and later Jadeja came in and scored 22.

The crowd screamed for MS Dhoni, but the 'Thala' could not stay much on the crease and was sent back for 1.

GT vs CSK: WICKET - Jadeja bowled for 22

Jadeja cleared his front leg for a massive swing over mid-wicket.

But Shami had other plans as Jadeja misses it and the ball crashes into the sticks.

Jadeja b Shami 22(16) [4s-2]

GT vs CSK: WICKET - Dhoni is OUT for 1

Dhoni's gone and Chepauk is silent!

Dhoni throws his bat at it but does not get the necessary elevation.

It was a simple overhead catch for Hardik at cover.

Dhoni c Hardik Pandya b Mohit Sharma 1(2)

GT vs CSK: WICKET - Rayudu departs for 17

A wicket off the final ball for Rashid Khan!

Rayudu goes the slogsweep but doesn't get the timing right and Shanaka runs in from deep mid-wicket to take the catch.

While the batter walks back, the crowd is screaming as Dhoni walks in.

Rayudu c Shanaka b Rashid Khan 17(9) [4s-1 6s-1]

GT vs CSK: WICKET - Devon Conway's struggles come to an end

Conway's struggle is over!

Conway stayed in his crease to whip it away but it had no power in the shot.

He hits it straight down Rashid Khan's throat at deep mid-wicket.

Conway c Rashid Khan b Shami 40(34) [4s-4]

GT vs CSK: WICKET - Ajinkya Rahane gone for 17

A wicket for Darshan Nalkande!

Rahane had hit boudaries in the previous ball and he stayed back to cut it backward of square.

He fails to keep it down and it is a simple catch for Gill at backward point.

Rahane c Shubman Gill b Darshan Nalkande 17(10) [6s-1]

GT vs CSK: WICKET - Shivam Dube bowled for 1

Dube tried to go big but left his defence open and the spinner made the ball go crashing into the leg-stump.

Shivam Dube b Noor Ahmad 1(3)

GT vs CSK: WICKET - Ruturaj Gaikwad departs for 60

A miscued pull and Ruturaj holes the ball to long-on into the hands of Miller.

This is the much needed wicket for Titans.

Gaikwad c Miller b Mohit Sharma 60(44) [4s-7 6s-1]

GT vs CSK: TOSS - Gujarat Titans opt to bowl

Gujarat Titans have won the toss and have opted to field.

For GT, Darshan Nalkande comes in place of Yash Dayal while CSK go unchanged.

Gujarat Titans (Playing XI): Shubman Gill, Wriddhiman Saha(w), Hardik Pandya(c), Dasun Shanaka, David Miller, Rahul Tewatia, Rashid Khan, Darshan Nalkande, Mohit Sharma, Noor Ahmad, Mohammed Shami

Chennai Super Kings (Playing XI): Ruturaj Gaikwad, Devon Conway, Ajinkya Rahane, Ambati Rayudu, Shivam Dube, Moeen Ali, Ravindra Jadeja, MS Dhoni(w/c), Deepak Chahar, Tushar Deshpande, Maheesh Theekshana

GT vs CSK: Welcome to live coverage
Watch content from
+ OTTs
on