GT vs LSG, IPL 2023: Massive win for Gujarat Titans, win by 56 runs
Last Updated: 05.36 AM, May 15, 2023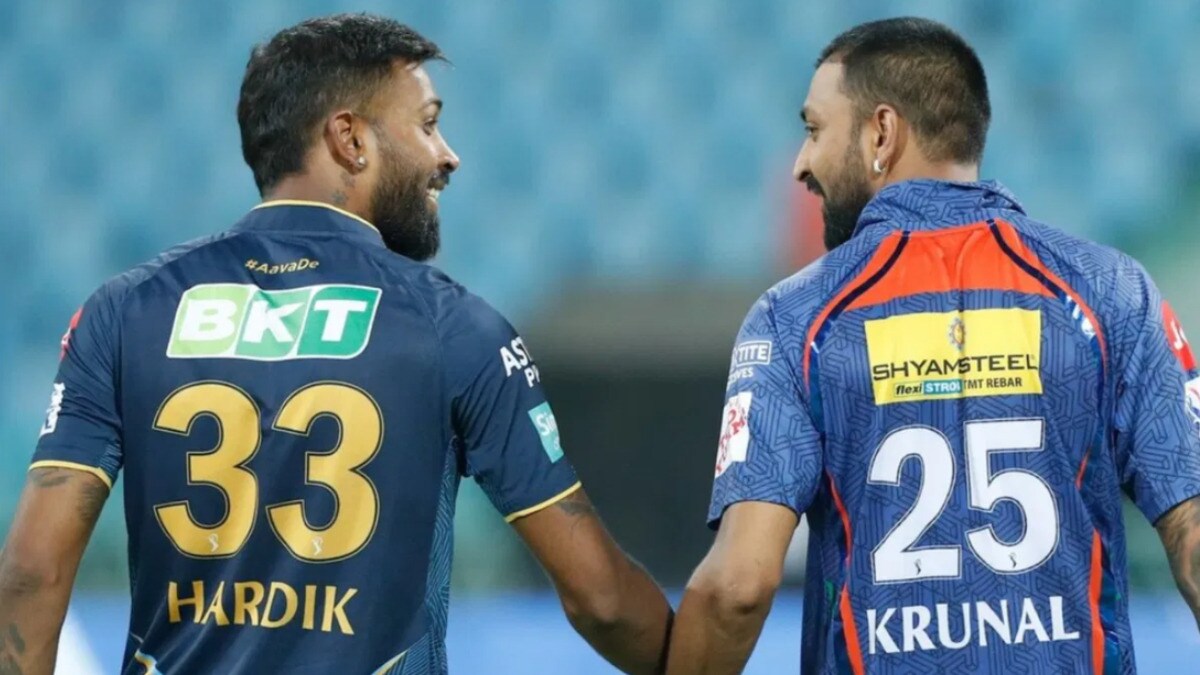 Gujarat Titans vs Lucknow Super Giants
The 1st clash of the Super Sunday is a clash between two brothers as Gujarat Titans (GT) is taking on Lucknow Super Giants (LSG) in match 51 of the Indian Premier League (IPL) 2023. With no KL Rahul, Krunal Pandya is leading the Super Giants and will be facing his brother Hardik in Ahmedabad.
The last time these two teams met, Titans pulled off a heist as Super Giants went on to gift two points to the defending champions.
They haven't beaten the Titans in the three previous encounters, but keeping their position on the points table in mind, the Super Giants are in need of a win.
GT vs LSG: Gujarat Titans won by 56 runs

Gujarat Titans win by 56 runs.

Loosing the toss proved to go in favour of GT, who wanted to bat and they posted a mammoth total on the board.

Mohit has a 4-fer while Shami, Rashid and Noor all took one wicket each.

Quinton de Kock, on his 1st game this season proved to be vital as he smashed 70 runs.

He was supported by Mayers, but later found no support from anyone.

GT vs LSG: WICKET - 2 in 2 for Mohit Sharma

First Ayush Badoni and then Krunal Pandya - both sent back by Mohit Sharma!

GT vs LSG: WICKET - Nicholas Pooran goes for 3

It was a floated up outside off delivery and Pooran went hard on the loft.

But the ball turned away and took the outside edge which proved to be a simple catch for Shami near short third.

Pooran c Shami b Noor Ahmad 3(6)

GT vs LSG: WICKET - Quinton de Kock goes for 70

What a wicket! The ball just kisses the top of the bails to light it up!

Rashid is celebrating. The third umpire has a look and a couple of replays show that the batter is OUT!

de Kock b Rashid Khan 70(41) [4s-7 6s-3]

GT vs LSG: WICKET - Marcus Stoinis sent back for 4

The asking rate climbing but LSG have only de Kock to rely on!

Stoinis tries to hit it down the ground, but the ball took the outer half and ballooned towards short third where Shami took a dolly.

Stoinis c Shami b Mohit Sharma 4(9)

GT vs LSG: WICKET - Deepak Hooda's poor form continues

It was a juicy full toss, well below the waist but all Hooda could do was heave it down to deep mid-wicket.

Tewatia ran in and took a simple catch.

Hooda c Rahul Tewatia b Shami 11(11)

GT vs LSG: 50 for Quinton de Kock

GT vs LSG: WICKET - Rashid Khan takes a stunning catch

That's a magnificent catch by Rashid Khan!

It was a slower short ball by Mohit Sharma and Mayers went for the hook.

He got the top edge towards deep square leg but Rashid Khan was quick to sprint across and complete an outstanding diving catch.

Mayers c Rashid Khan b Mohit Sharma 48(32) [4s-7 6s-2]

GT vs LSG: Shubman Gill remains not out on 94

Shubman Gill who ends on 94!

It was Saha who was the aggressor in the start while Gill was chilling at the non-strikers end.

Saha was set for a 100 but a fine catch ended his innings.

Hardik too came in and was looking to go for it from ball one.

But the skipper was sent back by his own brother.

Gill and Miller at the end took the side to 227 runs.

GT vs LSG: WICKET - Brother Krunal picks the catch of Hardik

Elder Pandya sends back Hardik!

It was a wide full delivery outside off and Hardik Pandya smashed that but found Krunal at extra-cover.

Hardik Pandya c Krunal Pandya b Mohsin Khan 25(15) [4s-1 6s-2]

GT vs LSG: WICKET - Wriddhiman Saha departs

Saha steps out and heaves the back of a length delivery in the air.

The ball goes deep square leg but Mankad - the sub - keeps his eyes on it and hangs on.

He does well to balance his body inside the cushions as he was close to it.

Saha c (sub)Prerak Mankad b Avesh Khan 81(43) [4s-10 6s-4]

GT vs LSG: 50 for Shubman Gill as well

This is his fourth this season.

GT vs LSG: Saha gets his first 50 of 2023

Infact, the batter did not even allow Gill to start scoring much at one point.

He has taken charge taking GT to 70+ score in the Powerplay.

GT vs LSG: MILESTONE - 1st brothers to captain teams in IPL

India all-rounders and siblings Hardik and Krunal Pandya have set a unique record - become captains of their respective sides - making it the 1st time brothers will be leading IPL teams.

The Pandya Brothers - Hardik and Krunal - are the only entry in this list.

Hardik is the regular skipper of Gujarat Titans.

As for Krunal, he was appointed captain of LSG after regular skipper KL Rahul got injured.

GT vs LSG: TOSS - Lucknow Super Giants opt to bowl

Lucknow Super Giants have won the toss and have opted to field

For Lucknow, de Kock is in, Naveen misses out.

For GT, forced change, Little is out as he has to play for Ireland, Alzarri comes in for him.

Lucknow Super Giants (Playing XI): Quinton de Kock, Kyle Mayers, Deepak Hooda, Krunal Pandya(c), Marcus Stoinis, Nicholas Pooran(w), Swapnil Singh, Yash Thakur, Ravi Bishnoi, Mohsin Khan, Avesh Khan

Gujarat Titans (Playing XI): Wriddhiman Saha(w), Shubman Gill, Hardik Pandya(c), Vijay Shankar, David Miller, Abhinav Manohar, Rahul Tewatia, Rashid Khan, Mohit Sharma, Noor Ahmad, Mohammed Shami

GT vs LSG: Welcome to live coverage