GT vs SRH, IPL 2023: Gujarat Titans win by 34 runs, make it to the Playoffs, Sunrisers eliminated from IPL 2023
Gujarat Titans vs Sunrisers Hyderabad, 62nd Match - Live Wicket-to-wicket update
Last Updated: 05.58 PM, May 15, 2023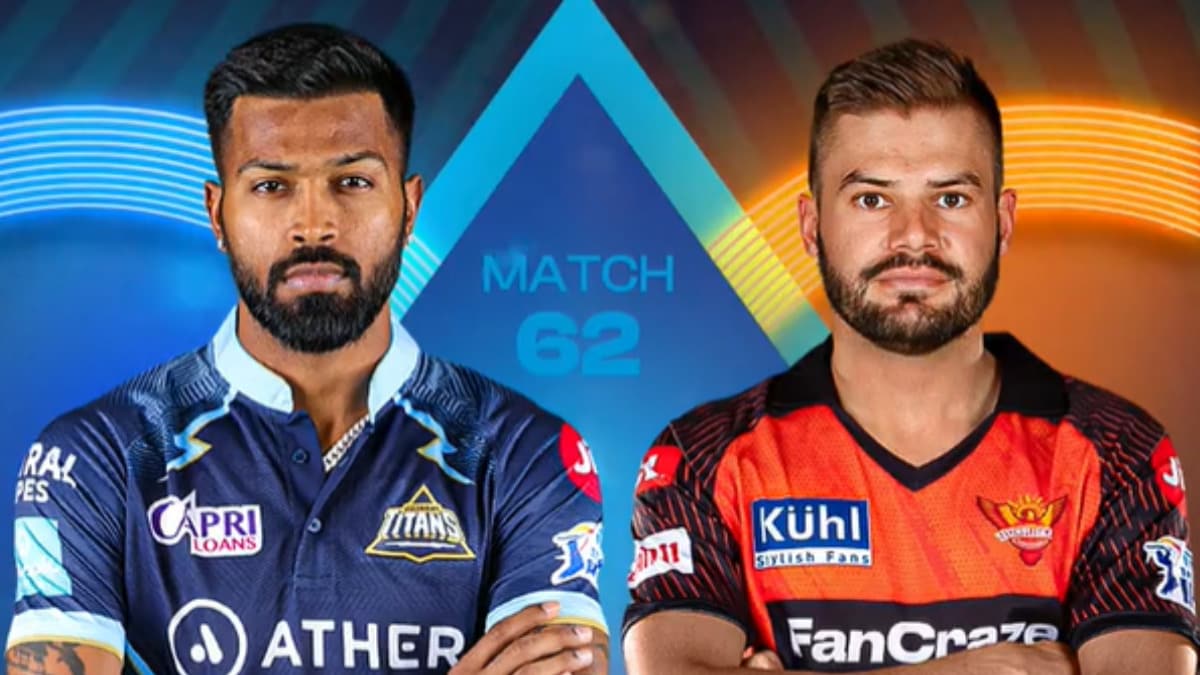 Gujarat Titans vs Sunrisers Hyderabad
Gujarat Titans (GT) and Sunrisers Hyderabad (SRH) are both playing the 62nd match of the Indian Premier League (IPL) 2023 with two different goals in mind. While GT wants to become the 1st team to qualify for the Playoffs, SRH is playing this game to just keep their glimmer of hope alive.
The Titans had faced a loss against Mumbai Indians by 27 runs. But overall, they have a settled team, with players putting their hands up when needed.
As for Sunrisers, they live to fight another day. They are in the 9th spot and they have been inconsistent.
GT vs SRH: Gujarat Titans win by 34 runs

Gujarat Titans make it to the Playoffs

Sunrisers eliminated from IPL 2023

Two totally different results in one game.

SRH lost 6 wickets inside 7 overs chasing 188. This is where they lost the game.

Heinrich Klaasen and Bhuvneshwar Kumar both tried to revive their innings, but could not take their side to victory.

GT vs SRH: WICKET - Bhuvneshwar walks back for 27

Bhuvneshwar goes hard and chips the ball towards deep cover.

Rashid comes in running and completes the catch with ease.

Bhuvneshwar c Rashid Khan b Mohit Sharma 27(26) [4s-3]

GT vs SRH: WICKET - Shami sends back dangerman Klaasen

Miller had dropped one earlier but he made no mistake this time.

Klaasen did not get the desired connection and he got the toe-end down the throat of long-off.

Klaasen c Miller b Shami 64(44) [4s-4 6s-3]

GT vs SRH: Noor Ahmad takes a blow on his ankle

Noor Ahmad bowls to Klaasen and the batter slaps it firmly towards the bowler.

Noor had no time to react and took a blow on his ankle.

He fell on the floor instantly and the physio checked him and he is now being helped off the field with a bit of help.

GT vs SRH: Second fifty in IPL for Heinrich Klaasen

Second fifty in IPL for Heinrich Klaasen.

He has been one of the best players for SRH this year.

GT vs SRH: WICKET - Marco Jansen departs for 3

Marco Jansen looked to loft the ball down the ground but he got a thick inside half and ends up chipping an easy catch for the GT skipper.

Marco Jansen c Hardik Pandya b Mohit Sharma 3(6)

GT vs SRH: WICKET - Abdul Samad dismissed for 4

Is this going to be a repeat of the RR vs RCB clash?

Abdul Samad pulled hard but hit it straight to Mavi at mid-wicket.

Second wicket in the over for Mohit.

Abdul Samad c (sub)Shivam Mavi b Mohit Sharma 4(3) [4s-1]

GT vs SRH: WICKET - Sanvir Singh OUT for 7

Mohit Sharma strikes first ball!

Sanvir Singh walked down the track to try and elevate it over him but only got a top-edge.

Sai Sudharsan moved to his right from third man, to take the catch.

Sanvir Singh c Sai Sudharsan b Mohit Sharma 7(6) [6s-1]

GT vs SRH: WICKET - Third wicket for Shami

Markram clips the ball away through the on-side and gets a leading edge.

The ball goes straight into the hands of Shanaka.

Markram c Shanaka b Shami 10(10) [4s-1]

GT vs SRH: WICKET - Rahul Tripathi walks back for 1

Three down for Sunrisers!

Tripathi stayed on the leg-side of the ball and struck his bat out to guide it to third man.

But he got an outside edge and Tewatia snaffles it with both hands at first slip.

Tripathi c Rahul Tewatia b Shami 1(2)

GT vs SRH: WICKET - Yash Dayal makes a comeback

Yash Dayal jumps and punches the air in delight.

He has made a strong comeback after being hit by Rinku Singh.

Abhishek Sharma threw his bat to get an outside edge.

Abhishek Sharma c Saha b Yash Dayal 4(5) [4s-1]

GT vs SRH: WICKET - Anmolpreet Singh sent back for 5

Anmolpreet Singh plays across the line and the ball balloons up off the top-edge.

Rashid Khan runs in from third man to take the catch.

Anmolpreet Singh c Rashid Khan b Shami 5(4) [4s-1]

GT vs SRH: Gujarat Titans score 188/9

Shubman Gill and Sai Sudharsan forged a century partnership!

However, leaving the two, no one else really performed. SRH were also sloppy in the field as the hosts were 147/1 at the end of the 14th over.

After Marco Jansen broke the century stand, Gt batter's Hardik, Miller and Tewatia - fell in the following three overs.

GT vs SRH: WICKET - Fifer for Bhuvneshwar

Shami swung hard down the ground and got height but not the distance.

Jansen moved across to his left from long-on to snaffle it with both hands.

Shami c Marco Jansen b Bhuvneshwar 0(1)

GT vs SRH: WICKET - No hat-trick for Bhuvi but a team hat-trick

Noor swung his bat and missed it. The batters tried to sneak a single via byes.

But Klaasen took the ball and passed it to Bhuvi who hit the bullseye at the bowler's end.

Noor Ahmad run out (Klaasen/Bhuvneshwar) 0(1)

GT vs SRH: WICKET - Two in two for Bhuvneshwar

Rashid Khan shuffled and threw his bat hard at it.

But he only managed an outside edge and it was a dolly for Klaasen.

Rashid Khan c Klaasen b Bhuvneshwar 0(1)

GT vs SRH: WICKET - Centurion Shubman Gill OUT

A wicket off the first ball of the final over. Shubman Gill found the fielder at extra cover. A superb catch from Samad diving low to his left.

Shubman Gill c Abdul Samad b Bhuvneshwar 101(58) [4s-13 6s-1]

GT vs SRH: Maiden IPL century for Shubman Gill

Maiden IPL ton for Shubman Gill!

He gets a big round of applause from the Ahmedabad crowd as he removes his helmet, raises his bat and bows down.

GT vs SRH: WICKET - Rahul Tewatia departs for 3

Rahul Tewatia moves leg-side to tonk it downtown but Jansen runs in from long-off and adjusts in the end by backpedalling and taking an overhead catch.

Rahul Tewatia c Marco Jansen b Fazalhaq Farooqi 3(3)

GT vs SRH: WICKET - Miller sent back for 7

Miller backs himself to hammer it over long-on.

However, he did not get the required elavtion which was a straightforward catch for the SRH captain at long-on.

Miller c Markram b T Natarajan 7(5) [4s-1]

GT vs SRH: WICKET - Hardik Pandya goes for 8

Hardik Pandya flashed his bat hard for a cut but did not get the placement right.

Tripathi moved to his left at backward point to take a sharp catch.

Hardik Pandya c Tripathi b Bhuvneshwar 8(6) [4s-1]

GT vs SRH: WICKET - Sai Sudharsan misses his half-century

The 147-run stand has been broken!

Sai Sudharsan throws the kitchen sink at it. He sliced it in the air off the outer edge and Natarajan ran back from backward point to take the catch.

Sai Sudharsan c T Natarajan b Marco Jansen 47(36) [4s-6 6s-1]

GT vs SRH: Another half-ton for Shubman Gill

This is his 5th one this season!

GT vs SRH: WICKET - Wriddhiman Saha goes for a DUCK

Bhuvneshwar strikes early!

Bhuvi had asked Markram to add first slip after the first ball and that worked in SRH's favour.

Saha played a loose shot and edged it behnd where Abhishek Sharma at second slip moved to his left and caught it in front of first slip.

Saha c Abhishek Sharma b Bhuvneshwar 0(3)

GT vs SRH: TOSS - Sunrisers Hyderabad opt to bowl

Sunrisers Hyderabad have won the toss and have opted to field.

For SRH, Marco Jansen comes in for Glenn Phillips while for GT, forced changes. Shankar got hit by a ball and Sai comes in.

Shanka makes his debut and also Yash Dayal is back.

Gujarat Titans (Playing XI): Shubman Gill, Wriddhiman Saha(w), Sai Sudharsan, Hardik Pandya(c), David Miller, Dasun Shanaka, Rahul Tewatia, Mohit Sharma, Rashid Khan, Mohammed Shami, Noor Ahmad

Sunrisers Hyderabad (Playing XI): Abhishek Sharma, Rahul Tripathi, Aiden Markram(c), Heinrich Klaasen(w), Abdul Samad, Sanvir Singh, Mayank Markande, Marco Jansen, Bhuvneshwar Kumar, Fazalhaq Farooqi, T Natarajan

GT vs SRH: Gujarat Titans are wearing lavender jerseys

The Gujarat Titans are wearing lavender jerseys today and it is for a special inititiave - to spread awarness around cancer.

Hardik Pandya said, "Yeah, it is a special inititiave to support cancer patients".

GT vs SRH: Welcome to live coverage