KKR vs LSG, IPL 2023: Rinku Singh took the game till the end, but not his day, Super Giants win by 1 run
Kolkata Knight Riders vs Lucknow Super Giants, 68th Match - Live Wicket-to-wicket update
Last Updated: 06.07 PM, May 20, 2023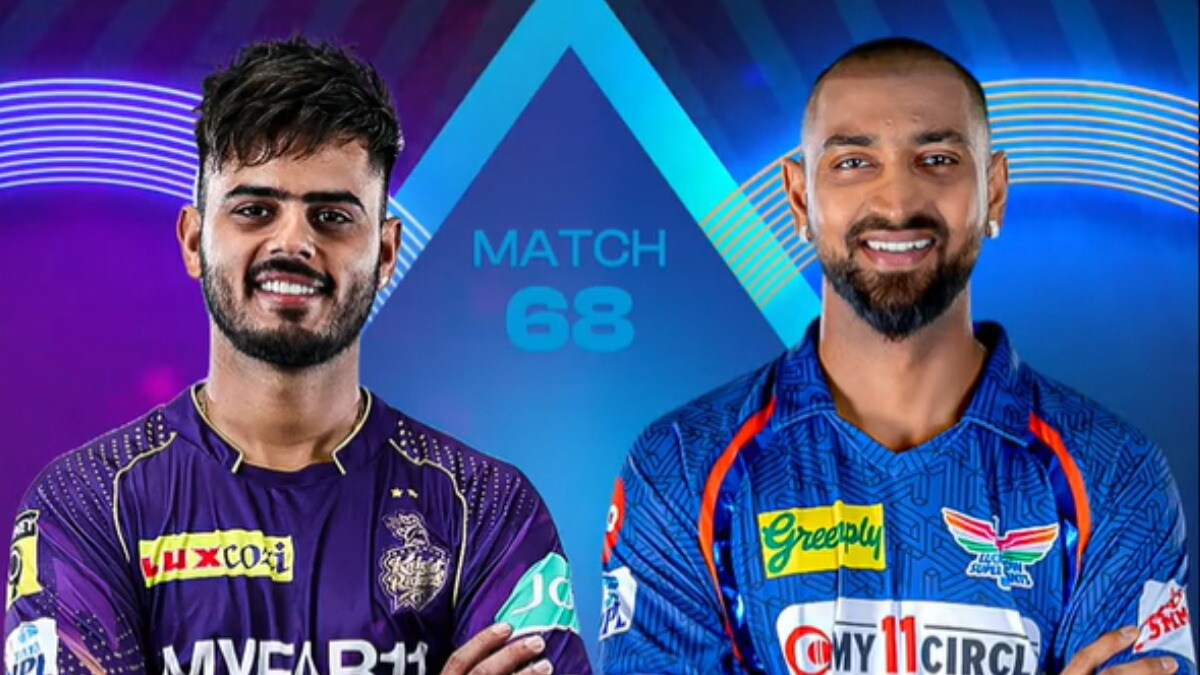 Kolkata Knight Riders vs Lucknow Super Giants
Match 68 of the Indian Premier League (IPL) 2023 will be between Kolkata Knight Riders (KKR) and the Lucknow Super Giants (LSG).
For Lucknow, the equation is simple - a win will take them through to the playoffs regardless of what happens elsewhere. They might still go through it even if they lose. However, for this to happen they will need at least one of MI or RCB to lose.
As for KKR, they are not only relying on other results but also need a massive win in this game to improve their NRR. They will need to beat LSG by at least 110 runs if they score 180 batting first.
KKR vs LSG: Lucknow Super Giants win by 1 run

LSG qualify for the playoffs, win by 1 run!

Rinku had got the crowd at Eden Gardens hyped up.

He almost pulled off the impossible once again.

However, Rinku had no support from the other end.

The hosts were 61/1 at the end of the powerplay, but after both openers departed, KKR were chocked by the spinners.

Bishnoi bowled a top spell of 2/23, and Krunal and Gowtham got amongst the wickets as well.

And then Naveen-ul-Haq and Yash Thakur bowled some tight overs by taking the pace off the ball.

KKR vs LSG: Rinku Singh brings up his 50

Rinku Singh flicks the ball deep into the night sky.

Gets a a 110m SIX and brings up his 50!

KKR vs LSG: WICKET - Sunil Narine run-out for 1

KKR batters tried to sneak a second run but the diving fielder is quick to get up and throw the ball to the keeper.

Narine is short of his ground.

Narine run out (Naveen-ul-Haq/de Kock) 1(2)

KKR vs LSG: WICKET - Shardul Thakur gone for 3

Shardul attempted the pull but it was the longer part of the ground.

He holes it out to Prerak Mankad at deep backward square leg.

Thakur c Prerak Mankad b Yash Thakur 3(7)

KKR vs LSG: WICKET - Bishnoi sends back Andre Russell

Bishnoi darts one short and this was the googly,

Russell took a big swing but ends up losing his off stump.

Russell b Ravi Bishnoi 7(9) [6s-1]

KKR vs LSG: WICKET - Bishnoi juggles and takes the catch

Ravi Bishnoi juggles two-three times but takes the catch!

Gurbaz skies the ball and Bishnoi from backward point runs back and almost misses, but hold on to it.

Gurbaz c Ravi Bishnoi b Yash Thakur 10(15)

KKR vs LSG: WICKET - Jason Roy bowled for 45

With the last ball of his spell, Krunal Pandya strikes!

The ball goes under the bat and the stumps are a mess.

Roy b Krunal Pandya 45(28) [4s-7 6s-1]

KKR vs LSG: WICKET - Ravi Bishnoi gets the big wicket of Nitish Rana

100th T20 wicket for Ravi Bishnoi!

Nitish Rana got a leading edge and Krunal at covers steadied himself to take one of the easiest catches.

Nitish Rana c Krunal Pandya b Ravi Bishnoi 8(10) [4s-1]

KKR vs LSG: WICKET - Venkatesh Iyer departs for 24

Venkatesh Iyer went for the check drive and chipped a dolly of a catch to Bishnoi at cover.

Venkatesh Iyer c Ravi Bishnoi b Gowtham 24(15) [4s-3 6s-1]

KKR vs LSG: Lucknow Super Giants score 176/8

From 73/5 to 176/8 courtesy of Pooran's special knock

LSG managed to squeeze 54 off the last 4 overs, which could prove handy to the team.

KKR vs LSG: WICKET - Ravi Bishnoi Bowled

2nd wicket in the over for Shardul Thakur!

Ravi Bishnoi swung the bat but missed the ball completely.

The ball smacks the top of off and the stumps rattle.

Ravi Bishnoi b Thakur 2(2)

KKR vs LSG: WICKET - Dangerous Nicholas Pooran departs for 58

5th time Thakur has dismissed Pooran in 18 balls in T20 cricket!

Pooran looked to repeat the SIXES he hit, but he doesn't get the desired connection.

He picks out Venky Iyer at deep backward point.

Pooran c Venkatesh Iyer b Thakur 58(30) [4s-4 6s-5]

KKR vs LSG: Fifty up for Nicholas Pooran

Fifty up for Nicholas Pooran!

He slaps it flat and sends it soaring over the sweeper cover fence

KKR vs LSG: WICKET - Ayush Badoni sent back for 25

Ayush Badoni tried to go three boundaries in a row but Narine had the last laugh!

Badoni got a top-edge which was safely taken by Shardul at deep mid-wicket.

Ayush Badoni c Thakur b Narine 25(21) [4s-2 6s-1]

KKR vs LSG: WICKET - Quinton de Kock goes for 28

What is happening to Super Giants?

de Kock miscues it, and he's gone too! de Kock swept the ball and sliced it high into the night sky but it was taken by Russell at deep midwicket.

de Kock c Russell b Chakaravarthy 28(27) [6s-2]

KKR vs LSG: WICKET - Krunal Pandya walks back for 9

Krunal Pandya swept the ball high in the air, but miscues it to deep midwicket.

Rinku Singh makes no mistake and takes the catch.

Krunal Pandya c Rinku Singh b Narine 9(8) [6s-1]

KKR vs LSG: WICKET - Vaibhav Arora sends back Stoinis for a DUCK

Big, big wicket and Super Giants do not need this!

Vaibhav Arora has got rid of the dangerous Stoinis for a duck with an absolute snorter!

Stoinis c Venkatesh Iyer b Vaibhav Arora 0(2)

KKR vs LSG: WICKET - Prerak Mankad departs for 26

Mankad slashes the ball hard but miscues it and it goes in the air!

The batter played a small cameo, but Super Giants need more.

Prerak Mankad c Harshit Rana b Vaibhav Arora 26(20) [4s-5]

KKR vs LSG: WICKET - Karan Sharma sent back for 3

It was a short ball that rushed onto Karan Sharma and he looked to pull.

He got hight but not distance and Shardul Thakur takes a safe catch at midwicket.

Karan Sharma c Thakur b Harshit Rana 3(5)

KKR vs LSG: TOSS - Kolkata Knight Riders opt to bowl

Kolkata Knight Riders have won the toss and have opted to field.

KKR go with same team, Lucknow make few changes - instead of Hooda, they have Karan. And Gowtham comes in for Swapnil.

Lucknow Super Giants (Playing XI): Quinton de Kock(w), Karan Sharma, Prerak Mankad, Marcus Stoinis, Nicholas Pooran, Krunal Pandya(c), Ayush Badoni, Krishnappa Gowtham, Ravi Bishnoi, Naveen-ul-Haq, Mohsin Khan

Kolkata Knight Riders (Playing XI): Rahmanullah Gurbaz(w), Jason Roy, Venkatesh Iyer, Nitish Rana(c), Andre Russell, Rinku Singh, Shardul Thakur, Sunil Narine, Vaibhav Arora, Harshit Rana, Varun Chakaravarthy

KKR vs LSG: Welcome to live coverage
Watch content from
+ OTTs
on