LIVE Updates | BAN vs AFG, Asia Cup 2023: Afghanistan innings comes to an end, 89-run win for Bangladesh
BAN vs AFG, Asia Cup 2023, Match 4: Live updates for Bangladesh vs Afghanistan clash in Gaddafi Stadium, Lahore
Last Updated: 10.55 PM, Sep 03, 2023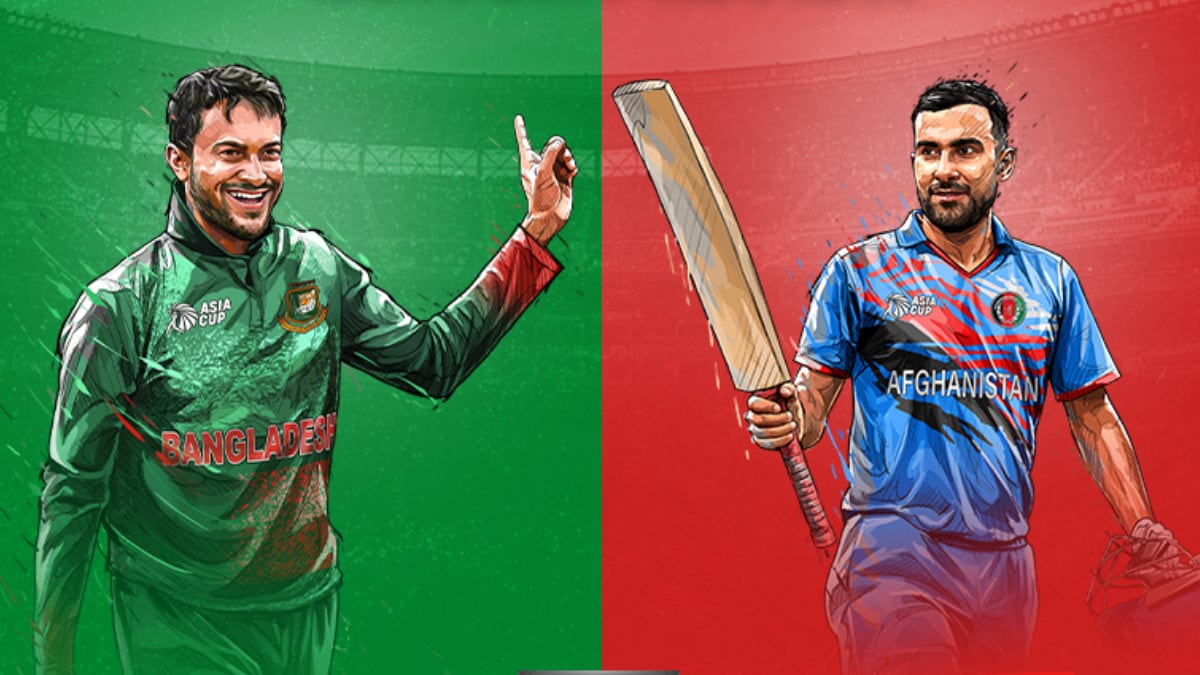 Bangladesh vs Afghanistan
The fourth match of the Asia Cup 2023 is set to feature Bangladesh facing off against Afghanistan at Lahore's Gaddafi Stadium.
In their tournament opener, Bangladesh endured a significant batting collapse, managing only 164 runs on the scoreboard. Sri Lanka comfortably chased down this target with 10 overs to spare. The standout performer for Bangladesh was Najmul Hossain Shanto, who accumulated an impressive 89 runs.
On the flip side, Afghanistan recently faced a series of defeats in ODIs against Pakistan, with Pakistan achieving a clean sweep in the three-match series. Afghanistan aims to rebound strongly, relying on their potent batting lineup and formidable spin-bowling attack..
BAN vs AFG: 89-run win for Bangladesh

Bangladesh secures a remarkable victory after their defeat to Sri Lanka in the 1st game.

Today they were in excellent form right from the beginning. Bangladesh openers set the tone and the centuries by Miraz and Shanto propelled them to a commanding total, with contributions from Shakib and Mushfiq in the form of crucial cameos.

In response, Afghanistan suffered an early blow with the loss of Gurbaz.

Ibrahim Zadran did produce an entertaining innings, but some of his shots came after he had already reached his fifty.

Shahidi also notched up a half-century, but in all honesty, Afghanistan was never truly in contention throughout the match.

Rashid Khan did manage a few boundaries towards the end, but they proved insufficient.

BAN vs AFG: WICKET - Rashid Khan goes for 24

Taskin Ahmed delivers a well-disguised slower short ball, and Rashid Khan attempts a powerful shot.

He endeavors to strike it off his back foot but ends up with a top-edge that heads towards mid-off.

The Bangladesh captain makes a crucial catch, and as a result, they stage a remarkable comeback, securing a delightful victory in the Asia Cup.

Rashid Khan c Shakib b Taskin Ahmed 24(15) [4s-3 6s-1]

BAN vs AFG: WICKET - HIT-WICKET from Mujeeb

Mujeeb sends the ball soaring over wide long-on, but as he retreats deep into his crease, he accidentally knocks the stumps with his back foot.

Bangladesh is now on the brink of victory, needing just one more wicket.

Mujeeb hit wkt b Taskin Ahmed 4(8)

BAN vs AFG: WICKET - Karim Janat Run Out

Rashid attempts a pull shot towards mid-on, prompting the non-striker to start off for a single.

However, the throw arrives directly at the bowler's end, resulting in a pinpoint direct-hit. As a consequence, the non-striker falls short of his crease, and Janat is dismissed; he's been run out.

This unfortunate turn of events has cost Afghanistan their eighth wicket. Bangladesh is now just two wickets away from securing a resounding victory.

Karim Janat run out (Anamul) 1(1)

BAN vs AFG: WICKET - Nabi departs for 3

The bowler delivered a slightly short delivery, and Nabi attempted a big shot, opting for a pull, but completely mishit it towards deep mid-wicket.

Afif managed to grab a challenging catch and Bangladesh moves nearer to securing victory.

Nabi c Afif Hossain b Taskin Ahmed 3(6)

BAN vs AFG: WICKET - 3rd wicket for Shoriful Islam

Bowled out!! Inside edge!

The delivery was of a good length, just outside off, and Gulbadin attempted a swing across the line but ended up getting an inside edge onto the stumps.

Shoriful claims his third wicket, putting Bangladesh in a commanding position and edging closer to a resounding victory.

Gulbadin b Shoriful Islam 15(13) [4s-1 6s-1]

BAN vs AFG: WICKET - Captain departs for 51

Shahidi exits the field after an impressive innings!

The bowler delivered a full-length ball outside the off-stump, and Shahidi attempted a cross-batted shot, resulting in an outside edge that soared straight into the hands of the fielder at third man.

Shahidi c Hasan Mahmud b Shoriful Islam 51(60) [4s-6]

BAN vs AFG: WICKET - Najibullah Zadran bowled by Miraz

Partnership broken! The captain loses his partner.

Miraz does the trick and get the wicket he needs.

Afghanistan need 142 runs in 83 balls

Najibullah b Mehidy Hasan Miraz 17(25) [4s-2]

BAN vs AFG: 50 for captain Hashmatullah Shahidi

The captain is leding from the front!

He gets to his half-century but he knows his job is not yet done.

BAN vs AFG: WICKET - Excellent catch by Mushfiqur

What an outstanding catch by Rahim!

The delivery was short of a length just outside off, and Ibrahim Zadran attempted to play it with a back-foot punch. However, he ended up getting an outside edge.

Rahim reacted swiftly, diving to his right, and successfully catching the ball with his right hand.

Ibrahim Zadran departs the field after a valuable contribution with the bat.

Ibrahim Zadran c Mushfiqur b Hasan Mahmud 75(74) [4s-10 6s-1]

BAN vs AFG: 50 for Ibrahim Zadran

Ibrahim Zadran gets his half-century under pressure!

He raises his bat and soakes in the applause.

He will need his partner to support him in the run-chase.

BAN vs AFG: WICKET - Rahmat Shah bowled for 33

Bowled out! Stumps shattered!

What was that shot from Shah? It's highly unusual for him.

Taskin has shattered this partnership. The delivery was short of a length and angled in, and Shah attempted an ambitious slog across the line.

Unfortunately, he missed the ball completely, and it thundered into the top of the off-stump.

Rahmat b Taskin Ahmed 33(57) [4s-5]

BAN vs AFG: Hasan Mahmud's anger towards Rahmat Shah

BAN vs AFG: WICKET - Rahmanullah Gurbaz goes for 1

Afghanistan lose Gurbaz's wicket, but retained their review.

Despite significant uncertainty surrounding the decision, umpire Langton Rusere remained steadfast in his call.

Gurbaz confidently advanced down the pitch, attempting a cross-line swing, but narrowly missed connecting with the inswinger, resulting in the ball striking him on the back pad.

Gurbaz lbw b Shoriful Islam 1(7)

BAN vs AFG: Bangladesh finish with 334/5

Mehidy Hasan and Shanto's centuries have propelled Bangladesh to an impressive first-innings total of 334/5.

While Naim provided an energetic start Hridoy, unfortunately, fell for a duck.

Post this, Bangaldesh felt they were on the losing end, but the outstanding partnership between Shanto and Miraz put them on a very strong position.

Towards the end of the innings, Mushfiq and Shakib played delightful cameos that pushed the team past the 330-run mark.

As for Afghanistan's bowlers, it was not their day.

Most of them proved to be expensive, and their fielding left much to be desired.

BAN vs AFG: WICKET - Shamim Hossain goes for 11

Shamim flicks the ball towards deep square leg, immediately signaling for a quick two.

The fielder's throw reaches the wicketkeeper at the striker's end, who swiftly removes the bails.

Unfortunately, Shamim's dive falls short, and he is dismissed. The batsmen manage to complete only one run.

Shamim Hossain run out (Karim Janat/Gurbaz) 11(6) [6s-1]

BAN vs AFG: WICKET - Mushfiqur Rahim is also run out

Shakib plays a drive towards the cover region, prompting Mushfiq to initiate a quick single.

However, the ball goes to the Afghan skipper who collects it quickly and throws it accurately, reaching the bowler's end swiftly, and Naib does an excellent job fielding it.

Mushfiqur run out (Shahidi/Gulbadin) 25(15) [4s-1 6s-1]

BAN vs AFG: WICKET - Shanto run-out

That's a rather unfortunate way to be dismissed.

Shanto attempted a reverse sweep, directing the ball towards the short third man, and initiated a run.

However, the ball went straight to the fielder. While trying to return to the crease, he lost his footing and slipped in the process.

The fielder deflected the ball to the wicketkeeper, and Gurbaz swiftly removed the bails.

Shanto run out (Najibullah/Gurbaz) 104(105) [4s-9 6s-2]

BAN vs AFG: 100 for Shanto

Shanto reaches his century! This marks his second ODI hundred.

A fuller length delivery allowed Shanto to elegantly flick the ball through the wide mid-on area, securing a single to reach this significant milestone.

Thanks to this exceptional performance by the left-handed batsman, Bangladesh is steadily progressing towards an imposing first-innings total.

BAN vs AFG: Mehidy is retired hurt

SIX! The ball is claimed by the ball boy stationed beyond the deep cover boundary.

However, it appears that Mehidy is departing the field; he's retired hurt due to an issue with his left hand, which has cramped up.

BAN vs AFG: Mehidy Hasan Miraz reaches 100 in style

Mehidy Hasan Miraz reaches his second ODI century!

This has truly been a magnificent innings.

He took advantage of a shortish delivery and opted for a pull shot, with the ball coming off the cue end towards mid-on.

Mehidy quickly called for a single, completed it, and promptly removed his helmet.

His teammates and the enthusiastic Bangladesh fans in the stands rewarded him with a standing ovation.

BAN vs AFG: 200 up for Bangladesh

Mehidy Hasan Miraz 82 runs off 98 balls

Najmul Hossain Shanto 74 runs off 78 balls

BAN vs AFG: 50 for Najmul Hossain Shanto

It's a SIX! Shanto reaches his fifty!

A short ball directed towards the middle and leg, and Shanto responds with an elegant pull shot.

He sends it soaring over deep backward square leg for a six.

He reaches his half-century in a stylish manner.

BAN vs AFG: 50 for Mehidy Hasan Miraz

Mehidy reaches his fifty!

His move to open the batting has certainly paid off.

With a grateful smile, he raises his bat in acknowledgment of his teammates' applause.

BAN vs AFG: WICKET - Towhid Hridoy departs for a duck

Two wickets in consecutive overs!

Bangladesh's decision to promote Towhid to number three doesn't pay off.

A full-length delivery tempts Towhid into a drive, and the ball subtly moves, catching the outside edge.

Zadran's reaction is a touch delayed, but he dives and clings onto the catch with his right hand.

Towhid Hridoy c Ibrahim Zadran b Gulbadin 0(2)

BAN vs AFG: WICKET - Mohammad Naim goes for 28

An absolute beauty of a delivery. It's the final ball of the powerplay, and Mujeeb has shattered the partnership.

Afghanistan desperately needed that breakthrough, particularly in this blistering heat. It was a flawless googly, bowled with a subtly scrambled seam.

Naim leaned forward, attempting to defend against the angle that was coming in, but the ball deceivingly straightened, evading his outside edge, and crashed into the top of off-stump.

Naim b Mujeeb 28(32) [4s-5]

BAN vs AFG: Bangladesh off to an excellent start

Mohammad Naim 22 runs off 22 balls

Mehidy Hasan Miraz 15 runs off 20 balls

BAN vs AFG: Physio out for Rashid Khan

Rashid retreated and executed a sliding stop, albeit it was an awkward one that caused him some discomfort.

The physio rushed onto the field to assess his condition.

The slide occurred on the advertising carpets, which made it less than smooth.

Fortunately, Rashid appears to be fine now and has returned to the field.

BAN vs AFG: TOSS - Bangladesh opt to bat

Bangladesh have won the toss and have opted to bat.

Afghanistan (Playing XI): Rahmanullah Gurbaz(w), Ibrahim Zadran, Rahmat Shah, Hashmatullah Shahidi(c), Najibullah Zadran, Mohammad Nabi, Gulbadin Naib, Karim Janat, Rashid Khan, Fazalhaq Farooqi, Mujeeb Ur Rahman

Bangladesh (Playing XI): Mohammad Naim, Najmul Hossain Shanto, Shakib Al Hasan(c), Towhid Hridoy, Shamim Hossain, Mushfiqur Rahim(w), Afif Hossain, Mehidy Hasan Miraz, Taskin Ahmed, Shoriful Islam, Hasan Mahmud

BAN vs AFG: Squads

Afghanistan Squad: Rahmanullah Gurbaz(w), Ibrahim Zadran, Rahmat Shah, Hashmatullah Shahidi(c), Gulbadin Naib, Riaz Hassan, Mohammad Nabi, Ikram Alikhil, Rashid Khan, Abdul Rahman, Najibullah Zadran, Mujeeb Ur Rahman, Fazalhaq Farooqi, Sharafuddin Ashraf, Karim Janat, Noor Ahmad, Suliman Safi

Bangladesh Squad: Mohammad Naim, Tanzid Hasan, Najmul Hossain Shanto, Shakib Al Hasan(c), Towhid Hridoy, Mushfiqur Rahim(w), Mehidy Hasan Miraz, Mahedi Hasan, Taskin Ahmed, Shoriful Islam, Mustafizur Rahman, Afif Hossain, Hasan Mahmud, Shamim Hossain, Tanzim Hasan Sakib, Nasum Ahmed, Anamul Haque