LIVE Updates | IND vs NEP, Asia Cup 2023: India win by 10 wickets, enter Super 4 along with Pakistan
IND vs NEP, Asia Cup 2023, Match 5: Live updates for India vs Nepal clash in Pallekele International Cricket Stadium, Pallekele.
Last Updated: 11.35 PM, Sep 04, 2023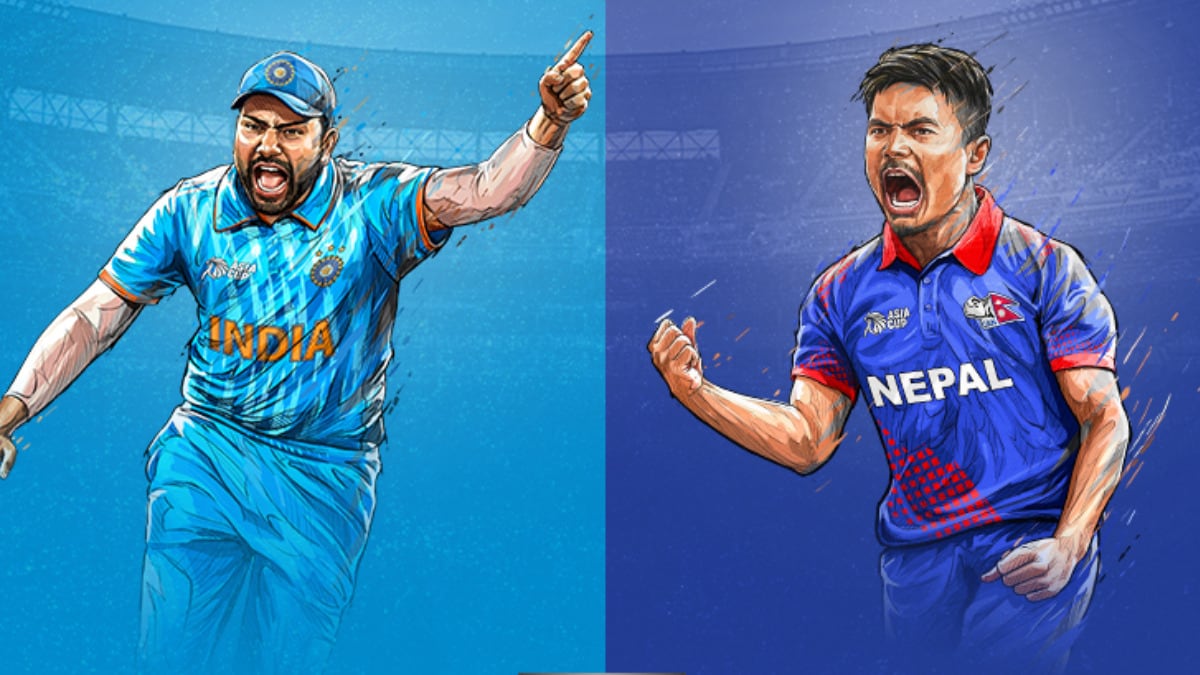 India enters this match as the clear favourites as they face neighbours Nepal for the first time in Match 5 of the Asia Cup 2023. Group A has already seen Pakistan make it to the Super 4 and now it relies on India and Nepal to win the clash and clinch their spot.
India's previous encounter against Pakistan was disrupted due to rain after India's innings, resulting in both teams receiving one point each.
Regarding the newcomers to the Asia Cup, they had a promising beginning in their tournament debut against Pakistan. Nepal's batting lineup struggled and was dismissed for a mere 104 runs, finding the Pakistan bowling attack too challenging to handle.
IND vs NEP: India win by 10 wickets

India win by 10 wickets despite the fielding blundres.

Despite the persistent rain to disrupt the match, fans were fortunate to witness a game.

The second innings had to be shortened to 23 overs, with a revised target set at 145 for India.

Rohit and Gill had already accumulated 17 runs from 2.1 overs when rain briefly halted their chase.

Rohit reached his fifty in just 38 deliveries, while Gill achieved his in 47.

Nepal put up a valiant effort, but India's dominance ultimately proved too challenging to overcome. Stay tuned for the post-match presentations.

IND vs NEP: Shubman Gill gets his 50 as well

Gill reaches his fifty with a delightful four.

He has a handshake with his partner and raises his bat.

After a recent dry spell, this innings is a significant confidence booster for him.

IND vs NEP: 100 up for India

IND vs NEP: Skipper Rohit Sharma gets his 50

Rohit reaches his half-century, showing a significant increase in his pace, clearly aiming to finish the job quickly.

He lifts his bat to acknowledge the applause.

IND vs NEP: 50 up for India

India needs 94 runs in 91 balls to win!

Both batters are looking to play in boundaries now.

IND vs NEP: Play to resume | 23 overs | Target: 145

The umpires step onto the field for the inspection and have a brief discussion with the curator before promptly returning.

We have an update: play is set to resume at 22:15 local time, with 23 overs to be played (5 overs of Powerplay).

IND vs NEP: Game should start by 10:20 PM

There's some activity by the groundsmen and the inspection will be done by 10:00 PM.

The game should start by 10:20 PM and the umpires say it would be a 20-overs game.
However, post the said time, there will be no game.

IND vs NEP: Rain stops play - India need 214 runs

Another interruption in play as it start drizzling.

The game has already lost close to one hour due to rain in the first innings.

The rain is heavier, might start to lose overs now.

Rain stops play - India need 214 runs

IND vs NEP: Nepal manage to score 230 runs

The fielding display by India was far from ideal. With three dropped catches within the first five overs and numerous fumbles, this did not look like a team that is to play the World Cup in a few weeks.

Apart from Jadeja, the bowling seemed rather ordinary.

However, Nepal did play fearless cricket.

Nepal's openers, after get lifeline, made the most of it establishing a brisk 65-run partnership.

Aasif Sheikh held one end and reached his fifty.

When the score stood at 144/6, it appeared that India might bowl Nepal out for less than 200.

However, Kami and Airee forged a valuable 50-run partnership. Kami provided some late impetus, pushing them past the 230-mark.

India's body language also looked not in form and they will need to step up if they want to make it to the Super 4.

IND vs NEP: WICKET - Rajbanshi bowled

Siraj sticks to a straightforward approach, delivering a full and straight delivery.

Rajbanshi is caught off guard by the pace of the ball, as it passes him before he can bring his bat down, ultimately crashing into the off-stump.

IND vs NEP: WICKET - Lamichhane run out but Axar/Ishan

Miscommunication leads to Lamichhane's dismissal.

A slower delivery, pitched close to the off-stump, prompts Lamichhane to back away and attempt a cut shot.

But he ends up hitting it off the toe of the bat directly to the extra cover fielder.

Initially, Lamichhane wanted a single and set off, with Karan responding at first.

However, after Karan decided to abort the run, Lamichhane was already more than halfway down the pitch.

Axar Patel quickly retrieves the ball and throws it to Ishan Kishan, who completes the dismissal.

Lamichhane run out (Axar/Ishan Kishan) 9(17)

IND vs NEP: WICKET - Shami gets a wicket to his name

Ishan Kishan takes a commendable catch here.

Unfortunately, Kami falls short of a fifty.

He appears visibly frustrated as he makes his way back to the pavilion. Nonetheless, he put up a solid performance.

The wicket was claimed by a short-length delivery pitched around the off-stump.

Sompal Kami c Ishan Kishan b Shami 48(56) [4s-1 6s-2]

IND vs NEP: Mis-fielding sees Nepal batters take extra runs

There's quite a bit of action on this ball.

Lamichhane strikes the ball with force directly to mid-off and contemplates taking a single, but Kami quickly signals him to retreat.

Lamichhane manages to return to his crease just before Hardik's throw reaches the stumps.

As the ball continues to roll towards backward point, the batsmen capitalize on the opportunity and complete a single run.

However, Jadeja decides to make a throw at the bowler's end, requiring a diving effort to stop it.

This delay allows the batsmen to sneak in an additional run.

IND vs NEP: WICKET - Pandya sends back Airee for 29

Hardik breaks the 50-run stand!

This is a clever display of bowling skill. It angled in sharply, eluding Airee's bat on the inside edge, and hit the pad squarely right in front of the stumps.

Hardik didn't even bother to appeal; he was confident it was a straightforward decision.

Umpire Ruchira Palliyaguruge duly agreed and raised his finger to signal the batsman's dismissal.

Dipendra Singh lbw b Hardik Pandya 29(25) [4s-3]

IND vs NEP: Covers are off, match to resume soon

Play to resume at 18:45 Local Time

All the covers have been removed. A couple of Indian players are seen practising their catches.

IND vs NEP: Rain stops play

This time, the rain is coming down harder.

The ground staff rushes onto the field to protect the pitch and the square.

IND vs NEP: WICKET - Siraj gets his 2nd

Siraj delivers a full and wide delivery outside the off stump. Gulsan Jha positions himself on the leg side of the ball, attempting to drive it despite the cross-seam delivery, but all he achieves is an outside edge.

The wicketkeeper makes a routine catch.

Siraj has claimed two wickets during this spell.

Gulsan Jha c Ishan Kishan b Siraj 23(35) [4s-3]

IND vs NEP: WICKET - Kohli finally takes the catch, Siraj gets the wicket

There's a sense of relief rather than jubilation for Siraj, who might have been haunted by the earlier dropped catch.

Kohli also appears to breathe a sigh of relief as he managed to secure this chance after missing a straightforward catch in the game's second over.

The ball floats towards the cover region, and Kohli, moving swiftly backward, makes a clean catch with his right hand.

Aasif Sheikh c Kohli b Siraj 58(97) [4s-8]

IND vs NEP: Fifty for Sheikh

Having been granted a second opportunity after an early scare, he is capitalizing on it.

Now, he must remain at the crease and guide Nepal to a competitive total.

IND vs NEP: WICKET - 3rd for Jadeja

Jadeja clinches his third wicket!

Nepal seems to be squandering the solid foundation laid by their openers.

Spotting the mid-off fielder within the inner circle, he attempts to clear the field but ends up slicing the ball straight to Siraj, who is positioned at the circle's edge.

Kushal Malla c Siraj b Jadeja 2(5)

IND vs NEP: WICKET - Jadeja gets another

Jadeja claims his second wicket.

Rohit demonstrates to his teammates how to grab a sharp catch.

Nepal's Rohit Paudel stands in disbelief for a moment before reluctantly beginning his walk back to the pavilion.

Rohit Paudel moves back in an attempt to defend, but the ball unexpectedly turns a bit and nicks the outside edge.

Result: Rohit Paudel is caught by Rohit.

Rohit Paudel c Rohit b Jadeja 5(8)

IND vs NEP: WICKT - Bhim Sharki bowled for 7

The delivery is flatter with a subtle hint of turn. Sharki opts to play the square cut while staying back, but unfortunately, the ball catches the under-edge and deflects onto the stumps.

Bhim Sharki b Jadeja 7(17)

IND vs NEP: WICKET - Shardul Thakur breaks the partnership

Edged and gone! 65 runs partnership is broken!

The delivery is a short of a good length ball, with the seam pointing towards the slip.

Bhurtel tentatively plays his bat at it and ends up with a faint outside edge. Ishan Kishan is quick to collect the ball.

Bhurtel c Ishan Kishan b Thakur 38(25) [4s-3 6s-2]

IND vs NEP: Ishan Kishan drops Bhurtel this time

It was a slightly short and down the leg side. Bhurtel attempts a pull shot and ends up getting a glove on it.

Ishan Kishan, positioned to the left, has a clear opportunity for a catch.

Surprisingly, the wicketkeeper allows the ball to slip past him.

As a result, the ball has enough momentum to race away to the fine leg boundary for four runs.

IND vs NEP: Two batters dropped by Shreyas Iyer & Virat Kohli

What is wrong with India's fielding?

On the final ball of the 1st over, Bhurtel was edged and dropped by Shreyas Iyer.

Soon after in the next over, Kohli puts down a sitter and saves Aasif Sheikh.

It should have been two wickets down for Nepal.

IND vs NEP: Covers are on

It started to drizzle when the coin was flipped.

The covers are on and we hope it is passing showers.

IND vs NEP: TOSS - India opt to field

India have won the toss and have opted to field

India (Playing XI): Rohit Sharma(c), Shubman Gill, Virat Kohli, Shreyas Iyer, Ishan Kishan(w), Hardik Pandya, Ravindra Jadeja, Shardul Thakur, Kuldeep Yadav, Mohammed Shami, Mohammed Siraj

Nepal (Playing XI): Kushal Bhurtel, Aasif Sheikh(w), Rohit Paudel(c), Bhim Sharki, Sompal Kami, Gulsan Jha, Dipendra Singh Airee, Kushal Malla, Sandeep Lamichhane, Karan KC, Lalit Rajbanshi

IND vs NEP: Rain update

The scenario is straightforward: the victorious team advances to the Super Fours, while the defeated team faces elimination.

Unfortunately, the weather forecast at Pallekele isn't promising.

If the match ends up being washed out, India will automatically advance to the next round.

Presently, there's no sign of rain or drizzle.

IND vs NEP: Squads

India Squad: Rohit Sharma(c), Shubman Gill, Virat Kohli, Shreyas Iyer, Ishan Kishan(w), Hardik Pandya, Ravindra Jadeja, Shardul Thakur, Kuldeep Yadav, Mohammed Shami, Mohammed Siraj, Suryakumar Yadav, Axar Patel, Prasidh Krishna, Tilak Varma

Nepal Squad: Kushal Bhurtel, Aasif Sheikh(w), Rohit Paudel(c), Aarif Sheikh, Sompal Kami, Gulsan Jha, Dipendra Singh Airee, Kushal Malla, Sandeep Lamichhane, Karan KC, Lalit Rajbanshi, Bhim Sharki, Kishore Mahato, Sundeep Jora, Pratis GC, Arjun Saud, Mousom Dhakal