LIVE Updates | IND vs PAK, Asia Cup 2023: It continues to rain, teams shake hands as match has been called off
Live Cricket Score for IND vs PAK, Asia Cup 2023, Match 3 at Pallekele International Cricket Stadium.
Last Updated: 09.59 PM, Sep 02, 2023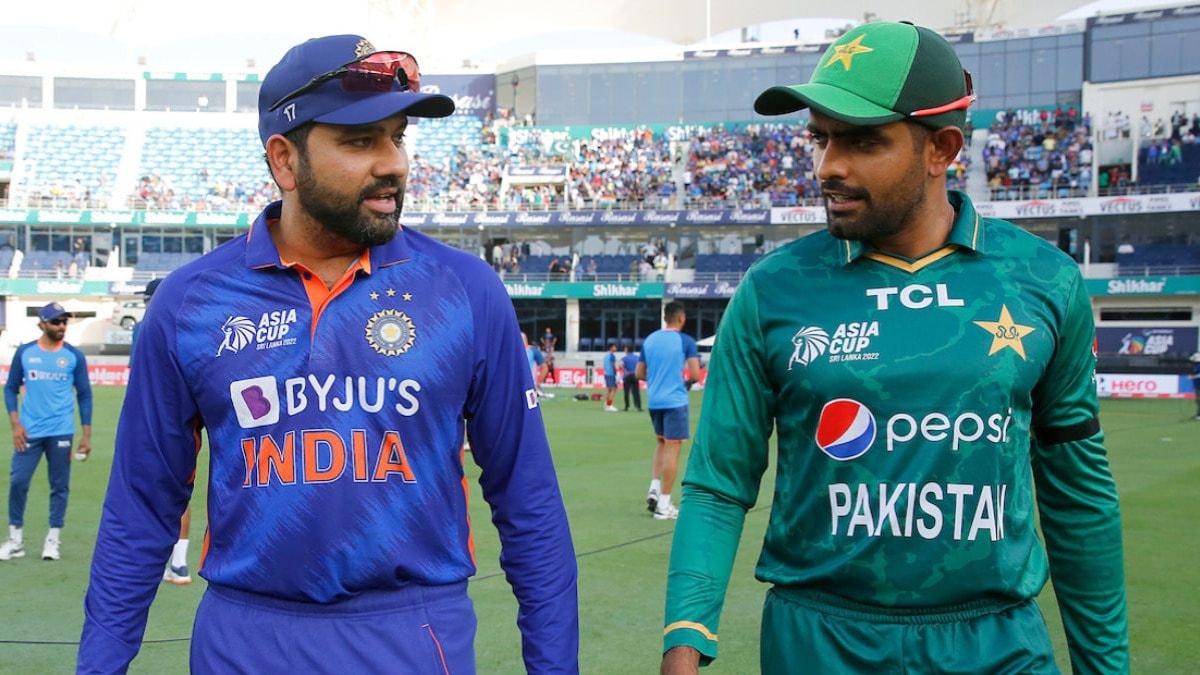 Amidst the looming threat of rain, fans are still excited to see the most anticipated clash between India and Pakistan. However, rain or shine, as a capacity crowd is expected to gather for the fixture, there are more reasons for them to celebrate and extend their warm hospitality.
The Indian team, who is still in the process of fitting all the pieces of the puzzle together, is banking on their top three - Rohit Sharma, Shubman Gill and Virat Kohli as they face the deadly trio of Shaheen Afridi, Haris Rauf, and Naseem Shah head-on.
Ahead of this clash, Pakistan already has a win to their name - after they convincingly defeated Nepal by 238 runs in their opening game on Wednesday.
IND vs PAK: Match has been called off

Rain continues to fall and the match has been called off.

Both teams get one point each and Pakistan are through to the Super Fours!

Both teams and the members shake hands and have a light banter with hugs.

IND vs PAK: Will there be a 20 over game?

The cut-off time for a 20-over run chase is 22:27 local time.

IND vs PAK: Start delayed due to rain

Next ground inspection at 21:00 (9 PM) local time.

The match officials are having a chat with the groundstaff.

The rain seems to have eased off and the groundstaff are engaged in some activity on the outfield.

IND vs PAK: India all-out for 266 (48.5)

India's innings came to a close at 266!

All wickets fell to Pakistan's fast bowlers. It started with Shaheen Afridi who swiftly dismissed the two seasoned Indian batsmen, Rohit Sharma and Virat Kohli.

Haris Rauf, on the other hand, utilized a short-pitched delivery to dismiss Shreyas Iyer and then sent back struggling Shubman Gill with a fuller ball.

At a precarious score of 66/4, Pakistan had India in a tight spot.

However, it was at this juncture that Ishan Kishan and Hardik Pandya joined forces.

Their partnership, worth 138 runs for the fifth wicket, displayed exceptional composure and proved to be crucial for India.

However, following the dismissals of the two well-established batsmen, the Indian team once more crumbled like a house of cards.

Bumrah attempted to regain momentum by smashing a few boundaries, but the innings eventually concluded in the 48th over.

IND vs PAK: WICKET - Bumrah's attack comes to an end

A slower delivery clocked at 119kph, Bumrah attempts a big swing across the line but fails to put sufficient power into the shot.

Salman, stationed at deep mid-wicket, takes a reverse-cup catch comfortably.

Bumrah c Agha Salman b Naseem Shah 16(14) [4s-3]

IND vs PAK: WICKET - Kuldeep Yadav goes for 4

Kuldeep Yadav attempts to steer the ball behind square, but an outside edge results in a straightforward catch for the wicketkeeper.

This marks Naseem Shah's second wicket, and he receives an enthusiastic embrace from Rizwan.

Kuldeep Yadav c Rizwan b Naseem Shah 4(13)

IND vs PAK: WICKET - Shardul Thakur goes for 3

Thakur attempts to work this length ball towards the leg side but closes the face of his bat prematurely, resulting in a leading edge.

The ball balloons into the air and Shadab, positioned at point, sprints backward and dives with outstretched arms, making a phenomenal catch.

Thakur c Shadab Khan b Naseem Shah 3(3)

IND vs PAK: WICKET - Shaheen Afridi claims two wickets in the over

An edge materializes this time, and Jadeja is dismissed!

The delivery clocks in at 137kph, marginally fuller and angled wider.

Jadeja goes after it with a driving intent but ends up nicking it.

Rizwan takes a comfortable catch behind the stumps.

Shaheen Afridi claims two wickets in the over.

Jadeja c Rizwan b Shaheen Afridi 14(22) [4s-1]

IND vs PAK: WICKET - Dangerous Hardik Pandya is gone

The dangerous Hardik Pandya departs!

Afridi delivers a slower ball at 119kph, pitching it full and wide outside the off-stump from around the wicket.

Hardik, in his eagerness to drive, swings early, causing his bottom hand to slip off the handle.

The ball pops up gently to cover, where Salman swiftly moves to his left to secure the catch.

An exceptional innings comes to an end.

Hardik Pandya c Agha Salman b Shaheen Afridi 87(90) [4s-7 6s-1]

IND vs PAK: WICKET - Ishan Kishan sent back for 82

Haris Rauf claims his third wicket, putting an end to the partnership!

He delivered a brisk back-of-length ball just around the off-stump, tempting Kishan to take a big swing.

Kishan attempts a pull shot but makes contact with the ball's lower end, sending it skyward towards mid-on.

The fielder stationed there completes a relatively straightforward catch. Kishan had been struggling with his running between the wickets, and this shot seemed a bit fatigued.

Ishan Kishan c Babar Azam b Haris Rauf 82(81) [4s-9 6s-2]

IND vs PAK: 200 up for India

India crosses the 200-run mark!

The crowd erupts with enthusiasm as Hardik and Ishan continue to captivate them while accumulating crucial runs.

IND vs PAK: Hardik Pandya gets his 50

Hardik Pandya reaches his fifty!

He elegantly drives the ball along the ground to long-on, securing a splendid half-century.

This partnership between Pandya and Ishan Kishan has the potential to define the outcome of the match.

IND vs PAK: 50 for Ishan Kishan

Ishan Kishan reaches his half-century!

A stellar performance at a critical juncture for India.

He confidently drives a floated delivery to long-on for a single.

His teammates recognize the significance of this innings and offer him a well-deserved standing ovation.

IND vs PAK: 100 up for India

Ishan Kishan along with Hardik Pandya is trying to rebuild India's innings!

Ishan Kishan (32*) and Hardik Pandya (16) are giving their all to take India to a good score.

IND vs PAK: WICKET - Shubman Gill bowled for 10

Gill's shaky innings concludes, as he never seemed settled at the crease.

The delivery, slightly fuller than a good length, moved away slightly.

Shubman Gill, in a half-forward defensive posture, ended up with an inside edge that crashed into the stumps.

Haris Rauf displayed justified enthusiasm, celebrating the wicket.

Shubman Gill b Haris Rauf 10(32) [4s-1]

IND vs PAK: Rain stops play yet again

The drizzle has returned, prompting the groundstaff to deploy the covers.

Once again, the players are leaving the field, marking the second interruption of the match.

It appears to be one of those start-stop days.

IND vs PAK: 50 up for India

However, the Men in Blue have lost three key wickets - Rohit Sharma, Virat Kohli and Shreyas Iyer.

IND vs PAK: WICKET - Shreyas Iyer goes for 14

Excellent catch by Fakhar Zaman!

Haris Rauf delivered a short ball, and Shreyas Iyer attempted a pull shot.

However, it went directly into the hands of Fakhar at mid-wicket. The fielder exhibited quick reflexes and took the catch with a reverse cup.

India have lost their third wicket.

Shreyas Iyer c Fakhar Zaman b Haris Rauf 14(9) [4s-2]

IND vs PAK: WICKET - Virat Kohli also departs

Chopped! A delivery slightly short of a length, just outside the off-stump.

Kohli attempts to guide it through the off-side, but instead, he nicks an inside edge, and the ball ricochets onto the stumps.

India now finds themselves under pressure, having lost two of their key batsmen early in the innings.

Kohli b Shaheen Afridi 4(7) [4s-1]

IND vs PAK: WICKET - Rohit Sharma bowled

Break works for Pakistan!

Delivered on a good length just around off, this ball sharply moves back in, catching Rohit off guard.

His defense is breached, and the off-stump is sent cartwheeling.

With the resumption of play, Rohit fails to contribute any runs, heading back to the pavilion without adding to his score.

Rohit b Shaheen Afridi 11(22) [4s-2]

IND vs PAK: Rain stops play

As the rain intensifies, the ground staff swiftly deploys the covers, prompting the players to make a hasty exit from the field.

Just moments before the rain interruption, Kohli was seen all geared up, but he's now removing his helmet.

Meanwhile, the Indian openers retreat to the dressing room, leaving the spectators in the stands to patiently wait, opening their umbrellas in anticipation.

IND vs PAK: Rohit Sharma dropped on 2nd ball

Rohit gets going with a boundary!

The Indian skipper flicks it uppiishly and the fielder at square leg does well to get his hands to it as he dives to his left.

However, he fails to latch on to the catch as Rohit is dropped!

IND vs PAK: TOSS - India opt to bat

India (Playing XI): Rohit Sharma(c), Shubman Gill, Ishan Kishan(w), Virat Kohli, Shreyas Iyer, Hardik Pandya, Ravindra Jadeja, Shardul Thakur, Kuldeep Yadav, Jasprit Bumrah, Mohammed Siraj

Pakistan (Playing XI): Fakhar Zaman, Imam-ul-Haq, Babar Azam(c), Mohammad Rizwan(w), Agha Salman, Iftikhar Ahmed, Shadab Khan, Mohammad Nawaz, Shaheen Afridi, Naseem Shah, Haris Rauf

IND vs PAK: Squads

Pakistan Squad: Fakhar Zaman, Imam-ul-Haq, Babar Azam(c), Mohammad Rizwan(w), Agha Salman, Iftikhar Ahmed, Shadab Khan, Mohammad Nawaz, Shaheen Afridi, Naseem Shah, Haris Rauf, Faheem Ashraf, Mohammad Haris, Mohammad Wasim Jr, Abdullah Shafique, Saud Shakeel, Usama Mir

India Squad: Rohit Sharma(c), Shubman Gill, Virat Kohli, Shreyas Iyer, Ishan Kishan(w), Hardik Pandya, Ravindra Jadeja, Shardul Thakur, Kuldeep Yadav, Mohammed Shami, Jasprit Bumrah, Mohammed Siraj, Axar Patel, Suryakumar Yadav, Prasidh Krishna, Tilak Varma