LIVE Updates | IND vs SL, Asia Cup 2023: With this win, India are into the FINAL
IND vs SL, Asia Cup 2023, Super 4: Live updates for India vs Sri Lanka clash in R.Premadasa Stadium, Colombo
Last Updated: 11.31 PM, Sep 12, 2023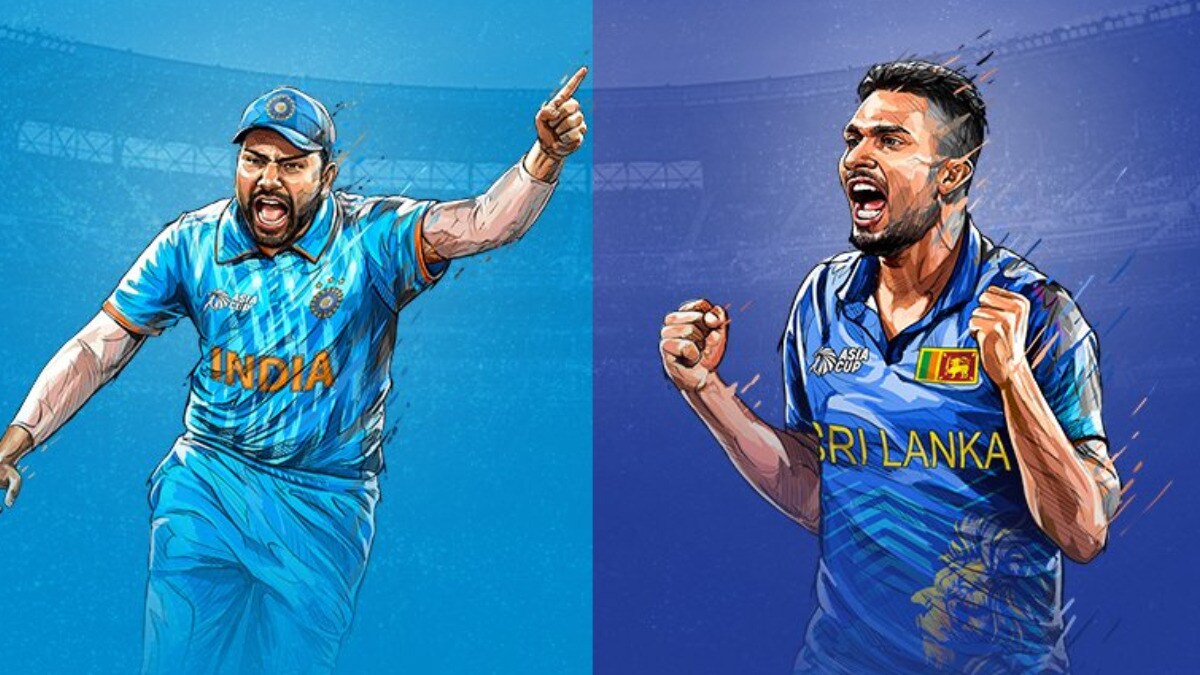 The Asia Cup 2023 is heating up as India and Sri Lanka prepare to face off in the 4th match of the Super 4 stage. Both teams have participated in one game each in this stage so far. If India wins today, they will enter the Final of the Asia Cup 2023.
Sri Lanka, coming off a break, will be well-rested for this encounter. Meanwhile, the Indian team had to deal with their match against Pakistan spilling over to the Reserve Day and are again back in action.
Both sides are determined to secure a favourable outcome that will bolster their chances of advancing closer to the summit clash of the ACC event.
IND vs SL: With this win, India are into the final

India's victory secures their spot in the final, while Sri Lanka's impressive winning streak comes to an end.

As for Pakistan, they face a crucial scenario.

With Sri Lanka holding a superior net run rate, Pakistan must secure a win on Thursday to qualify for the final.

However, if the match ends in a washout, Sri Lanka will advance to the final due to their superior net run rate.

IND vs SL: India end Sri Lanka's 13-match winning run in ODIs

The pitch proved to be quite challenging, making the pursuit of 214 runs a formidable task. Bumrah and Siraj made early inroads, capturing three quick wickets.

However, Sadeera and Asalanka built a partnership but Rohit introduced Kuldeep Yadav and he disrupted their momentum. Following that, Jadeja stepped up and reduced Sri Lanka to 99/6.

However, Dhananjaya de Silva and Wellalage recovered the innings with a 63-run partnership. At that juncture, Sri Lanka seemed to hold a slight advantage.

de Silva, in an attempt to clear the boundary, was caught out, and despite Wellalage's resilience, the rest of the team faltered.

Kuldeep Yadav took 4 wickets while Jasprit Bumrah and Ravindra Jadeja claimed two each. Mohammed Siraj and Hardik Pandya took 1 each to finish the game in India's favour.

IND vs SL: WICKET - Kuldeep Yadav claims 150 ODI wickets

This wicket also marks Kuldeep Yadav's achievement of reaching 150 ODI wickets.

A disappointing shot results in India's victory.

The delivery is pitched very full, targeting the stumps.

Pathirana opts for a sweep but fails to connect, allowing the ball to slip through his legs and crash into the stumps.

Pathirana b Kuldeep Yadav 0(2)

IND vs SL: WICKET - Rajitha bowled for a 1

A brilliant googly that dismantles the stumps!

Kuldeep Yadav initiates with a well-disguised googly, landing it around the leg stump.

Rajitha b Kuldeep Yadav 1(2)

IND vs SL: WICKET - SKY takes a low catch and Theekshana is OUT

A sensational catch, and it's Suryakumar Yadav (SKY) who makes the grab.

It was a length delivery aimed at the stumps, angling into Theekshana, who flicked the ball.

He shifted to his right and executed a diving catch, snatching the ball just above the grass with his fingers clearly underneath.

The third umpire had an uncomplicated decision to make, confirming the catch.

Theekshana c (sub)Suryakumar Yadav b Hardik Pandya 2(14)

IND vs SL: WICKET - Jadeja sends back Dhananjaya de Silva

Jadeja puts an end to the threathing partnership.

The batsman noticed the mid-on fielder positioned inside the circle and attempted to clear him with a lofted shot.

But the shot lacked the required elevation, and as the bat twisted in his hands, Shubman Gill stepped up and safely pouched the ball with a well-judged overhead catch.

Dhananjaya c Shubman Gill b Jadeja 41(66) [4s-5]

IND vs SL: WICKET - Brilliant catch by Rohit, Dasun Shanaka goes

A fantastic low catch marks Jadeja's impactful return to action.

He delivered a full, tossed-up delivery just outside the off-stump.

Shanaka, in his attempt to push the ball away from his body, got an outside edge.

The ball spun away, causing the outside edge and it was a low catch that nearly reached the ground.

BUT, Rohit Sharma displayed exceptional reflexes, diving to his right, and securing the catch brilliantly with both hands.

Shanaka c Rohit b Jadeja 9(13) [4s-1]

IND vs SL: WICKET - KL Rahul takes a terrific catch

Kuldeep Yadav strikes for the second time, sending both well-set batsmen back to the pavilion.

Asalanka crouched down to attempt a sweep but ended up gloving the ball as it deflected off the pad.

KL Rahul exhibited remarkable awareness as he swiftly dived forward and to his right, managing to take a low catch.

Umpire Richard Illingworth promptly spotted the contact and raised his finger in a flash.

Asalanka c Rahul b Kuldeep Yadav 22(35) [4s-2]

IND vs SL: WICKET - Sadeera Samarawickrama stumped

India has secured the crucial wicket they were looking for!

Samarawickrama attempted to play a big shot and advanced down the pitch but failed to reach the ball's pitch.

Unfortunately, he missed it on the inside edge, and KL Rahul completed the dismissal behind the stumps.

The square leg umpire had no reason to refer the decision upstairs; it was a clear-cut dismissal.

Samarawickrama st Rahul b Kuldeep Yadav 17(31) [4s-1]

IND vs SL: Asalanka dropped by Ishan Kishan

Kishan has dropped the catch!

It appears he initially misjudged the trajectory and then attempted a diving effort to reach it.

Kishan reacted a tad late and made a dive to grab the ball just inches from the ground, but it slipped from his grasp.

IND vs SL: WICKET - Siraj strikes and silences the crowd

Sri Lanka three down and the spinners are yet to bowl an over.

Sri Lanka's spinners did all the damage while India was batting, but it is India's seamers who are leading the way in the 2nd innings.

It is a good-length ball angled across, Karunaratne goes hard on the cut and the outside edge flies to the first slip.

Gill shows good reflexes and takes a sharp catch over his head.

Karunaratne c Shubman Gill b Siraj 2(18)

IND vs SL: WICKET - 2nd for Bumrah

Mendis had an inkling about it, yet he chose to linger, hoping to escape.

But the Indians were celebrating.

The slow, drifting delivery dips in front of the batsman. He moves forward, attempting to play it defensively, but is completely fooled by the lack of pace.

Instead, he ends up gently popping the ball towards the fielder at cover.

Kusal Mendis c (sub)Suryakumar Yadav b Bumrah 15(16) [4s-3]

IND vs SL: WICKET - Pathum Nissanka departs for 6

The initial breakthrough arrives with the fall of the first wicket.

The ball subtly swerves with Bumrah's natural angle before straightening.

Nissanka has no choice but to attempt a shot, but all he manages is a tentative poke.

The ball takes an edge and swiftly travels into the waiting hands of KL Rahul, who dives to make a crucial catch.

Nissanka c Rahul b Bumrah 6(7) [4s-1]

IND vs SL: Bumrah twisted his ankle

Bumrah suffered an ankle twist during his follow-through, causing anxiety throughout India.

Hope he's in good shape now. He even changed his shoes.

IND vs SL: India 213 all out

All 10 wickets to spinners!

It's the first time India has experienced this.

This is also the 14th consecutive match in which Sri Lanka has bowled out their opponents in ODIs.

After being 80/0, India started losing wickets courtesy of Dunith Wellalage who took a maiden fifer.

But the surprise was Asalanka's off-breaks who complemented Wellalage with a four-fer.

Theekshana was the last to send back Axar Patel in the last over.

Among Indian batters Rohit Sharma (53), Shubman Gill (19), Ishan Kishan (33), KL Rahul (39) and at the end Axar Patel (26) were the main contributors.

IND vs SL: WICKET - Axar Patel's valuable innings comes to an end

Axar Patel is dismissed. He advances down the track but doesn't get the distance.

It goes straight to long-on, resulting in a straightforward catch.

India's innings comes to an end with a total of 213 runs on the board.

Axar c Samarawickrama b Theekshana 26(36) [6s-1]

IND vs SL: Restart at 7:15. No overs lost

IND vs SL: Rain stops play

It has started drizzling and the covers are on. Let's hope this is a short one.

Axar & Siraj hold on to get India to 200

IND vs SL: WICKET - Kuldeep departs for a duck

Asalanka is on the verge of a hat-trick!

Two wickets in two balls, and Sri Lanka is in full flow.

Kuldeep Yadav, opting to play off the back foot, attempts to punch a delivery that is turning away.

He gets an outside edge that is caught by the fielder at slip.

Kuldeep Yadav c Dhananjaya b Asalanka 0(1)

IND vs SL: WICKET - Asalanka sends back Bumrah for 5

BOWLED! A beautifully flighted offbreak, pitched outside off, lured Bumrah forward as he attempted a flick.

The ball spun back in sharply, sneaking through the gap between bat and pad to dislodge the stumps. It's a classic offspinner's dismissal.

IND vs SL: WICKET - Jadeja walks back for 4

Jadeja departs with his head hung low.

The delivery drifted in towards the leg stump, possibly even landing on the leg stump itself.

It was a flat-length ball that turned sharply, catching the thinnest of outside edges before going into the hands of Kusal Mendis.

Jadeja c Kusal Mendis b Asalanka 4(19)

IND vs SL: WICKET - Maiden fifer for Wellalage

A maiden five-wicket haul for Wellalage, and he achieved it with a successful review on the last ball of his spell.

He delivered a quicker, fullish delivery outside off, with a hint of turn away.

Hardik Pandya moved forward to defend, but the ball took a thick outside edge.

Kusal Mendis was highly confident in his appeal after the umpire did not agree with the appeal.

Sri Lanka decided to review, and it turned out to be a successful one.

Hardik Pandya c Kusal Mendis b Wellalage 5(18)

IND vs SL: WICKET - Ishan Kishan walks back for 33

It's Wellalage once more, but this time it's a catch.

Ishan Kishan struck the ball fiercely, sending it sailing over cover, but Wellalage, despite not being particularly tall, leapt with both hands and skillfully pulled off the catch.

Ishan Kishan c Wellalage b Asalanka 33(61) [4s-1 6s-1]

IND vs SL: WICKET - KL Rahul departs for 39

It's once again Wellalage making an impact.

He claims his fourth wicket as he dismisses the dangerous Rahul.

The delivery was a length ball directed at the stumps, but it slowed down upon reaching Rahul.

The batter attempted to play a backfoot punch, but ended up offering a straightforward return catch to the bowler.

Rahul c and b Wellalage 39(44) [4s-2]

IND vs SL: WICKET - Wellalage is on FIRE, sends back Rohit Sharma

Wellalage and the Sri Lankan team have no complaints, as they've managed to secure three quick wickets.

The delivery in question was an arm ball, landing slightly short, which prompted Rohit to stay back in an attempt to handle it.

Unfortunately for him, the ball didn't bounce as expected and skidded through, narrowly missing the toe-end of the bat before crashing into the leg stump.

Rohit b Wellalage 53(48) [4s-7 6s-2]

IND vs SL: WICKET - Second wicket for Wellalage

Wellalage gets his second wicket, delivering a standout performance for Sri Lanka.

This is a significant breakthrough, considering Kohli's recent century.

However, Kohli's innings lasted only 3 runs. The delivery from Wellalage was shortened in length, and the ball behaved unexpectedly, adhering closely to the pitch's surface. He chips it tamely to mid-wicket where Shanaka takes an easy catch.

Kohli c Shanaka b Wellalage 3(12)

IND vs SL: 50 up for skipper Rohit Sharma

Rohit Sharma reaches his half-century, marking his third consecutive score of 50 or more as the captain of the Indian team.

He does not celebrate immediately as he eyes his bat.

Nonetheless, he acknowledges the milestone with a simple raise of his bat and swiftly refocuses.

IND vs SL: WICKET - Shubman Gill bowled for 19

Bowled! The stumps are in disarray!

Wellalage breaks the partnership, igniting the home crowd's enthusiasm.

He delivered a flighted ball from around the wicket, causing it to drift in and Gill took a forward defensive stance and found himself beaten.

The ball spun past the outside edge and crashed into the top of the off-stump.

Shubman Gill b Wellalage 19(25) [4s-2]

IND vs SL: Rohit Sharma brings up 10000 ODI runs with a SIX

Rohit Sharma, reaching a milestone of 10,000 ODI runs, showcased his prowess with a magnificent shot.

The ball was delivered fuller than a good length and Rohit, extending his arms, lofted the ball through the line, sending it soaring over the straight boundary for a sensational six.

Fastest to 10,000 ODI runs (by innings)

IND vs SL: TOSS - India opt to bat

India have won the toss and have opted to bat.

The Men in Blue make one change, bring in spinner Axar Patel who replaces Shardul Thakur.

India (Playing XI): Rohit Sharma(c), Shubman Gill, Virat Kohli, KL Rahul(w), Ishan Kishan, Hardik Pandya, Ravindra Jadeja, Axar Patel, Kuldeep Yadav, Jasprit Bumrah, Mohammed Siraj

Sri Lanka (Playing XI): Pathum Nissanka, Dimuth Karunaratne, Kusal Mendis(w), Sadeera Samarawickrama, Charith Asalanka, Dhananjaya de Silva, Dasun Shanaka(c), Dunith Wellalage, Maheesh Theekshana, Kasun Rajitha, Matheesha Pathirana

IND vs SL: Squads

India Squad: Rohit Sharma(c), Shubman Gill, Virat Kohli, KL Rahul(w), Ishan Kishan, Hardik Pandya, Ravindra Jadeja, Shardul Thakur, Kuldeep Yadav, Jasprit Bumrah, Mohammed Siraj, Mohammed Shami, Suryakumar Yadav, Axar Patel, Shreyas Iyer, Prasidh Krishna, Tilak Varma

Sri Lanka Squad: Pathum Nissanka, Dimuth Karunaratne, Kusal Mendis(w), Sadeera Samarawickrama, Charith Asalanka, Dhananjaya de Silva, Dasun Shanaka(c), Dunith Wellalage, Maheesh Theekshana, Kasun Rajitha, Matheesha Pathirana, Kusal Perera, Binura Fernando, Pramod Madushan, Dushan Hemantha