LIVE Updates | PAK vs BAN, Asia Cup 2023: Pakistan win the 1st game of Super 4 by 7 wickets
PAK vs BAN, Asia Cup 2023, Super 4: Live updates for Pakistan vs Bangladesh clash in Gaddafi Stadium, Lahore
Last Updated: 09.59 PM, Sep 06, 2023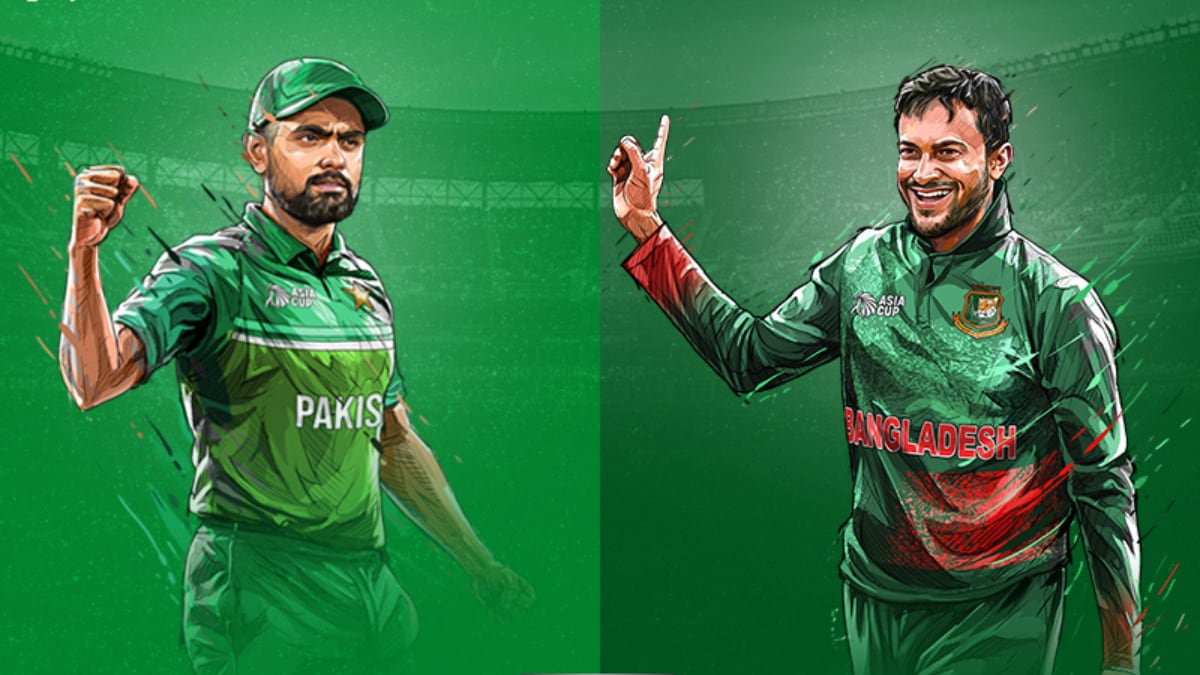 Our attention turns to the upcoming stage of the Asia Cup - the Super 4. It's a clash between Pakistan and Bangladesh.
Bangladesh has claimed victory in four of their last five ODIs against Pakistan, but their most recent encounter in this format dates back to the 2019 World Cup, where Pakistan emerged triumphant.
This game will also mark the final match of this year's Asia Cup in Pakistan, as the action will soon shift to Colombo for the remainder of the tournament.
PAK vs BAN: Pakistan win by 7 wickets

The last match of the Asia Cup in Pakistan concludes with a commanding victory for the home team.

Their Pakistani fast-bowling trio set the stage while Bangladesh batters Shakib Al Hasan (53) and Mushfiqur Rahim (64) did most of the heavy lifting.

In reply, Imam and Rizwan added a finishing touch with the bat as they defended a modest total of 194,

Most wins against an opponent in the ODI Asia Cup:

13 - Pakistan vs Bangladesh (14 mats)*

12 - Sri Lanka vs Bangladesh (14)

11 - India vs Bangladesh (12)

10 - Sri Lanka vs India (19)

10 - Sri Lanka vs Pakistan (14)

PAK vs BAN: 50 for Rizwan

Fifty number 11 for Mohammad Rizwan.

He soaks in the applause from the full house crowd in Lahore.

PAK vs BAN: WICKET - Imam-ul-Haq departs for 78

The batsman was too eager to wrap things up quickly, but it did not go in his favour.

The bowler pitched the ball up, and Miraz's delivery had a beautiful drift that moved along the angle and went past the inside edge of Imam's bat.

The left-handed batsman attempted a big shot across the line but ended up losing his stumps!

Imam b Mehidy Hasan Miraz 78(84) [4s-5 6s-4]

PAK vs BAN: Rizwan on the ground

Rizwan signals for the physio due to a hamstring problem.

He appeared somewhat uncomfortable after attempting the sweep shot, almost going into a split.

Play momentarily paused, but he is back on his feet.

PAK vs BAN: Imam-ul-Haq reaches his 50

Imam smashes it for a six and reaches his half-century in style!

He leaned back and pulled it over the cow corner boundary for a maximum.

Fans were entertained by a ball boy's drop just beyond the boundary ropes.

PAK vs BAN: WICKET - Unlucky Babar Azam BOWLED for 17

A length delivery skids low unexpectedly, slipping beneath Babar's bat.

It catches the under-edge and dislodges the stumps, leaving him with limited options given the unpredictable bounce.

The Pakistani captain experiences an uncommonly slow day with his batting.

Babar Azam b Taskin Ahmed 17(22) [4s-1]

PAK vs BAN: Both reviews lost for Bangladesh

Within the 14 overs, Bangladesh have lost both their reviews.

The side is in need of a wicket!

PAK vs BAN: WICKET - Fakhar Zaman goes for 20

There's a loud appeal for lbw, and umpire Langton Rusere carefully considers it before eventually raising his finger.

Fakhar Zaman, seemingly unprepared for the change, attempts a powerful drive but is beaten on the inside edge.

He goes for a review and UltraEdge confirms there was no contact with the bat.

Ball-tracking comes into play, and it displays three reds on the screen.

Pakistan loses both Fakhar and a review in this dismissal.

Fakhar Zaman lbw b Shoriful Islam 20(31) [4s-3]

PAK vs BAN: Play stopped due to floodlight failure

A floodlight has malfunctioned, causing a halt in play at Lahore.

The players exit the field, and both the groundsmen and on-field umpires engage in a discussion.

Meanwhile, the Pakistan openers occupy the dug-out, and the Bangladesh players have retreated to their dressing room.

Fortunately, the lights are currently being restored.

PAK vs BAN: Bangladesh is bowled out for 193

On a pitch as flat as can be, Bangladesh's innings comes to an end at 193!

Haris Rauf takes 4 wickets, Naseem Shah grabs 3, and Shaheen Afridi claims 1 - a formidable performance by these pacers.

The powerplay was where Bangladesh faced their first blows, with Naseem and Shaheen initiating the procession.

Barring Shakib Al Hasan (53) and Mushfiqur Rahim (64), no other batter stayed long enough to put on a strong total.

PAK vs BAN: WICKET - Naseem Shah does the job at the end

The pace was a bit too much for Shoriful, who was drifting away from the line of the ball.

It eludes his bat and demolishes the off stump.

Shoriful Islam b Naseem Shah 1(3)

PAK vs BAN: WICKET - Afif Hossain goes for 12

It's the ninth wicket down, and the last recognized Bangladeshi batsman is now out.

A back-of-length delivery with pace unsettles Afif Hossain, who is late in attempting the pull shot.

He top-edges it, sending the ball just beyond Naseem, but the fielder at mid-on sprints forward to secure a clean catch.

Afif Hossain c Faheem Ashraf b Naseem Shah 12(11) [6s-1]

PAK vs BAN: WICKET - 4-fer for Haris Rauf

Pakistan might have secured these dismissals much earlier had Babar utilized his speedster earlier.

Rauf delivers a length ball that subtly moves away. Taskin attempts a shot with minimal footwork and edges it through to Rizwan.

Taskin Ahmed c Rizwan b Haris Rauf 0(1)

PAK vs BAN: WICKET - Mushfiqur goes for 64

Rahim sets himself up for a powerful shot across the line but ends up getting an edge that travels through to Rizwan.

The wicketkeeper had to make a slight leap to his right to collect the ball and landed somewhat awkwardly on his left leg.

Although he's experiencing some discomfort, he played a crucial role in dismissing the well-established Rahim.

Mushfiqur c Rizwan b Haris Rauf 64(87) [4s-5]

PAK vs BAN: WICKET - Shamim Hossain departs

Iftikhar delivers a darting delivery, and Shamim attempts a forceful slog across the line.

However, he was tardy in executing the shot, resulting in a haphazard toe-end, sending the ball aimlessly into the air.

Positioned at mid-wicket, Imam settles beneath it and comfortably takes a reverse cup catch. Shamim Hossain squanders a promising start.

Shamim Hossain c Imam b Iftikhar Ahmed 16(23) [6s-1]

PAK vs BAN: 50 for Mushfiqur Rahim

Faheem Ashraf delivers to Mushfiqur, who elegantly nudges the ball off his pads for a well-executed shot towards fine leg.

Shaheen, with a diving effort, prevents a boundary.

This achievement marks Rahim's half-century, a composed and mature innings!

PAK vs BAN: WICKET - Faheem Ashraf breaks partnership

Shakib's impulsive moment costs him dearly!

He departs when he seemed well-set. Faheem Ashraf delivered a short-pitched delivery, tempting Shakib to attempt a pull shot without any intention of keeping it grounded.

Shakib believed it would sail over the boundary, but his shoulder strength let him down, resulting in a catch to deep mid-wicket.

Shakib c Fakhar Zaman b Faheem Ashraf 53(57) [4s-7]

PAK vs BAN: 50 for the Bangladesh skipper Shakib Al Hasan

That's 50 for the Bangladesh skipper!

He is setting the example by taking charge at the forefront, stabilizing the innings alongside Mushfiqur after the team lost four quick wickets.

PAK vs BAN: Shakib-Mushfiqur stitch 50-runs partnership

Shakib and Mushfiqur have steadied the innings.

A superb shot, and that boundary marks the fifty partnership!

It's also 100 up for Bangladesh

PAK vs BAN: WICKET - Towhid Hridoy bowled for 2

The stumps are shattered!

It's the fourth wicket down. The bowler sends in an in-swinging delivery, slightly fuller than a good length.

Towhid Hridoy attempts to clip it away but misses completely. The pace of the ball deceives him as it sneaks past his inside edge and crashes into the stumps.

Towhid Hridoy b Haris Rauf 2(9)

PAK vs BAN: WICKET - 50th ODI wicket for Haris Rauf

Haris Rauf makes an impact right away in his first over!

Bangladesh is now in trouble, having lost their top three wickets.

He claims his 50th wicket in One Day Internationals.

Rauf delivers a well-directed delivery, hitting the hard length and angling it towards the batsman. It rises to hip height, and Naim attempts a pull shot.

However, he mistimes it, resulting in the ball skying off the top edge.

Rauf immediately calls for the catch, positions himself underneath it, and confidently pouches it.

Naim c and b Haris Rauf 20(25) [4s-4]

PAK vs BAN: Naseem Shah leaves the ground

On the second ball of the sixth over, Naseem goes down and hasn't moved for a while!

Rizwan is by his side and calls the physio.

He gets up later but seems to be in a lot of pain.

He soon leaves the ground.

PAK vs BAN: WICKET - Shaheen Afridi strikes

Shaheen Afridi's excellent setup pays off!

He managed to deceive the batsman with a slower delivery in the previous ball, making him miss the edge.

This time, he hits the deck with authority. The delivery is a short-of-length one that springs up sharply off the surface.

Litton Das tries to fend it off but ends up with a faint nick. The extra bounce does him in! An easy catch for the keeper.

Litton Das c Rizwan b Shaheen Afridi 16(13) [4s-4]

PAK vs BAN: WICKET - Mehidy Miraz goes for a DUCK

After scoring a century in the previous game, Mehidy Hasan Miraz faces disappointment today with a first-ball duck!

It was a soft dismissal. A seemingly innocuous short-of-a-good-length ball aimed at the pads.

Miraz attempted to glance it away but ended up chipping it straight to the fielder at mid-wicket. Fakhar had an easy catch, and Pakistan secures an early breakthrough.

Mehidy Hasan Miraz c Fakhar Zaman b Naseem Shah 0(1)

PAK vs BAN: TOSS - Bangladesh opt to bat

Bangladesh will miss the services of Najmul Hossain Shanto who has been ruled out of the tournament with a hamstring injury.

However, Litton Das has joined the squad having recovered from his illness.

Pakistan (Playing XI): Fakhar Zaman, Imam-ul-Haq, Babar Azam(c), Mohammad Rizwan(w), Agha Salman, Iftikhar Ahmed, Shadab Khan, Faheem Ashraf, Shaheen Afridi, Naseem Shah, Haris Rauf

Bangladesh (Playing XI): Mohammad Naim, Mehidy Hasan Miraz, Litton Das, Towhid Hridoy, Shakib Al Hasan(c), Mushfiqur Rahim(w), Shamim Hossain, Afif Hossain, Taskin Ahmed, Shoriful Islam, Hasan Mahmud

PAK vs BAN: Squads

Pakistan Squad: Fakhar Zaman, Imam-ul-Haq, Babar Azam(c), Mohammad Rizwan(w), Agha Salman, Iftikhar Ahmed, Shadab Khan, Mohammad Nawaz, Shaheen Afridi, Naseem Shah, Haris Rauf, Faheem Ashraf, Usama Mir, Saud Shakeel, Abdullah Shafique, Mohammad Haris, Mohammad Wasim Jr

Bangladesh Squad: Mohammad Naim, Mehidy Hasan Miraz, Towhid Hridoy, Litton Das, Mushfiqur Rahim(w), Shakib Al Hasan(c), Shamim Hossain, Afif Hossain, Taskin Ahmed, Shoriful Islam, Hasan Mahmud, Mustafizur Rahman, Mahedi Hasan, Tanzid Hasan, Tanzim Hasan Sakib, Nasum Ahmed, Anamul Haque