Highlights | PAK vs NEP, Asia Cup 2023: Done and dusted! Pakistan win by 238 runs
Pakistan vs Nepal, Match 1 of the Asia Cup 2023: LIVE Cricket Scorecard and Updates
Last Updated: 09.46 PM, Aug 30, 2023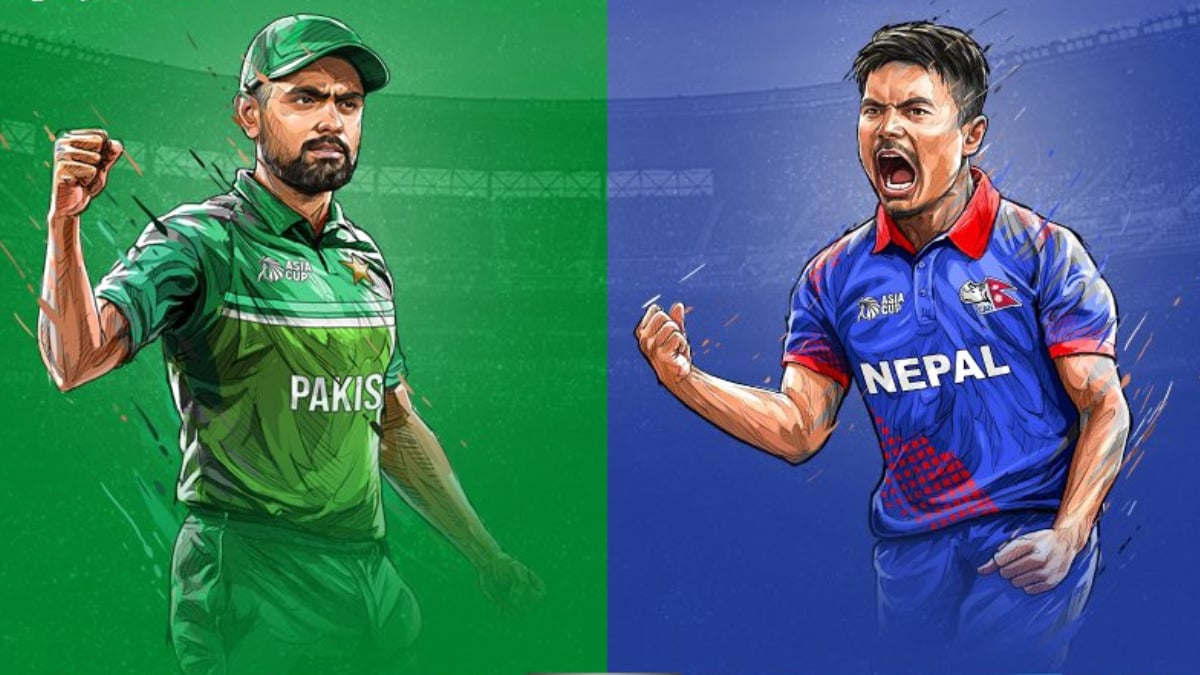 The 16th edition of the Asia Cup 2023 is poised to commence on August 30, featuring Pakistan as the host country and Nepal as the opposing team at Multan Cricket Stadium.
Guided under the leadership of Babar Azam, Pakistan steps into the tournament as the top-ranked ODI team following a triumphant 3-0 scoreline against Afghanistan.
In a contrasting scenario, Nepal is marking their debut in this competition after it clinched its place by emerging victorious in the 2023 Men's Premier Cup.
PAK vs NEP: Pakistan win by 238 runs!

Kushal Malla (6) and Rajbanshi (0) depart back-to-back to give Pakistan a mammoth 238 runs victory in the opener of the Asia Cup 2023.

Shaheen Afridi started things off in style with the ball and Naseem came in and struck early too. Haris Rauf proved also proved to be dangerous as wickets kept falling quickly.

Shadab cleaned up the tail to end with stellar figures of 4/27.

PAK vs NEP: WICKET - Sandeep Lamichhane bowled for a DUCK

Another one bites the dust!!

The ball was generously flighted and it was the googly.

Lamichhane went for a big swing across the line but missed it entirelly.

The off pole is disturbed and Nepal have lost 8 wickets now.

Lamichhane b Shadab Khan 0(2)

PAK vs NEP: WICKET - Fakhar Zaman takes an excellent catch

What a catch by Fakhar Zaman!!

Shadab went back over the wicket and tossed one onto the boots.

Gulsan Jha goes for the slog but instead got the top-edge and Fakhar Zaman runs in about 20 yards from deep mid-wicket to take an excellent catch.

Gulsan Jha c Fakhar Zaman b Shadab Khan 13(23) [6s-1]

PAK vs NEP: WICKET - Dipendra Singh bowled for 3

Bowled!! The ball goes through the gates!!

Nawaz darts this one through and the ball goes on with the arm, beats Dipendra on the inside edge and castles his middle stump.

Dipendra Singh b Nawaz 3(11)

PAK vs NEP: WICKET - Sompal Kami's resistance broken

Haris Rauf gets the set batter OUT!

Sompal opened up in his defence and got a thick edge that flew between keeper and first slip.

But Rizwan decided to go for it and dived full length and grabbed the ball nicely.

Sompal Kami c Rizwan b Haris Rauf 28(46) [4s-4]

PAK vs NEP: WICKET - Aarif Sheikh goes for 26

Bowled!! Aarif's struggling innings comes to an end.

It was bound to happen as Haris Rauf had been consistently attacking.

He finally sets the stumps on fire. He delivers a well-judged length ball on the stumps, and as Aarif tries to create room to play, he misses, resulting in the ball striking the middle stump.

Aarif Sheikh b Haris Rauf 26(38) [4s-5]

PAK vs NEP: Drinks Break

Sompal Kami has been playing high quality shots and timing it good as well.

Haris Rauf who has just bowled two overs and looking very threatening but also frustrated as he is keen to get wickets.

NEP 73/3 (14) - Nepal need 270 runs

Aarif Sheikh 26 runs off 34 balls

Sompal Kami 28 runs off 40 balls

PAK vs NEP: Shaheen Afridi leaves the field

Shaheen Afridi leaves the field with team doctor.

He was seen on the boundary line talking with the team doctor before walking off.

Hope it's nothing concerning as he is the main pacer of the side.

PAK vs NEP: WICKET - 3rd falls for Nepal

Throughout his career, Naseem Shah has never ended a match without claiming a wicket, and he maintains his impressive performance record.

Sending down a fullish delivery just outside the off stump, Aasif attempts a defensive shot. But, the ball moves slightly away, inducing a thick edge that travels directly into the hands of the first slip fielder.

Aasif Sheikh c Iftikhar Ahmed b Naseem Shah 5(5) [4s-1]

PAK vs NEP: WICKET - Two wickets for Shaheen Afridi

In the opening over, Shaheen Afridi unleashed his signature full inswinging delivery – a ball that has caused problems for numerous batsmen worldwide.

Despite the Nepal captain opting for a review, he retraced his steps even before the official decision was rendered.

Rohit Paudel lbw b Shaheen Afridi 0(1)

PAK vs NEP: WICKET - Kushal Bhurtel departs for 8

After hitting back-to-back fours, Shaheen Afridi sends back Bhurtel for 8.

Had Bhurtel repositioned himself slightly within the line, the inswinging length delivery down the leg side would have been deemed a wide.

However, in an attempt to delicately redirect the ball, it resulted in an inadvertent inside edge.

Rizwan showcased his skills by diving to his left and taking a low catch.

Bhurtel c Rizwan b Shaheen Afridi 8(4) [4s-2]

PAK vs NEP: Pakistan 342/6 (50)

Pakistan end their innings on 342/6

It was an innings of two halves. Nepal got on to a good start and took two quick wickets as Pakistan were slow to start.

However, skipper Babar Azam and Mohammad Rizwan put on a strong partnership.

However, Rizwan was run out and Agha Salman did not stay long putting Pakistan back in trouble.

However, Babar joined hands with Iftikhar Ahmed that changed the face of the game.

While Babar reached a massive 151 runs, Iftikhar also smashed his maiden ODI century.

PAK vs NEP: WICKET - Shadab Khan bowled on final ball of innings

Shadab tried the same ramp shot once again as he did on the previous ball.

This time however, the ball sneaked under his bat and cleaned out his leg stump.

Shadab Khan b Sompal Kami 4(2) [4s-1]

PAK vs NEP: WICKET - Babar Azam departs for a massive 151 runs

Exhaustion seemingly influenced Babar Azam's shot selection as he had to depart for a massive 151 runs.

The delivery was full and conveniently positioned in the off region, tempting Babar to execute an ambitious expansive shot, aiming to clear the long-off boundary.

Babar Azam c (sub)Sundeep Jora b Sompal Kami 151(131) [4s-14 6s-4]

PAK vs NEP: 1st ODI 100 for Iftikhar Ahmed

Maiden ODI hundred for Iftikhar Ahmed!

He takes off his helmet and pumps his arms in celebration.

PAK vs NEP: 150 up for Babar Azam

It was just a couple of overs ago where he was reaching his 100.

PAK vs NEP: 20 runs scored on 45th over

Commenced with a single off Sompal Kami's over, yet the entire dynamic shifted with the second delivery finding the boundary for a four.

The third ball yielded only a solitary run, but the subsequent two balls were dispatched for consecutive fours.

The sixth and final delivery soared over the boundary line for an impressive six, culminating in a total of 20 runs amassed during this over.

PAK vs NEP: 100 for Babar Azam, 50 for Iftikhar Ahmed

Slammed to long-on and that's 50 for Iftikhar Ahmed!!!

Following him is skipper Babar Azam who finally got to his 100!! He takes out his helmet and bows down as the crowd applauds!!

PAK vs NEP: Drinks Break

Skipper Baba Azam is keeping Pakistan in good stead, but he needs support.

Babar Azam 71 runs off 86 balls

Iftikhar Ahmed 11 runs off 16 balls

PAK vs NEP: 50 for skipper Babar Azam

Babar Azam flicks the ball wide mid-wicket and gets his 8th fifty+ score.

It is also his 12 ODI half-century this year!

PAK vs NEP: WICKET - Agha Salman walks back for 5

Struggling to find his rhythm, he attempts to change the game's pace with a reverse sweep, but finds the ball landing straight into the hands of the backward point fielder.

The fielder skillfully dives forward to secure a commendable catch.

Agha Salman c Bhurtel b Lamichhane 5(14)

PAK vs NEP: WICKET - Mohammad Rizwan run out for 44

Off the 3 wickets, 2 have been run outs!

Rizwan nudges the ball to cover-point, securing a single, but WAIT, there's a precise throw directly at the stumps!

Rizwan did not try to ground his bat as he was worried about the ball coming towards him.

Rizwan run out (Dipendra Singh) 44(50) [4s-6]

PAK vs NEP: 100 up for Pakistan

After losing two quick wickets, Pakistan get 100 on the scoreboard.

Mohammad Rizwan 37 runs off 44 balls

Babar Azam 40 runs off 56 balls

PAK vs NEP: 20 overs done

Babar Azam 34 runs off 49 balls

Mohammad Rizwan 32 runs off 40 balls

PAK vs NEP: Drinks are on the field

Nepal, who have nothing to lose, have made a really positive start. But Pakistan have Babar and Rizwan in the middle.

Babar Azam 16 runs off 24 balls

Mohammad Rizwan 24 runs off 28 balls

PAK vs NEP: At the end of 10th over

Mohammad Rizwan 7 runs off 15 balls

Babar Azam 12 runs off 13 balls

PAK vs NEP: End of 7th over

Mohammad Rizwan 0 runs for 0 balls

Babar Azam 8 runs for 8 balls

PAK vs NEP: WICKET - Imam-ul-Haq run out for 5

Both openers back to the hut!!

Imam bears the responsibility for this mishap! A full delivery, slightly outside the off stump, was gently pushed towards mid-off.

The fielder charges in and the left-handed batsman opted for a hasty single.

The risk was apparent and to make matters worse, a rapid and accurate throw dislodged the stumps at the non-striker's end.

Imam run out (Rohit Paudel) 5(14) [4s-1]

PAK vs NEP: WICKET - Fakhar Zaman departs for 14

The bowler delivered a length ball that moved away skillfully. The bowler pushed it wider, anticipating that the batter would attempt to chase it.

Fakhar Zaman took a hefty swing at it, only to get an edge that flew to the keeper.

The keeper made a spectacular diving catch to secure the dismissal.

Fakhar Zaman c Aasif Sheikh b Karan KC 14(20) [4s-3]

PAK vs NEP: End of 1st over

Fakhar Zaman *9 off 6 balls

PAK vs NEP: TOSS - Pakistan opt to bat

Pakistan have won the toss and have opted to bat.

Pakistan (Playing XI): Fakhar Zaman, Imam-ul-Haq, Babar Azam(c), Mohammad Rizwan(w), Agha Salman, Iftikhar Ahmed, Shadab Khan, Mohammad Nawaz, Shaheen Afridi, Naseem Shah, Haris Rauf

Nepal (Playing XI): Kushal Bhurtel, Aasif Sheikh(w), Rohit Paudel(c), Aarif Sheikh, Kushal Malla, Dipendra Singh Airee, Gulsan Jha, Sompal Kami, Karan KC, Sandeep Lamichhane, Lalit Rajbanshi

PAK vs NEP: Squads

Pakistan Squad: Fakhar Zaman, Imam-ul-Haq, Babar Azam(c), Mohammad Rizwan(w), Agha Salman, Iftikhar Ahmed, Shadab Khan, Mohammad Nawaz, Faheem Ashraf, Shaheen Afridi, Haris Rauf, Naseem Shah, Mohammad Haris, Mohammad Wasim Jr, Saud Shakeel, Abdullah Shafique, Usama Mir

Nepal Squad: Kushal Bhurtel, Aasif Sheikh(w), Bhim Sharki, Rohit Paudel(c), Kushal Malla, Dipendra Singh Airee, Gulsan Jha, Sompal Kami, Karan KC, Sandeep Lamichhane, Lalit Rajbanshi, Sundeep Jora, Pratis GC, Arjun Saud, Mousom Dhakal, Kishore Mahato, Aarif Sheikh