LIVE Updates | SL vs BAN, Asia Cup 2023: Pathirana gets the last wicket, Sri Lanka win by 21 runs
SL vs BAN, Asia Cup 2023, Super 4: Live updates for Sri Lanka vs Bangladesh clash in R.Premadasa Stadium, Colombo.
Last Updated: 11.18 PM, Sep 09, 2023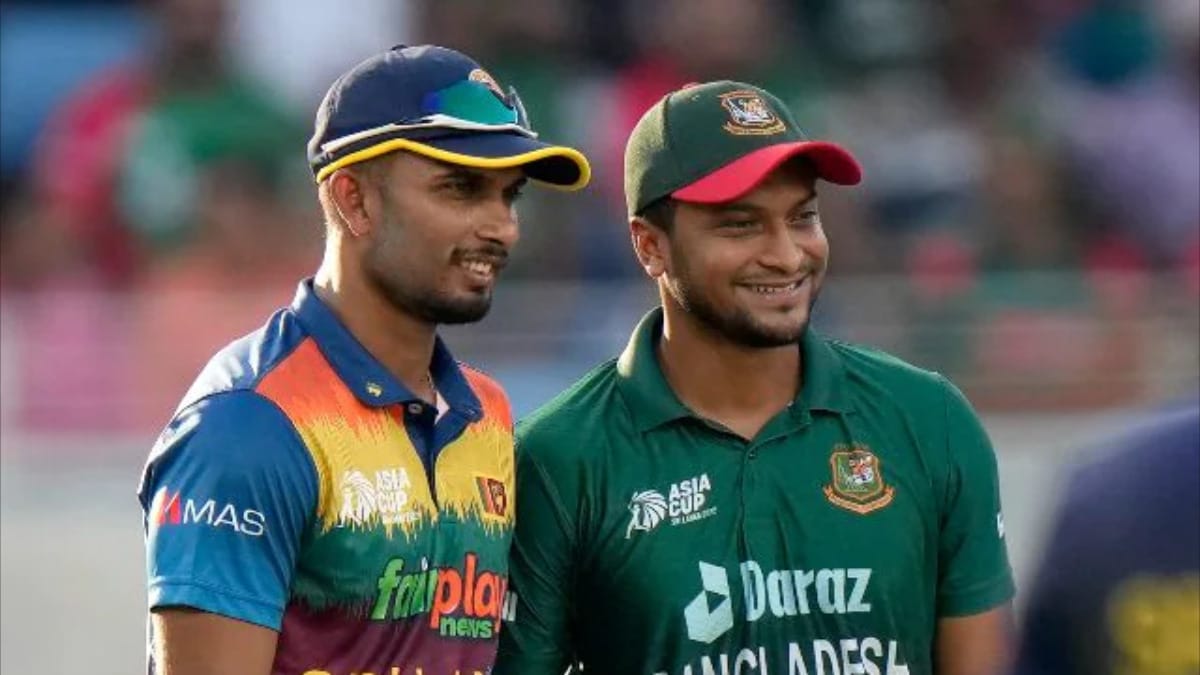 The Asia Cup 2023 Super 4's second match will relocate to Colombo, where Sri Lanka is set to face Bangladesh, and fans are optimistic about witnessing a complete game. It's crucial to note that there is no reserve day scheduled for this match, and should it be affected by rain, the teams will share points. This scenario is something Bangladesh would like to avoid, especially following their defeat to Pakistan in the first Super Four match.
In the match played on a plaid track in Lahore, Bangladesh struggled to adapt to the conditions and cope with the bowling, resulting in several wicket losses due to rash shots. This loss has placed them in a must-win situation as they face another co-host, Sri Lanka, today.
The home team is currently riding a winning streak, having won 12 consecutive matches. Only Australia, with 21 wins, has a longer streak of successive ODI victories. This impressive record provides Sri Lanka with significant motivation as they enter the match.
SL vs BAN: Sri Lanka win by 21 runs

Sri Lanka secured victory by a margin of 21 runs.

However, it was far from a straightforward triumph and they had to work tirelessly for this win.

Sadeera Samarawickrama's dazzling 93-run innings turned the tide for Sri Lanka. Pathum Nissanka had got the side to a great start scoring 40, which was later carried forward by Kusal Mendis (50).

Bangladesh, on the other hand, saw their pacers making crucial breakthroughs, while the spinners maintained tight control over the proceedings.

Taskin Ahmed and Hasan Mahmud took three wickets each while Shoriful Islam has two scalps to his name.

Coming in to chase, Towhid Hridoy was threatening to take the game away from the co-host as Bangladesh were struggling on 83/4.

Mohammad Naim (21), Mehidy Hasan Miraz (28) and Mushfiqur Rahim (29) were the other contributors.

The Lankan bowlers Maheesh Theekshana, Dasun Shanaka and Matheesha Pathirana all picked three wickets each while Dunith Wellalage has one to his name.

SL vs BAN: WICKET - Pathirana gets the last wicket

Pathirana delivers a precise yorker to end any resistance!

The final-wicket pair's aspirations are crushed as the ball angles in from around the wicket.

Ahmed attempts a drive but fails to connect, resulting in the ball crashing into the middle and leg stumps.

Nasum Ahmed b Pathirana 15(15) [6s-1]

SL vs BAN: WICKET - Shoriful Islam BOWLED

Islam attempts a drive the ball but only manages a slight outside edge that crashes into the off and middle stumps.

He had lifted his front leg, trying to play it through extra cover, but his execution was way off the mark.

Shoriful Islam b Pathirana 7(7)

SL vs BAN: WICKET - Taskin Ahmed goes for 1

Taskin opts for a review! Theekshana delivers a carrom ball from round the wicket, the length is full, and it sharply turns in to strike the back leg as Taskin fails to connect with the sweep.

The impact is in line with the off-stump, and it's crashing into middle.

Taskin Ahmed lbw b Theekshana 1(3)

SL vs BAN: WICKET - Towhid Hridoy departs for 82

A very good innings by Towhid Hridoy comes to an end! Hridoy has been adjudged LBW, and he opts for a review!

A pivotal moment in the game! The length ball skids through eludes the inside edge, and strikes him on the front pad.

Ball tracking shows the ball clipping the leg stump.

Hridoy departs with a disheartened look, while Chris Silverwood, the Sri Lankan coach, celebrates with exuberance.

Towhid Hridoy lbw b Theekshana 82(97) [4s-7 6s-1]

SL vs BAN: WICKET - Theekshana strikes

Absolutely plumb in front!

Hossain decides to review, but he doesn't appear to be very optimistic!

A length ball pitching on middle, this one's a carrom ball, it sharply turns in, hitting the pad while the batter is firmly anchored in the crease.

Ball-tracking confirms it would have crashed into the middle stump halfway up.

Shamim Hossain lbw b Theekshana 5(10)

SL vs BAN: Fifty for Towhid Hridoy

Hridoy manages to get a faint edge on it, and the ball races fine for a four!

This boundary also brings up his well-deserved fifty!

Howeer, the job is not yet done.

SL vs BAN: WICKET - Shanaka breaks partnership yet again

Mushfiqur decides to step forward, aiming to clear mid-off.

The opportunity presented itself as the delivery was pitched on the fuller side.

Unfortunately, he couldn't connect it and sent the ball straight into the waiting hands of Rajitha, who clung to it with a diving effort.

Mushfiqur c Rajitha b Shanaka 29(48)

SL vs BAN: WICKET - Litton Das walks back for 15

Bangladesh finds itself in increasingly dire straits.

The delivery was bowled slower and wider outside the off-stump, causing Litton to stretch in his attempt to drive.

He manages to get a faint inside edge that ricochets off Mendis's knee.

Mendis somehow juggles the ball a couple more times before finally securing it.

The appeal from the fielding side was immediate, prompting the umpire to take his time, but once the decision was given, Litton wasted no time in departing.

Litton Das c Kusal Mendis b Wellalage 15(24) [4s-1]

SL vs BAN: WICKET - Pathirana sends back Shakib Al Hasan

A vehement appeal for a caught-behind, accompanied by a significant noise, but umpire Jayaraman Madanagopal remained unmoved.

Sri Lanka opted for a review - the bat is in close proximity to the ball.

UltraEdge confirms a spike when the ball is near the bat and the decision is overturned.

There was a pronounced sound, and it raises questions as to why it wasn't given initially.

The delivery, a short one of good length, angles across the left-hander. Shakib tentatively pokes at it and generates a discernible edge that travels to the wicketkeeper.

Shakib c Kusal Mendis b Pathirana 3(7)

SL vs BAN: WICKETS - 2 wickets in an over for birthday boy Dasun Shanaka

The birthday boy gets 2 wickets to his name!

Shanaka gets the breakthrough! He delivers a short-of-length delivery targeting the body, inviting the pull shot, but Mehidy is late on the shot. The ball goes off the splice of the bat and provides a straightforward catch to midwicket.

Mehidy Hasan Miraz c (sub)Hemantha b Shanaka 28(29) [4s-4]

Once again, Shanaka makes an impact with a well-executed short ball!

This one is a genuine bouncer, catching Naim entirely off guard. Naim finds himself unable to play the pull shot and merely leaves his bat hanging.

The resulting deflection balloons up into the air, presenting a straightforward catch for the wicketkeeper.

Naim c Kusal Mendis b Shanaka 21(46) [4s-1]

SL vs BAN: Sri Lanka post 257/9

Samarawickrama's outstanding performance guides Sri Lanka to a total of 257.

He managed to display remarkable fluency, scoring 93 runs off just 72 balls and missed his 100 as he lost his wicket on the last ball of the 50th over.

Pathum Nissanka had got the side to a great start scoring 40, which was later carried forward by Kusal Mendis (50).

Bangladesh, on the other hand, saw their pacers making crucial breakthroughs, while the spinners maintained tight control over the proceedings.

Taskin Ahmed and Hasan Mahmud took three wickets each while Shoriful Islam has two scalps to his name.

SL vs BAN: WICKET - Samarawickrama departs for 93

Samarawickrama departs off the last delivery and also misses his 100!

A slower length ball tempts him to slog across the line, he makes contact but cannot clear the deep midwicket fielder.

Afif takes a well-judged catch just inside the boundary.

Samarawickrama c (sub)Afif Hossain b Taskin Ahmed 93(72) [4s-8 6s-2]

SL vs BAN: WICKET - Theekshana goes for 2

A cracking short ball is directed at Theekshana's body, leaving him cramped up and causing the ball to pop up off his glove to Rahim!

Theekshana seemed caught off guard and had no escape from that delivery.

Theekshana c Mushfiqur b Taskin Ahmed 2(3)

SL vs BAN: WICKET - Run out with a KICK

A brilliant yorker hits Samarawickrama on the shoes.

The batters quickly take a leg-bye, but Mahmud kicks the ball onto the stumps.

The question is, has Wellalage managed to make it home safely? Unfortunately, no, he's well short of the crease.

Wellalage run out (Hasan Mahmud) 3(3)

SL vs BAN: WICKET - Birthday boy Dasun Shanaka bowled for 24

Shanaka attempts a scoop shot but ends up deflecting it onto the stumps!

Mahmud delivers another yorker-length ball and the BIRTHDAY BOY Shanaka attempts to get under it but ends up with a thick inside edge, and the ball crashes into the middle and leg stumps.

Shanaka b Hasan Mahmud 24(32) [4s-1]

SL vs BAN: 50 for Sadeera Samarawickrama

FOUR! A well-placed short delivery, and Samarawickrama responds with a powerful pull shot behind square, finding the boundary and completing his half-century.

He has displayed remarkable fluency on this challenging pitch. A superb innings by Samarawickrama thus far.

SL vs BAN: WICKET - Dhananjaya de Silva departs early

Mahmud's skiddy delivery once again catches the batter off guard.

Pitched just outside off on a back-of-a-length, Dhananjaya attempts to play a back-foot punch, but the ball arrives quicker than anticipated, resulting in an edge to the wicketkeeper.

Dhananjaya c Mushfiqur b Hasan Mahmud 6(16)

SL vs BAN: WICKET - Fifty and OUT for Mendis

Mendis departs after reaching his fifty.

The delivery was short and wide outside off, tempting Mendis to go for the ramp shot.

He played it with an open face, but unfortunately, he found the fielder at third man with precision.

The ball went straight into the hands of Taskin, who had run in and settled comfortably underneath it.

Kusal Mendis c Taskin Ahmed b Shoriful Islam 50(73) [4s-6 6s-1]

SL vs BAN: Mendis's 24th ODI fifty

A delightful FOUR! The delivery was short, slightly outside off, and Mendis read the length perfectly.

He gracefully swivelled across and executed a front-of-square pull shot on the on-side.

There was a fielding error in the deep, resulting in a boundary, and this also marks Mendis's 24th ODI fifty.

SL vs BAN: WICKET - Nissanka goes for 40

The partnership has been broken!

A quick review followed as he was dismissed. Upon closer inspection, it's evident that the pad was indeed struck first, and it seems quite adjacent to the stumps as well.

Ball-tracking shows the impact is within the umpire's call range, and it's crashing into the middle-stump.

The delivery was delivered from a length and angled back into the right-handed batsman.

Nissanka was preparing for a delicate shot, but the ball brushed the front pad before making contact with the bat.

The umpire keenly observed this and signaled Nissanka's departure.

Nissanka lbw b Shoriful Islam 40(60) [4s-5]

SL vs BAN: WICKET - Karunaratne departs for 18

The hosts have lost a wicket early on, putting a damper on their promising start.

The ball seamed away from a good length around the middle stump. Karunaratne was leaning forward, but he couldn't quite cover the angle.

The ball grazed the shoulder of his bat, resulting in a routine catch for Rahim.

Umpire Paul Wilson swiftly raised his finger, signalling Karunaratne's departure.

Karunaratne c Mushfiqur b Hasan Mahmud 18(17) [4s-3]

SL vs BAN: TOSS - Bangladesh opt to bowl

Bangladesh have won the toss and have opted to field.

Bangladesh (Playing XI): Mohammad Naim, Mehidy Hasan Miraz, Litton Das, Shakib Al Hasan(c), Towhid Hridoy, Mushfiqur Rahim(w), Shamim Hossain, Taskin Ahmed, Shoriful Islam, Hasan Mahmud, Nasum Ahmed

Sri Lanka (Playing XI): Pathum Nissanka, Dimuth Karunaratne, Kusal Mendis(w), Sadeera Samarawickrama, Charith Asalanka, Dhananjaya de Silva, Dasun Shanaka(c), Dunith Wellalage, Maheesh Theekshana, Kasun Rajitha, Matheesha Pathirana

SL vs BAN: Squads

Sri Lanka Squad: Pathum Nissanka, Dimuth Karunaratne, Kusal Mendis(w), Sadeera Samarawickrama, Charith Asalanka, Dhananjaya de Silva, Dasun Shanaka(c), Dunith Wellalage, Maheesh Theekshana, Kasun Rajitha, Matheesha Pathirana, Dushan Hemantha, Pramod Madushan, Binura Fernando, Kusal Perera

Bangladesh Squad: Mohammad Naim, Mehidy Hasan Miraz, Litton Das, Shakib Al Hasan(c), Towhid Hridoy, Mushfiqur Rahim(w), Shamim Hossain, Afif Hossain, Taskin Ahmed, Shoriful Islam, Hasan Mahmud, Mustafizur Rahman, Nasum Ahmed, Mahedi Hasan, Tanzid Hasan, Tanzim Hasan Sakib, Anamul Haque