LSG vs MI, IPL 2023: Mohsin Khan bowls under pressure and Super Giants win by 5 runs, huge roar across the stadium
LSG vs MI Live Score IPL 2023 Lucknow Super Giants vs Mumbai Indians Krunal Pandya and Rohit Sharma Match 63 at Bharat Ratna Shri Atal Bihari Vajpayee Ekana Cricket Stadium, Lucknow
Last Updated: 06.13 PM, May 16, 2023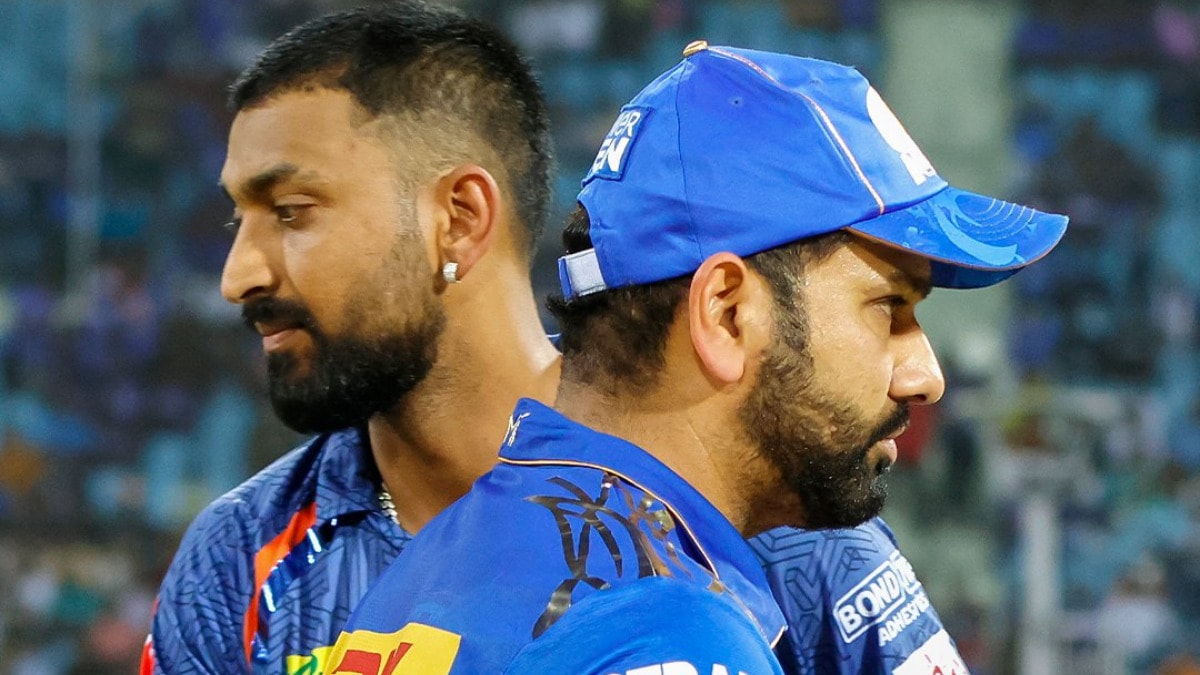 Lucknow Super Giants vs Mumbai Indians
Lucknow Super Giants (LSG) host Mumbai Indians (MI) in the 63rd Match of the Indian Premier League (IPL) 2023.
The scenario is quite simple for both teams - while a win tonight will not guarantee a playoff spot, but will take them close to the qualification margin.
Head to head: LSG 2 - 0 MI. While Super Giants beat Mumbai Indians twice last season, both victories had come on the back of centuries by KL Rahul, who is not part of the squad.
LSG vs MI: Lucknow Super Giants win by 5 runs

Mumbai Indians needed 11 runs off the final over!

A huge roar all across the stadium as Mohsin Khan helps Super Giants win by 5 runs. He kept his nerves in the final over.

Rohit Sharma and Ishan Kishan added 90 runs for the opening wicket, but once the skipper's wicket fell, the momentum broke for MI.

Kishan notched up a fifty, however, his dismissal, the game was put back into LSG's hands. SKY and Wadhera also failed to get going. Tim David hit a few shots, but he did not get help from the other end.

LSG vs MI: WICKET - Yash Thakur sends back Vishnu Vinod

What a catch taken by Nicky P at the boundary line!

Vishnu Vinod pulls towards deep square leg and Pooran takes an impressive catch.

Vishnu Vinod c Pooran b Yash Thakur 2(4)

LSG vs MI: WICKET - Mohsin Khan sends back Nehal Wadhera

Wadhera's struggle have been put to an end!

Nehal Wadhera went for the pull shot, miscues it towards deep square, and Gowtham takes the catch.

Nehal Wadhera c (sub)Gowtham b Mohsin Khan 16(20) [4s-2]

LSG vs MI: WICKET - Suryakumar Yadav BOWLED

SKY shuffled across in the crease to play the scoop, but he ended up dragging it on to the sticks.

Suryakumar Yadav b Yash Thakur 7(9)

LSG vs MI: WICKET - Bishnoi sends back Ishan Kishan

Huge wicket and a sigh of relief for Super Giants!

Kishan rocked back to smash it over deep mid-wicket.

He miscues it and gets a top edge as he sees the ball go into the hands of Naveen stationed near the boundary.

Ishan Kishan c Naveen-ul-Haq b Ravi Bishnoi 59(39) [4s-8 6s-1]

LSG vs MI: Fifty for Ishan Kishan

Kishan is the reason why the Mumbai Indians are currently enjoying the ride.

LSG vs MI: WICKET - Rohit Sharma walks back for 37

50th IPL wicket for Ravi Bishnoi!

Rohit did not get the desired connection and picks out Hooda, running to his right, at long-on.

Rohit c Hooda b Ravi Bishnoi 37(25) [4s-1 6s-3]

LSG vs MI: Lucknow Super Giants 177/3

After the 1st three wickets fell, it looked like a low scoring game.

However in came Stoinis, who along with Krunal Pandya build up an innings and also go bang, bang, abng.

In fact 54 runs came off the last 3 overs itself.

Krunal had walked off for 49 with what seemed an injury.

But nothing stopped Stoinis.

LSG vs MI: Stoinis reaches fifty

Stoinis reaches fifty with a fantastic shot!

He is in mood to acclerate now.

LSG vs MI: Krunal Pandya retired hurt

Krunal Pandya has decided to go off. Pooran is in.

That injury has forced this change.

LSG vs MI: WICKET - Piyush Chawla sends back Quinton de Kock

Chawla takes a wicket on the first ball of his spell!

Superbly bowled googly and de Kock went forward to drive.

But he got a healthy nick and was well caught by Ishan who did not even appeal for the catch.

de Kock c Ishan Kishan b Chawla 16(15) [6s-2]

LSG vs MI: WICKET - 2 in 2 for Jason Behrendorff

Prerak Mankad goes for a golden duck!

The umpire had not even lifted his finger and the batter started walking away.

Mankad tried to run it down but gets a faint outside-edge.

Rohit running in to celebrate gestures that he did not hear the nick.

Prerak Mankad c Ishan Kishan b Behrendorff 0(1)

LSG vs MI: WICKET - Deepak Hooda departs for 5

Time David gets the catch after dropping him earlier!

Hooda shimmied down the track and tried to go over mid-on.

However, he goes through with the shot and ends up popping up a simple catch to David at mid-on.

Hooda c Tim David b Behrendorff 5(7)

LSG vs MI: TOSS - Mumbai Indians opt to bowl

Mumbai Indians have won the toss and have opted to field

Mumbai have one change - offie coming in for the left-arm spinner while for Super Giants, they have quite a few changes: Naveen and Deepak Hooda in, Kyle Mayers and Avesh Khan out. There is one more change as well.

Lucknow Super Giants (Playing XI): Quinton de Kock(w), Deepak Hooda, Prerak Mankad, Krunal Pandya(c), Marcus Stoinis, Nicholas Pooran, Ayush Badoni, Naveen-ul-Haq, Ravi Bishnoi, Swapnil Singh, Mohsin Khan

Mumbai Indians (Playing XI): Rohit Sharma(c), Ishan Kishan(w), Cameron Green, Suryakumar Yadav, Nehal Wadhera, Tim David, Hrithik Shokeen, Chris Jordan, Piyush Chawla, Jason Behrendorff, Akash Madhwal

LSG vs MI: Welcome to live coverage