RR vs RCB, IPL 2023: What just happened! Rajasthan all-out for 59, Royal Challengers win by 112 runs
Rajasthan Royals vs Royal Challengers Bangalore, 60th Match - Live Wicket-to-wicket update
Last Updated: 05.36 AM, May 15, 2023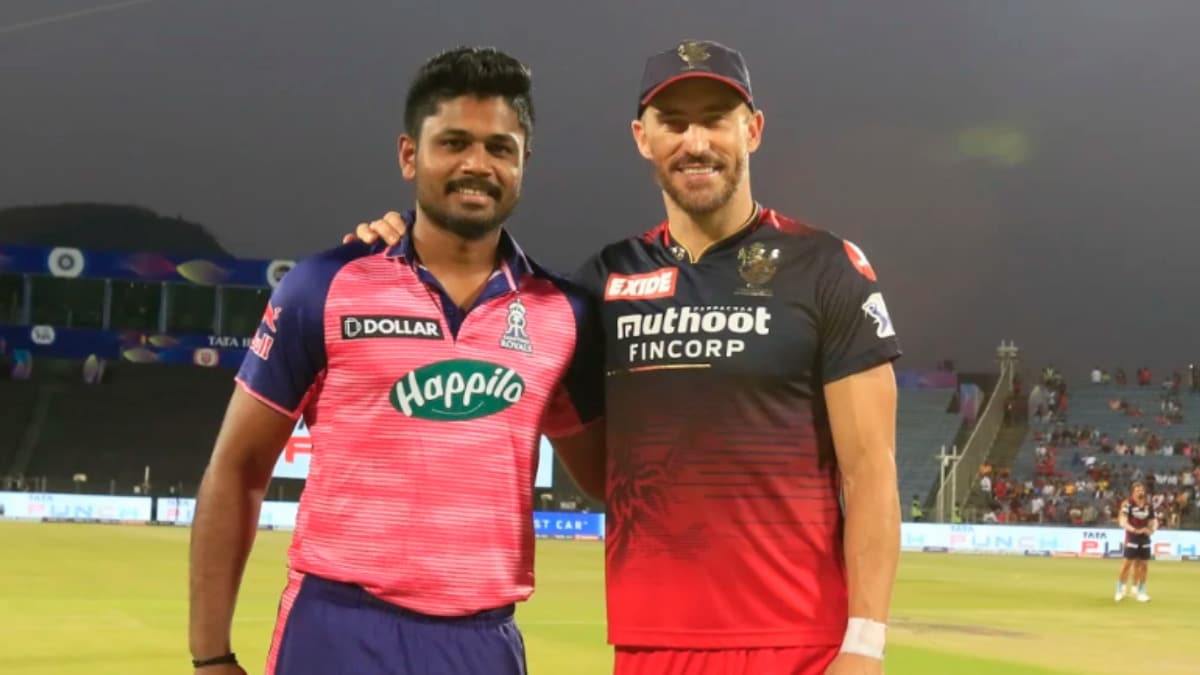 Rajasthan Royals vs Royal Challengers Bangalore
The 60th match of the Indian Premier League (IPL) 2023 sees Rajasthan Royals (RR) host Royal Challengers Bangalore (RCB). The game between the Royals is important to both to secure their spot in the Top 4.
Five defeats in their last six games put Rajasthan Royals outside the playoffs cutoff. RR would hope to keep the winning streak going against an inconsistent Royal Challengers.
As for Bangalore, they are still reliant on their top-order batting. Their defeat in Mumbai also put the bowling under the scanner.
Head to Head: RCB lead 14-12 off 28 games (2 no-results) they played. In Jaipur, it's a four-all stalemate.
RR vs RCB: Royal Challengers Bangalore won by 112 runs

This is a massive win as RR have been shunted out for 59!

RR was, just like RCB depending on their top-order. But they did not score much today and it was Hetmyer who swung hard and got a quick-fire 35.

Last five games RR have lost four of them.

Lowest innings totals for RR
58 vs RCB, Cape Town, 2009
59 vs RCB, Jaipur, today
81 vs KKR, Kolkata, 2011
85 vs KKR, Sharjah, 2021

Lowest innings totals in the IPL
49 - RCB vs KKR, Kolkata, 2017
58 - RR vs RCB, Cape Town, 2009
59 - RR vs RCB, Jaipur, today
66 - DC vs MI, Delhi, 2017

RR vs RCB: WICKET - KM Asif is the last wicket to fall

It was a tossed up delivery and KM Asif went for the big heave down the ground.

Kohli waited under the ball and it was an easy catch.

KM Asif c Kohli b Karn Sharma 0(2)

RR vs RCB: WICKET - Zampa bowled for 2

Karn was decimated by Hetmyer in the previous over and so he got it over with taking the wicket of Zampa.

RR vs RCB: WICKET - Ashwin departs without scoring

Ashwin is surely not the quickest on the field.

He is just short as the direct hit happened at the bowler's end.

Ashwin run out (Siraj) 0(0)

RR vs RCB: WICKET - Dhruv Jurel is sent back for 1

Dhruv Jurel pulls it but does not time it. The ball went very high and was easily taken by the man at deep mid.

Dhruv Jurel c Lomror b M Bracewell 1(7)

RR vs RCB: WICKET - Wayne Parnell gets his 3rd

STAT: Second instance of a team losing five wickets within the PP this season, after DC's 28/5 vs GT in Ahmedabad.

It was a slower one from round the wicket and Root got beaten.

Root went for a review and the ball struck on the pads, impact in line and it's crashing into the leg-stump.

Root lbw b Parnell 10(15) [4s-1]

RR vs RCB: WICKET - Padikkal walks back for 4

The umpire goes upstairs to check if it was a clean catch.

Padikkal sent the ball straight to Siraj at mid-wicket.

Siraj takes it inches above the turf.

Padikkal c Siraj b M Bracewell 4(4) [4s-1]

RR vs RCB: WICKET - Captain Samson sent back for 4

That's a rollicking start for the Royal Challengers Bangalore!

Samson attempts an across-the-line heave but only gets a top edge that goes high up in the air.

Rawat calls for it and settles nicely underneath to complete a really impressive catch.

Samson c Anuj Rawat b Parnell 4(5) [4s-1]

RR vs RCB: WICKET - Jos Buttler goes for a DUCK

Buttler slaps the ball uppishly to the fielder stationed at cover-point and Siraj makes no mistake

Buttler c Siraj b Parnell 0(2)

RR vs RCB: WICKET - Yashasvi Jaiswal departs for a DUCK

It was pitched up by the bowler and Jaiswal smashes it straight to the fielder at mid-off.

Jaiswal c Kohli b Siraj 0(2)

RR vs RCB: Royal Challengers finish with 171/5

Anuj Rawat came in an played a lovely cameo. RCB finish with 171/5.

Faf du Plessis and Virat Kohli got the Challengers off to a decent start, but Kohli could not get going. Faf and Glenn Maxwell had a 50-plus partnership and both batter scored their respective 50s, but departed soon after.

It looked like RCB would finish at a mere 140-150 but Anuj Rawat's cameo powered the visitors to 171.

RR vs RCB: WICKET - Maxwell bowled by Sandeep

RCB as always lost the momentum since du Plessis' wicket.

Sandeep Sharma fires it at the stumps, and it strikes timber.

Maxwell b Sandeep Sharma 54(33) [4s-5 6s-3]

RR vs RCB: 50 for Glenn Maxwell

Maxwell brings up his fifty with a maximum!

RR vs RCB: WICKET - DK goes for a DUCK

Zampa takes wickets on back-to-back deliveries.

Karthik looked to work it across the line, but got beaten and is struck on the pads.

RR vs RCB: WICKET - Mahipal Lomror goes for 1

Back-to-back wickets for the Rajasthan Royals.

Lomror went for a slogsweep and found the fielder at deep mid-wicket.

Lomror c Dhruv Jurel b Zampa 1(2)

RR vs RCB: WICKET - Faf du Plessis departs for 55

KM Asif gets his second wicket and Jaiswal his 2nd catch!

du Plessis chose the aerial route, but finds the fielder stationed at cover.

du Plessis c Jaiswal b KM Asif 55(44) [4s-3 6s-2]

RR vs RCB: Another half-century for Faf du Plessis

Fifty up for the skiiper, his 7th this season.

He is leading RCB from the front.

RR vs RCB: WICKET - Virat Kohli dismissed for 18

It was a knuckle ball which was much slower than usual and the batter charged out.

But Kohli chipped it aimlessly in the air and Jaiswal moved to his right from extra cover to complete a nice catch.

Kohli c Jaiswal b KM Asif 18(19) [4s-1]

RR vs RCB: TOSS - Royal Challengers Bangalore opt to bat

Royal Challengers Bangalore have won the toss and have opted to bat

Two changes for RCB - Parnell coming in for Hazlewood, Bracewell in for Hasaranga.

One change for RR, Zampa comes in for Boult.

Rajasthan Royals (Playing XI): Yashasvi Jaiswal, Jos Buttler, Sanju Samson(w/c), Joe Root, Dhruv Jurel, Shimron Hetmyer, Ravichandran Ashwin, Adam Zampa, Sandeep Sharma, KM Asif, Yuzvendra Chahal

Royal Challengers Bangalore (Playing XI): Virat Kohli, Faf du Plessis(c), Anuj Rawat, Glenn Maxwell, Mahipal Lomror, Dinesh Karthik(w), Michael Bracewell, Wayne Parnell, Karn Sharma, Harshal Patel, Mohammed Siraj

RR vs RCB: Welcome to live coverage