Shanaya Kapoor sets mercury levels rising with her vacation photos from Ibiza
Shanaya Kapoor is seen having a gala time with her friends. The yung debutant is spending her time in Spain and shared some pictures on her social media andles which left the fans hooked.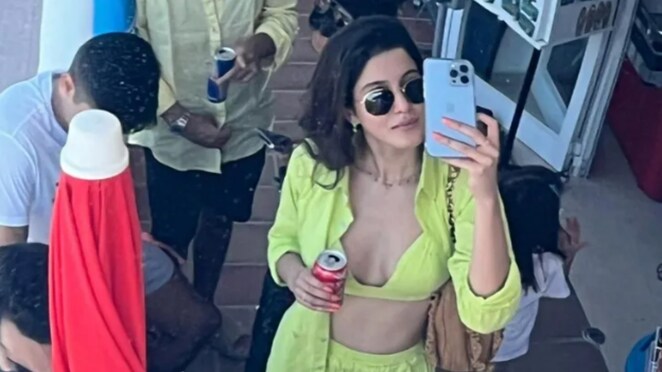 Shanaya Kapoor in a mirror selfie
Shanaya Kapoor, daughter of Sanjay and Maheep Kapoor, is already a social media sensation with a whopping 1.4 million followers on Instagram. The soon-to-be leading lady of the Karan Johar production Bedhadak, which is set to go on floors next year, recently enjoyed some downtime with her friends in Ibiza. The young actress took to Instagram to share pictures from her fun vacation and we couldn't be more envious.
Shanaya shared a mirror selfie from Ibiza, where she is seen in a neon co-ord set with sunglasses. The actress captioned the picture, "Life is my favorite movie", and we can vouch for the fact that she is definitely dressed for the part. While papa Sanjay Kapoor praised her shades, mama Maheep was all 'hearts' for her darling daughter in the comments section. Nothing says a well-spent vacation better than great hair, sunglasses, and a can of cola.
Instagram
Last Updated: 05.50 AM, Jul 31, 2022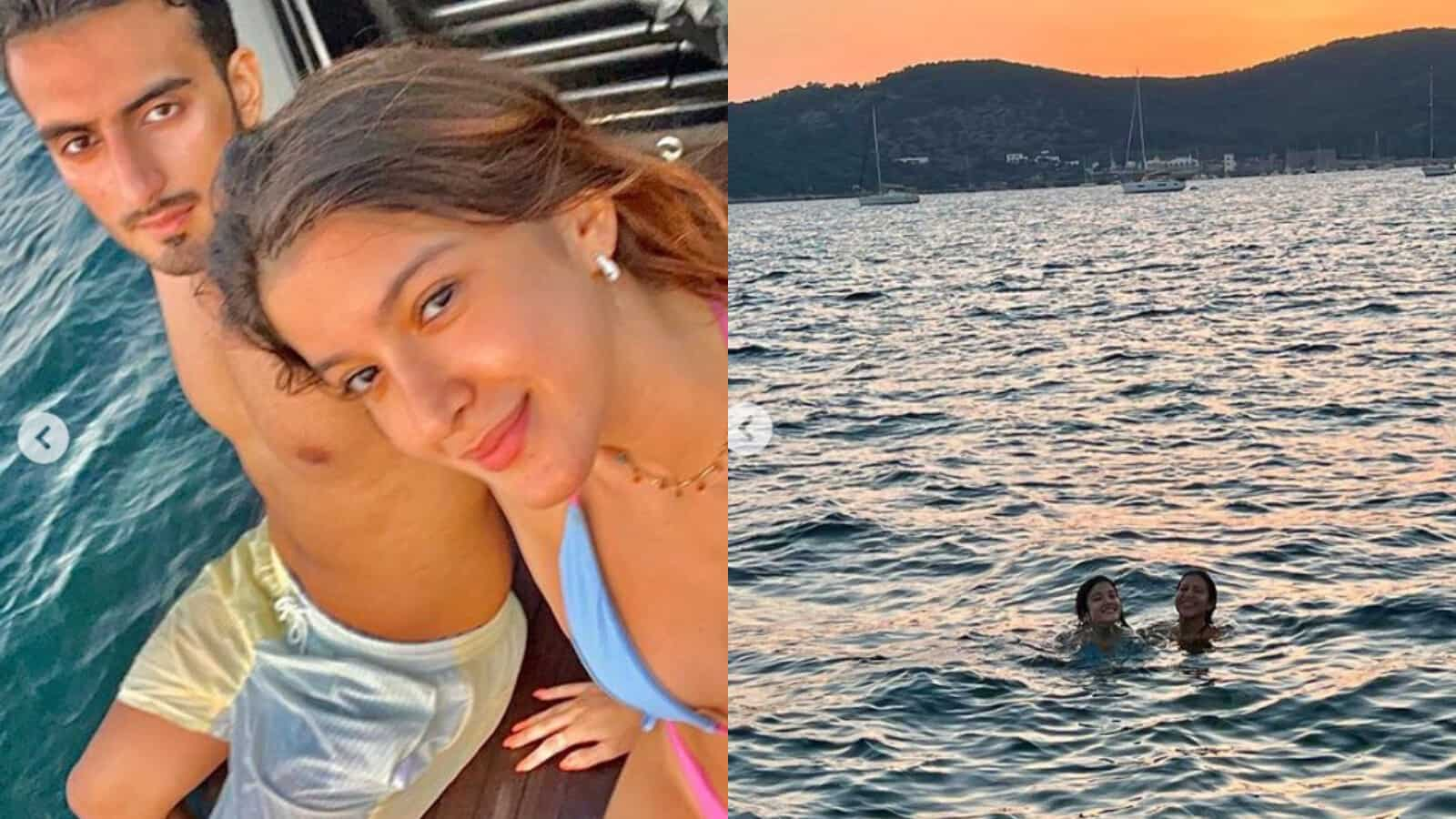 Shanaya Kapoor is a water baby
In another picture, Shanaya Kapoor is seen spending quality time with her friends on a boat. The young actress isn't afraid to share a no-makeup picture and sportingly flaunted her holiday tan. She can be seen wearing a neon blue and pink bikini with a necklace, white earrings, and a gorgeous smile to complete the look.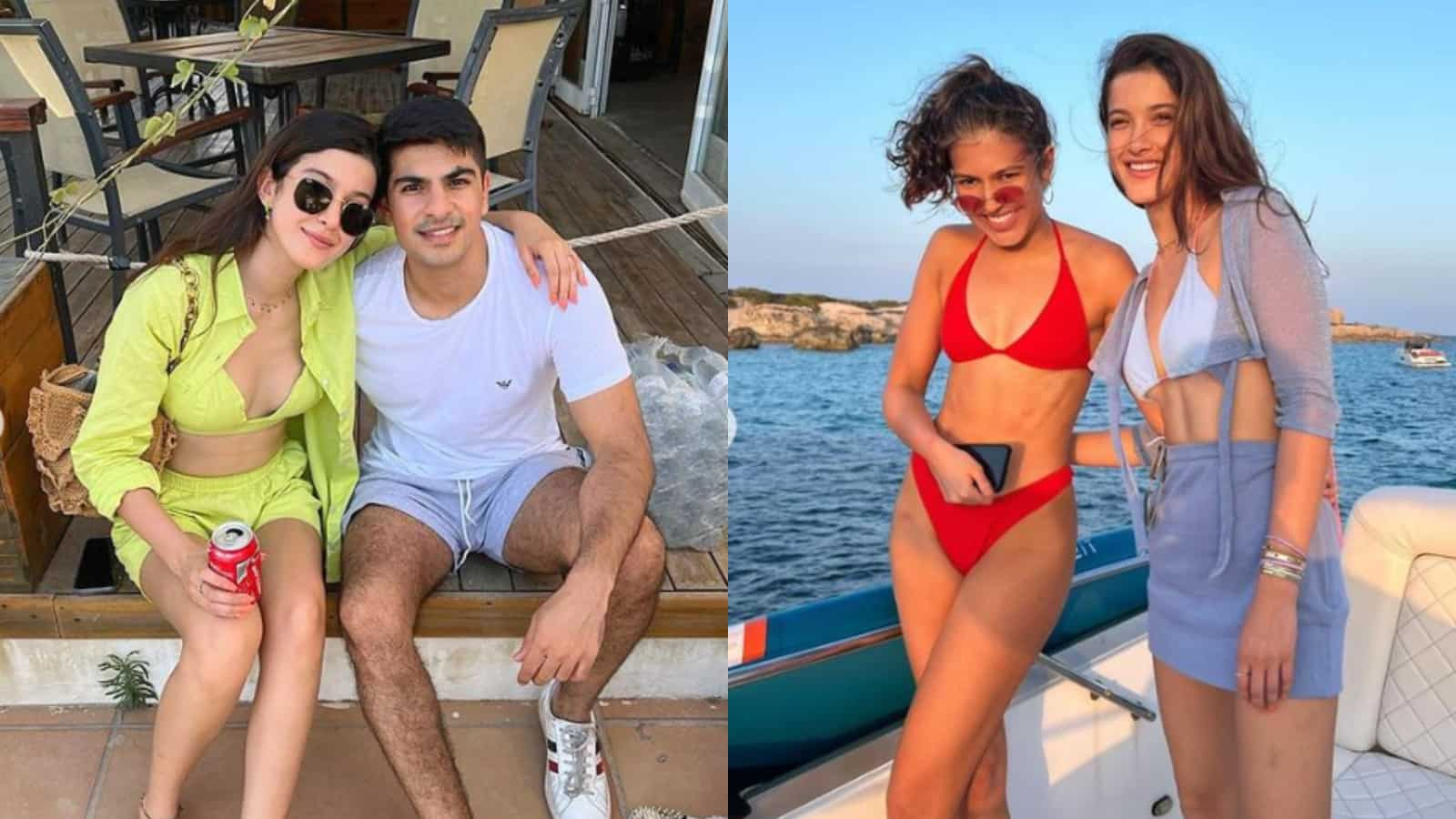 Shanaya Kapoor with friends
Shanaya Kapoor shared a picture from her Ibiza vacation with her friend Shubhi Kumar. The two girls can be seen having a gala time. Shanaya can be seen wearing a purple skirt with a purple net jacket and a blue bikini top. We can tell Shanaya has been working hard at the gym before her movie by the sight of those abs. In another, Shanaya is with her other friend wearing her neon green set.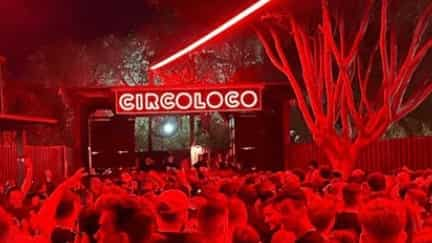 Shanaya parties away at Ibiza
Shanaya seems to be making the most of her vacation in Ibiza, enjoying the blue seas by the day and its happening nightlife after sun-down. Shanaya shared a picture of Circoloco, a dance party held at the DC10 nightclub in Ibiza, Spain, as well as other various locations globally. Circoloco features musical artists from the genres of electronic music, house music, and techno, such as The Martinez Brothers, Seth Troxler, Tale of Us, Black Coffee, and The Blessed Madonna.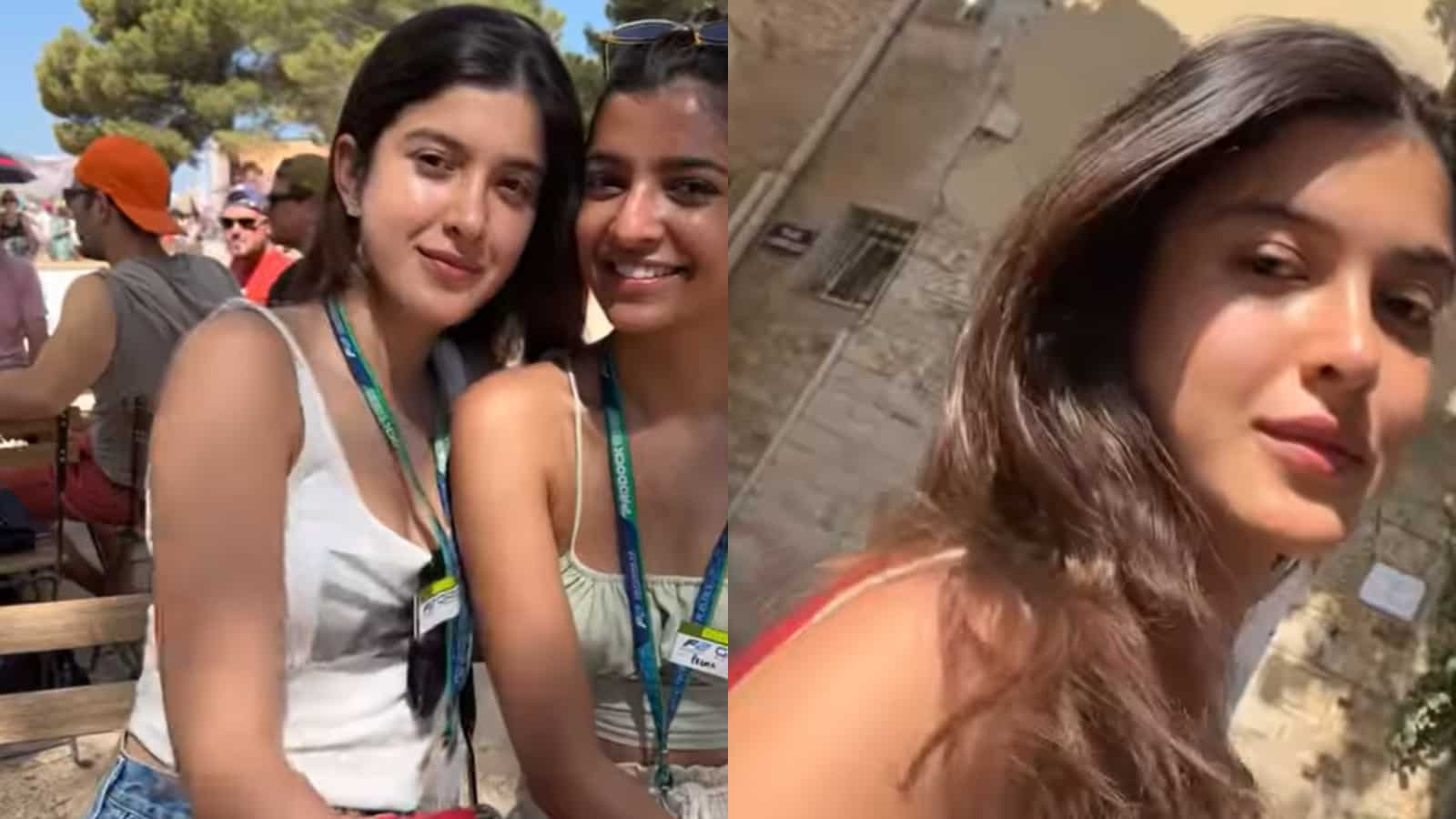 Reel-ing in fun
As a treat to her fans, Shanaya shared a reel of her vacation, with her friends in France on Instagram. The actress can be seen relishing the Mediterranean sun and seaside with her friends. She rightly chose Billie Holiday's iconic song Solitude as the background. Sanjay Kapoor remarked 'what fun' this vacation seems to be, while Maheep Kapoor complained of missing her daughter. Shanaya can be seen sporting a chill summer style with a white tank top and shorts, hair in a scrunchie, and her iconic red handbag. She is also seen wearing a purple shoulder co-ord set in the video with her friends enjoying Go Kart racing.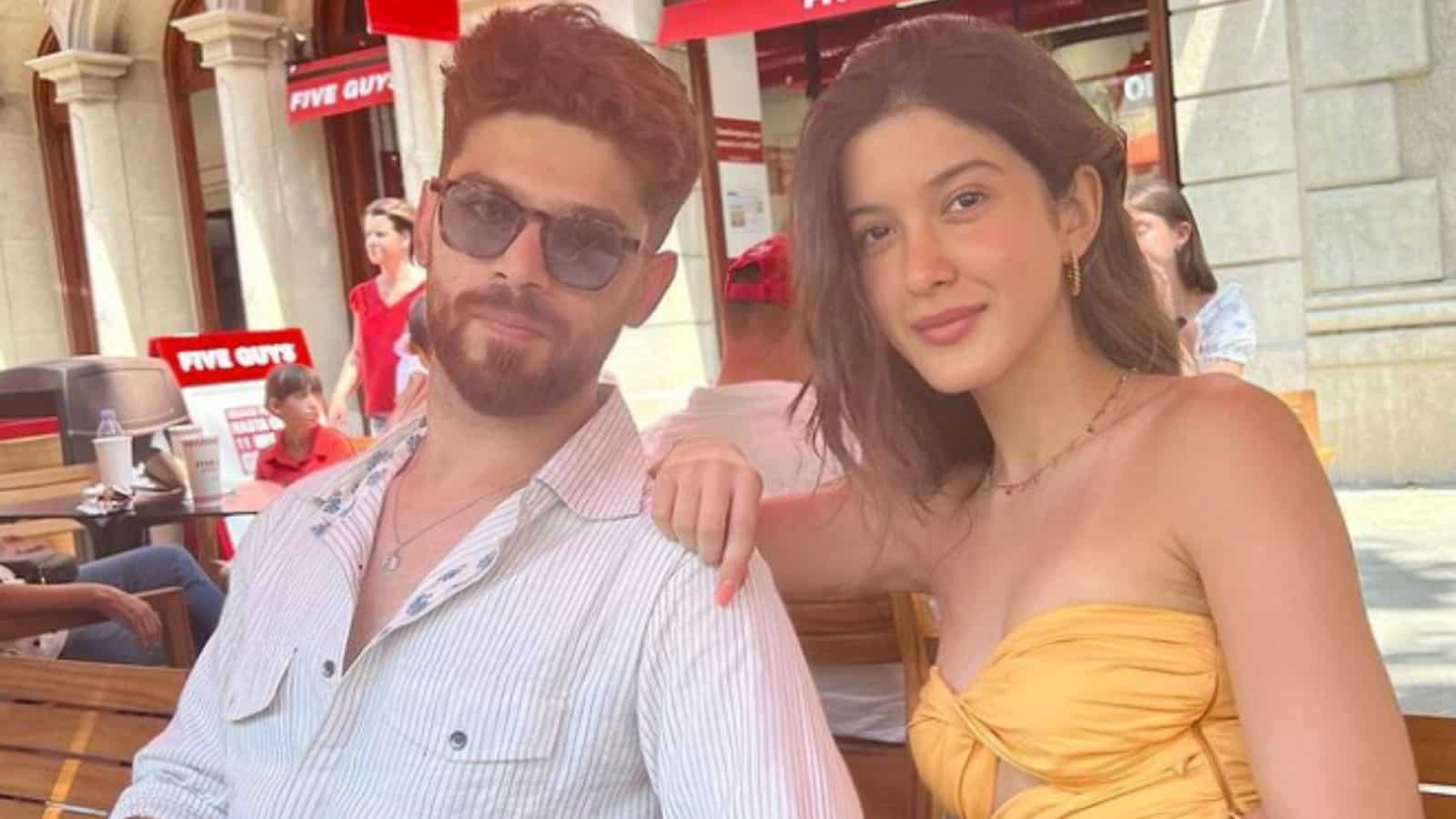 Shanaya and friends vacationing in Europe
Shanaya shared another peek from her Europe vacation where she can be seen posing with a friend, looking like a goddess in a yellow dress, with a criss-cross bandeaux top. The actress chose to go minimal on the accessories with only a necklace and small hoop earrings. Her beach hair complements the look perfectly. Her friend Alaviaa Jaaferi, daughter of Javed Jaaferi commented on the picture, lamenting on missing the fun. The sentiment was echoed by Papa and Mama Kapoor as well.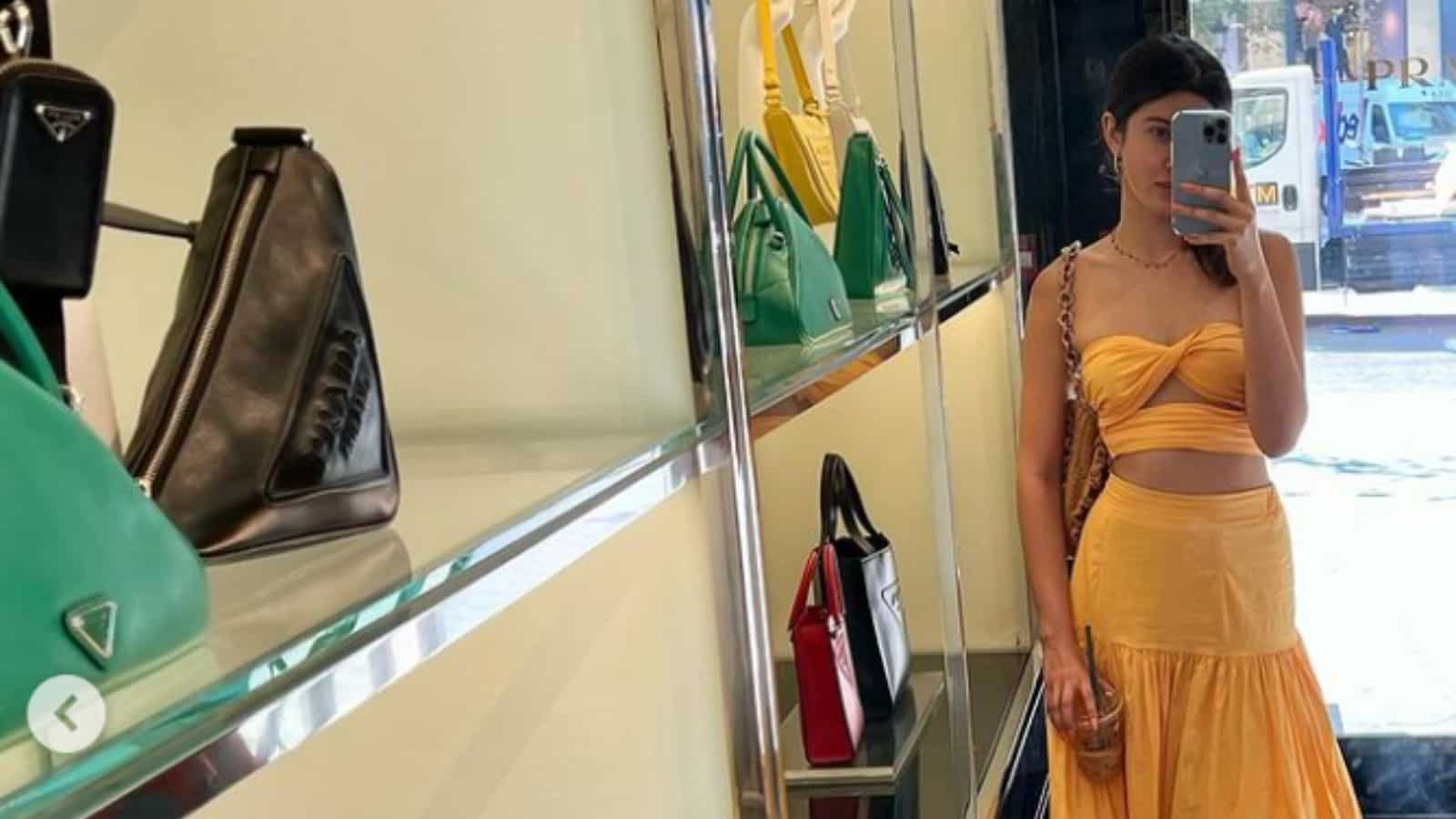 Shanaya 'Diva' Kapoor
Sharing another picture from the day, Shanaya chose to give us a full view of her gorgeous dress in a full-length mirror at a shop. Shanaya can be seen holding a Starbucks coffee cup to keep her fuelled for her fun trip. Going by the location of the picture, we can't help but wonder if the actress is on the lookout for another handbag to match her fabulous outfit that will surely make cousin Sonam Kapoor proud.
Last Updated: 05.50 AM, Jul 31, 2022